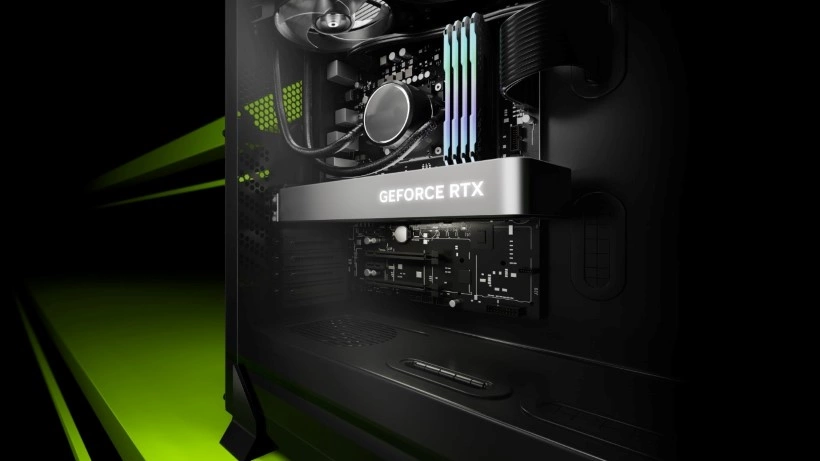 Rumored specs show that Nvidia GeForce RTX 4060 will come with 3072 CUDA cores and will use a full sized GPU made for the graphics card.
Nvidia launched the GeForce 40 series previous year in October. Nvidia GeForce RTX 4090 was the first one to release to the public in the series. GeForce RTX 4090, just like other cards in this series, is extremely expensive, costing MSRP $1,599. But that's just the base price. This meant that the card is sometimes selling well above $2000, if not more.
However, top of the line, expensive flagship graphics cards are not the most sold ones out there. They are more for marketing purposes and they give higher profit margin to the companies. Most people, however, prefer to buy relatively cheaper ones, costing around $200 to $400.
In those type of graphics cards, xx60 models of the graphics cards are among the most sought after. Until now, we had no information about the Nvidia GeForce RTX 4060. That has changed, as per the latest rumored leak.
Rumored RTX 4060 Specs Leaked
Well known Twitter based leaker @kopite7kimi has shared latest details about the possible Nvidia GeForce RTX 4060 Specs.
In it, he mentions that it's going to have a full sized AD107 GPU. He further says that the Nvidia GeForce RTX 4060 will come with 3072 CUDA cores. The graphics card memory (VRAM) is going to be just 8GB GDDR6 at 18Gbps.
VideoCardz says that this means that the memory bus is going to be just 128-bit and the memory bandwidth too is going to be limited at 288 GB/s.
The good thing about this card is that the TDP is going to be just 115W and Nvidia seems to be increasing the L2 cache in this card to 24MB.
Disappointing RTX 4060 Specs
These rumored specs are highly disappointing to say the least. To understand that, one needs to look at the table we created below with the above-mentioned specs.
| Model | NVIDIA GeForce GTX 1060 6 GB | NVIDIA GeForce RTX 2060 SUPER | NVIDIA GeForce RTX 3060 | NVIDIA GeForce RTX 4060* |
| --- | --- | --- | --- | --- |
| GPU | GP106-400-A1 | TU106-410-A1 | GA106-300-A1 | AD107-400-A1 |
| Process | 16 nm | 12 nm | 8 nm | 4 nm |
| CUDA Cores | 1280 | 2176 | 3584 | 3072 |
| VRAM Size | 6GB (3GB model released later) | 8GB (6GB and 12GB non-Super model released later) | 12GB (8GB model released later) | 8GB |
| Memory Bus | 192 bit | 256 bit | 192 bit | 128-bit |
| Memory Bandwidth | 192.2 GB/s | 448.0 GB/s | 360.0 GB/s | 288 GB/s |
| L2 Cache | 1.5 MB | 4 MB | 3 MB | 24 MB |
| TDP | 120 W | 175 W | 170 W | 115 W |
Nvidia GeForce xx60 models comparison chart. RTX 4060 is rumored specs.
Look at the above chart. What does one notice? Generation after generation improvement in most of the things. From GTX 1060 to RTX 2060 to RTX 3060. Then look at RTX 4060's rumored specs. What does it reveal.
First, RTX 4060 is going to use a 107 series GPU, which is usually reserved for xx50 models in the series. The xx60 series usually uses a 106 GPU. This is a massive cut in the GPU.
Then in CUDA cores, generation after generation increase in CUDA cores specs has been stopped. RTX 4060 is going to have lesser CUDA Cores than the original RTX 3060. Yes, different generation of GPUs means performance improvements, but still compared to previous generations it disappoints here too.
The limited available memory bandwidth means the card is going to struggle at higher resolution. The TDP too suggests a limited powered card.
In simple terms, these specs are shouting one big thing. Nvidia is trying to sell a xx50 model card like RTX 4050 by naming it as RTX 4060 instead and pricing it as such, or even more. This is extremely disappointing if it turns out to be true.
Having said. These are just rumors. While leaker kopite7kimi has a good history of getting things correct, these specs could change. Nvidia could also understand and rename these card and release it as RTX 4050 instead, highly unlikely though. Whatever it maybe, we will have to wait for a proper confirmation of the specs.
We are sorry that this post was not useful for you!
Let us improve this post!
Tell us how we can improve this post?