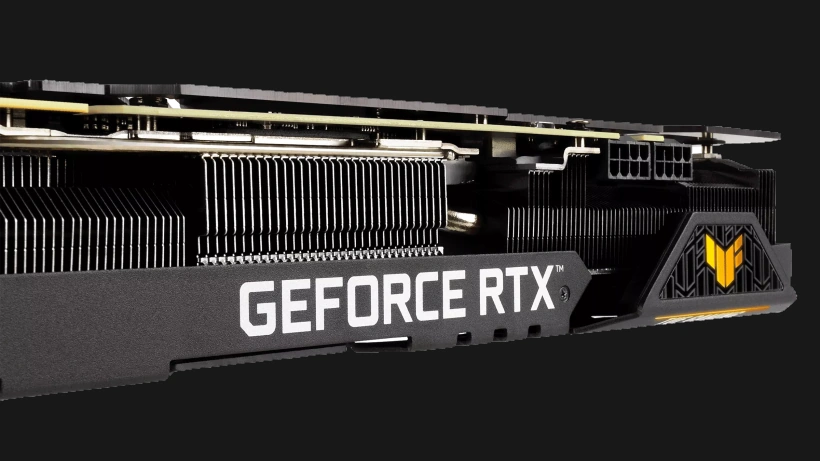 When Nvidia released GeForce RTX 4090 with 16-pin 12VHPWR power connector. It was expected that all graphics cards in the RTX 40 series would use the same. Looks like that is changing.
A year ago, ATX 3.0 standard was announced by Intel. ATX is a standard which dictates the specifications of motherboards and power supplies.
With ATX 3.0 also came a highly controversial addition to the power supplies. The 16-pin 12VHPWR power cable connector, largely for graphics cards. It's a single connector that has the ability to supply 600W power to the graphics card.
This is unlike the current 8-pin cables which are rated for 150W and when usually combined with another 8-pin cable, is rated to reach 300W. Add another 8-pin cable and we get 450W.
In all, many felt that a new cable is required for the highly power-hungry new-gen graphics cards. So the 600W delivering 12VHPWR cable does make sense.
When Nvidia released the GeForce RTX 4090, it announced that it's going to use the new 12VHPWR connector. The problems started appearing after release, when many people started complaining about the issues with the new cable. From damaging user's 12VHPWR connector or sometimes even the graphics card. Nvidia GeForce RTX 4080, which was released later, too used the same 16-pin connector and was facing the same problem.
It was later found out that it was not cable's fault as much as it was user fault. People were not inserting the connector properly and was hence it was causing issues. Nvidia was quick to jump onto it. All graphics cards and power supply makers too started advising everyone about making sure that the plug is inserted properly inside the graphics cards.
Sure enough, after the suggestions and people becoming more aware about them, we are not seeing many complaints about it. However, recently new specs for the 12VHPWR were released, insisting on better designed connectors.
But the question is, are these new connectors required on lower powered graphics cards. Nvidia doesn't think so.
RTX 4070, RTX 4060 Ti and RTX 4060 To Use 8-Pin Power Connectors
According to the information provided by igor'sLAB, the non-Ti model of GeForce RTX 4070 will come with two types of power connectors. Nvidia has asked graphics card makers to use the 12VHPWR (or 2×8 pin) connector whenever the power requirements go up-to 225W. However, when the card is expected to use 200W, the graphics cards will use the conventional 8-pin power.
The article states that it is expected that GeForce RTX 4060 Ti and RTX 4060 too will likely use the 8-pin power connectors too. All this is a highly welcomed move.
Only the Founders Edition cards (sold directly by Nvidia) and factory overclocked RTX 4070 made by card makers are expected to use the 12VHPWR connector.
RTX 4070 Box With 8-Pin Power Connector Confirmed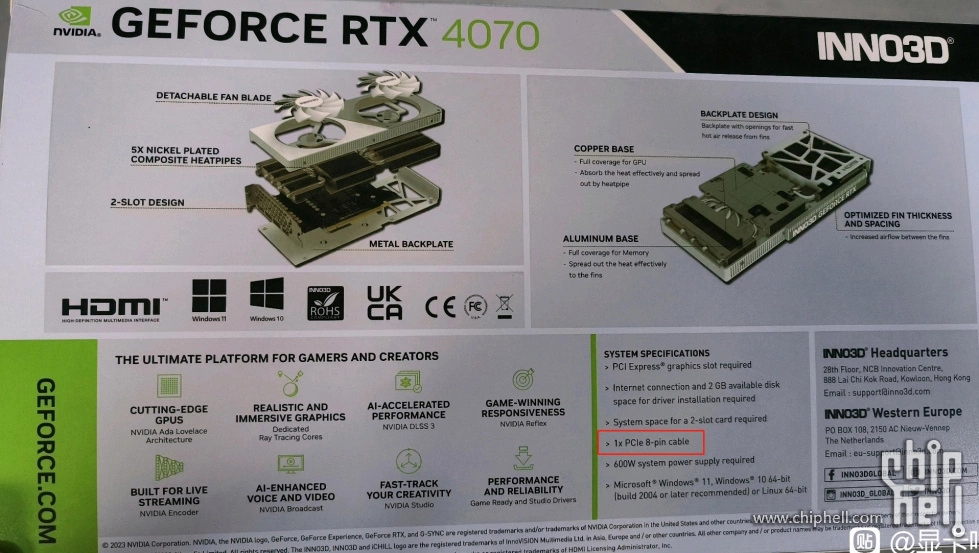 A tweet posted by @9550pro, shows a Nvidia GeForce RTX 4070 graphics card box made by Inno3D. The box shows a 1x 8-pin PCIe cable requirement for powering the card.
The above confirms that yes, what's getting reported by igor'sLAB is indeed completely true. We might hear more about it soon.
Conclusion
Sometimes it's a wonder if Nvidia did a right thing switching to the new 12VHPWR connector. It's relatively small, has the ability to deliver a huge amount of power in 16-pins cramped together in a single plug. Not only that, people need to either upgrade their power supply unit (PSU) or use 2×8 pin or 3×8 pin into 16-pin power adapter which could be of varied quality.
It's important to mention that AMD hasn't adapted the new power standard. In fact, AMD's most powerful current-gen card, the Radeon RX 7900 XTX graphics card, still continues to use the traditional 8-pin design. The card isn't rated to use as much power as the RTX 4090 does, but some testers have found otherwise. Particularly because Nvidia GeForce RTX 4090 is found to be highly efficient and AMD Radeon RX 7900 XTX found to be reaching above 400W.
Also, power supply industry veteran JonnyGuru has explained in a highly technical short article that how it's a misinformed belief that a single 8-pin power plug can supply only 150W.
Reading that makes one think that it's a good thing that cheaper cards will continue to use it and also, whether it's worth the effort to switch to the newer one.
We are sorry that this post was not useful for you!
Let us improve this post!
Tell us how we can improve this post?