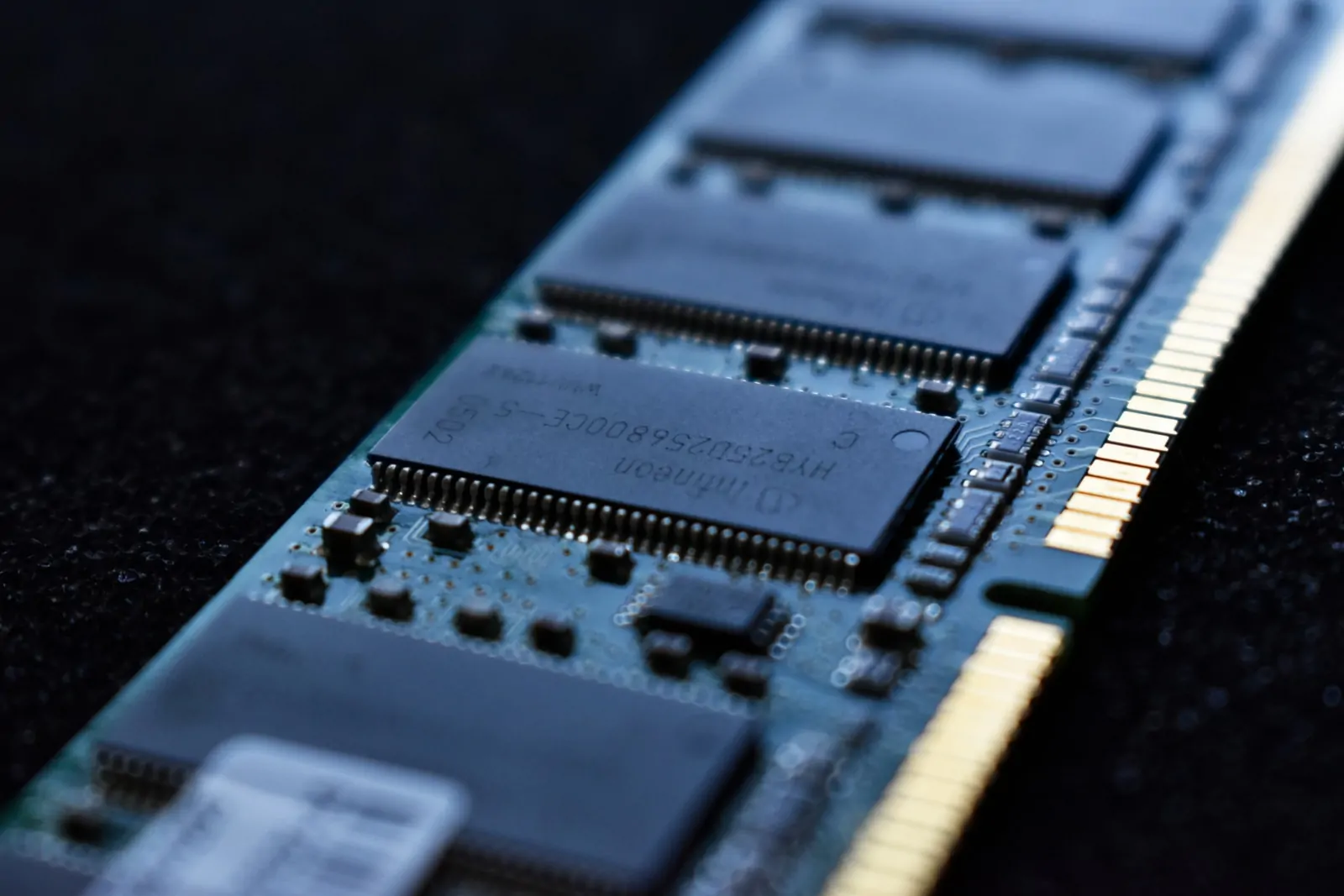 Benchmarks suggest that while some games benefit massively by switching from DDR4 to DDR5 RAM, many games see no benefit whatsoever, leading to an average gain of just 3%
All computer and digital devices require memory devices to run. This memory device exists in computers, laptops, mobiles and even routers among other tech products.
While storage devices like HDD, SSD, microSD are used to save data, memory is required to load data when it's accessed. Basically, data is saved in storage devices but is loaded in memory when opened.
The standard memory used is RAM, that is, Random Access Memory.
Unlike mobiles, desktop and laptop memory come in RAM sticks. These sticks have particular speeds, generations and even require compatibility specific CPU generations.
Years ago, even 512 MB RAM or less was sufficient to run mainstream operating systems. Now, even 4 GB isn't enough.
As CPUs increased in their speeds and capabilities, RAMs too progressed ahead in speeds and capacity, while reducing it's power usage.
The most common type of RAM is DDR RAM. DDR comes in various generations and speeds.
Recent RAM generations
DDR3, released in 2007, supported speeds from 800 MHz to 2133 MHz with 8 to 16 GB of maximum capacity.
DDR4, which was released several years later and was a standard till now, supported speeds from 1600 MHz to 3200 MHz with 64 GB of maximum capacity.
Latest in the block however is DDR5. It officially supports speeds starting from 4800 MHz to 7200 MHz, with massive 256 GB of total capacity in a single RAM stick. 256 GB RAM however, is unlikely to be a standard right now.
Whenever a new generation of RAM arrives, it requires a newer generation CPU with support for it. Newer RAMs are also expensive due to lower initial production capacity and hence it takes time to become a standard in the market.
Newer RAM also means software and games require modification and optimisations to make a proper use of it. It looks like it's specifically the case in terms of games, as per some benchmarks.
Gaming benchmarks of DDR4 and DDR5
Gaming benchmarks done recently by TechSpot give interesting results.
They tested over 40 games and found that while some games did benefit from the upgrade in RAM, many games didn't benefit at all – sometimes even caused the game to slow down a bit.
They used DDR4 RAM clocked at 3200 MHz and DDR5 RAM at 6000 MHz to compare in the benchmark.
In Assassin's Creed Valhalla, DDR5 was found to increase performance by almost 15% at 1080p, 17% at 1440p and 9% at 4K resolution. Something which is very impressive.
Far Cry 6 too saw 13% increase in performance in 1080p and 22% in 1440p.
Fortnite benchmark too revealed 6 to 12% increase in frame rate in DDR5 at 1080p and 5% increase at 1440p.
The Riftbreaker has an increase of 15% at 1080p and 1440p.
StarCraft II had an increase of 7% accross the board.
Doom Eternal's performance increased by 21% at 1080.
The biggest increase, however, was found with the game War Thunder, with a massive boost of over 22% at 1080p and 9% boost at even 4K.
Not all games are designed same
However, there are many games that didn't benefit much from the switch to DDR5 RAM.
Battlefield 2042 had almost the same FPS with both DDR4 and DDR5.
Call of Duty Vanguard was the same with negligible change.
Counter Strike Global Offensive in fact performed better in DDR4 RAM due to lower latency of the DDR4 RAM sticks.
Hitman 3 saw very minor improvements at 1080p but nothing in 1440p and 4K benchmarks.
PUGB, that is Player Unknowns Battleground benchmark of DDR5 saw no gains in average frame rate.
The worst performing game in DDR5 however was Valorant, with a decrease of 11% in performance when compared to DDR4.
Total benchmark results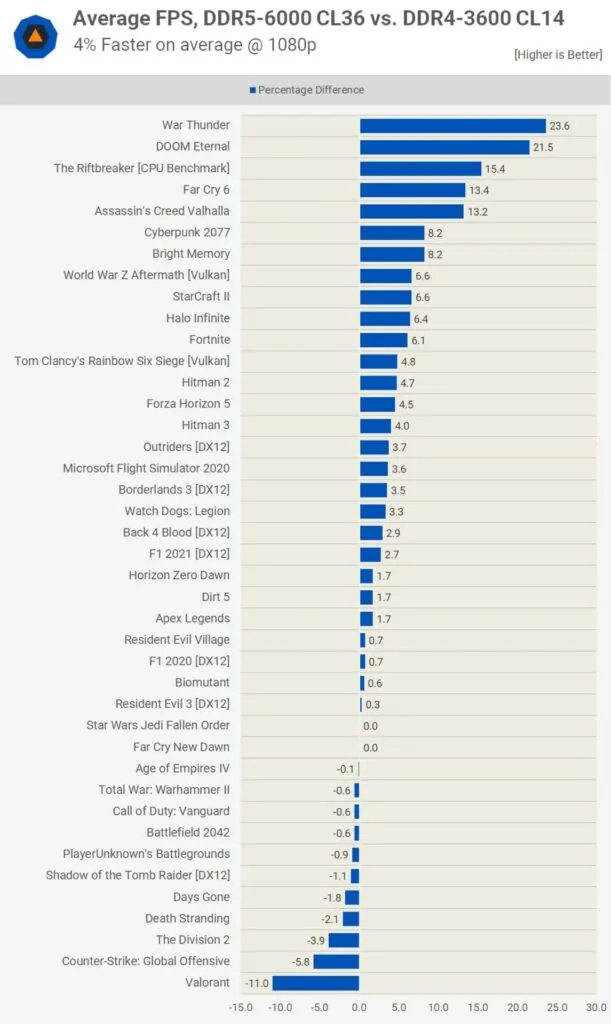 The above can and will change as we move forward. We will see games getting optimised better, newer games making better use of DDR5's faster bandwidth and even faster and better DDR5 RAM sticks becoming available in the market.
DDR4 vs DDR5: Which one to buy
For now, the recently released Intel Alder Lake processors are the only ones which support DDR5 in addition to DDR4 too as a hybrid.
In AMD processors, yet to be announced Zen 4 generation of processors are said to have support for DDR5. However, the upcoming Zen 3 refresh range of processors is likely to support only DDR4.
It must be mentioned that DDR5 prices are quite high right now. In many cases, DDR5 RAM costs double than DDR4 RAM. With global chip shortages right now, it's unlikely to get cheaper soon either.
So unless one explicitly requires newer generational RAM with faster speeds, where individual software or games make a good use of it, we recommend one to go with DDR4 instead right now.
We are sorry that this post was not useful for you!
Let us improve this post!
Tell us how we can improve this post?