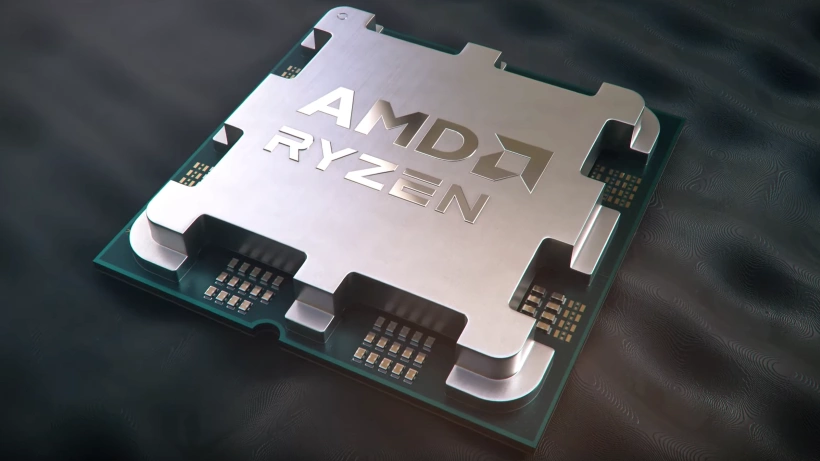 AMD has confirmed that Zen 5 based Ryzen 8000 series CPU will release next year with an even more powerful GPU. It has also confirmed that AM5 will be supported till 2026.
AMD released Zen 4 based Ryzen 7000 CPUs almost a year ago. It was later followed by X3D based gaming CPUs like Ryzen 7950X3D and Ryzen 7800X3D, which have seen outstanding reviews and sales.
Now the question is, when are the next-generation of AMD Ryzen processors coming? In April this year, Gigabyte said that the next-generation of AMD Ryzen processors are coming this year itself. However, Gigabyte retracted that statement and said that it was a mistake.
It all likelihood, AMD Ryzen 8000 series might launch next year, in 2024. Looks like AMD might have confirmed it.
Ryzen 8000 Coming In 2024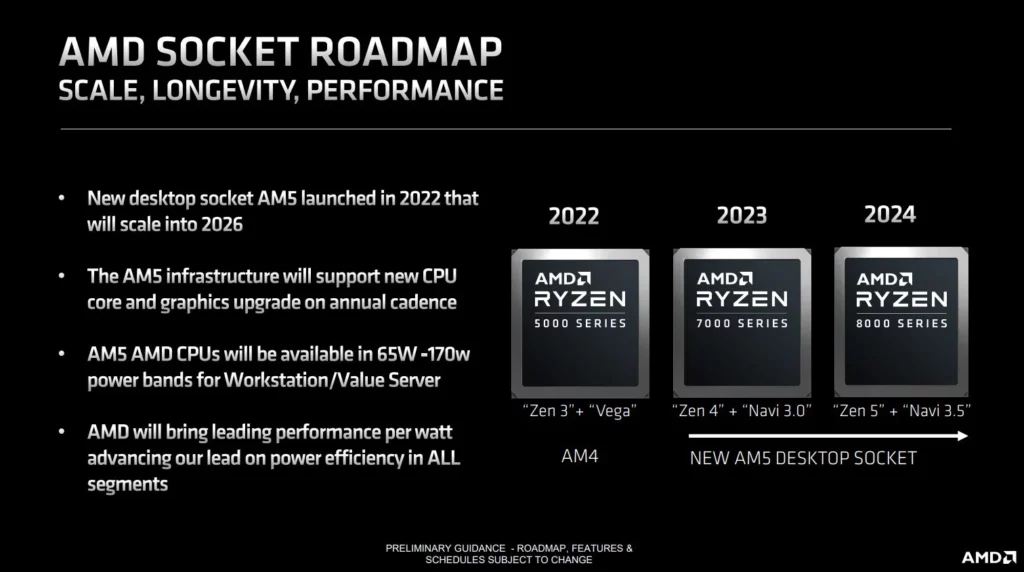 In an image slide posted with @harukaze5719, AMD has confirmed a few things.
The first thing AMD has confirmed is that AMD Ryzen 8000 series will launch in 2024. It will be based on Zen 5 architecture. For now, we don't know much about it, but it could be possibly based on TSMC's 3nm process.
The second thing that AMD has confirmed is that the AM5 motherboard socket will be supported till 2026. It means that even Ryzen 9000 series will support it.
Why this is important is because Intel CPUs require a new motherboard almost every two new generation of CPUs they release.
But AMD is not doing that. AMD is going to support its motherboards for four years, which is similar to what they have done previously too, with AM4 socket.
Either-way. This basically means Intel supports a socket for two generations, while AMD is supporting it slightly longer, for three generations in this case.
Powerful Built-In GPU Coming To Ryzen 7000
When AMD announced Ryzen 7000 series, it announced that all CPUs in the generation will come with built-in GPUs. To many people's disappointment, they are based on previous-gen Navi 2 architecture. Also, they come with just 2 compute units (CU), which is enough only for basic computing tasks.
Proper gaming GPU requires far more CUs than that. Till now, AMD hasn't released G series based CPUs (APU in this case) in the Ryzen 7000 series line-up. These G series CPUs have more CUs in their GPU.
Take the AMD Ryzen 7 5700G for example. It comes with 8 CUs, allowing basic gaming performance without requiring a dedicated graphics card.
The above shared image reveals more things about the GPU too, as mentioned by @hiimthomasl on Twitter.
First, basically this confirms that these G series CPUs (APUs) in Ryzen 7000 could be based on Navi 3, not Navi 2 found in non-G series. Not only that, AMD could release Phoenix Point APU for desktop.
For the record, AMD released an APU for Ryzen 7000 laptops called AMD Ryzen 9 7940HS. This APU comes with an AMD Radeon 780M GPU that consists of 12 CUs. This Radeon 700 series of GPUs found in the Ryzen 7000 laptops is code-named Phoenix Point.
Someone on YouTube tested this GPU and found that it performs excellently, going above 60 FPS at 1080p on all games.
Now if AMD manages to release a similarly powerful APU for desktop, then budget gamers, especially those who game at 1080p, are in for a lot of fun.
Even Better GPU In Ryzen 8000
The above posted slide also reveals that Ryzen 8000 CPUs are going to come with Navi 3.5 GPU architecture. Now what is Navi 3.5 architecture? Well known leaker @Kepler_L2 has shared more information about it.
He says that it basically means RDNA 3.5 is going to be a generation in-between RDNA 3 (RX 7000 graphics cards) and RDNA 4 (next-gen AMD RX graphics cards).
It contains features and improvements over RDNA 3 architecture but will lack some features of RDNA 4 like better scheduler and improved ray tracing cores.
It means that next-gen AMD RX graphics cards will have all these features, but next-gen AMD Ryzen CPUs will come with only some of them.
@Kepler_L2 also reveals that this Navi 3.5 is an architecture meant only for Ryzen CPUs or APUs and not for dedicated desktop graphics cards.
Conclusion
This one image alone reveals a lot of things about what's going to come next in AMD CPUs and graphics cards.
What we are most excited for is what AMD can do with its built-in GPUs inside their CPUs. As revealed by RedGamingTech, AMD is not much interested in releasing cheap graphics cards. This is because AMD thinks their APUs with built-in GPUs could do better at it.
We are sorry that this post was not useful for you!
Let us improve this post!
Tell us how we can improve this post?