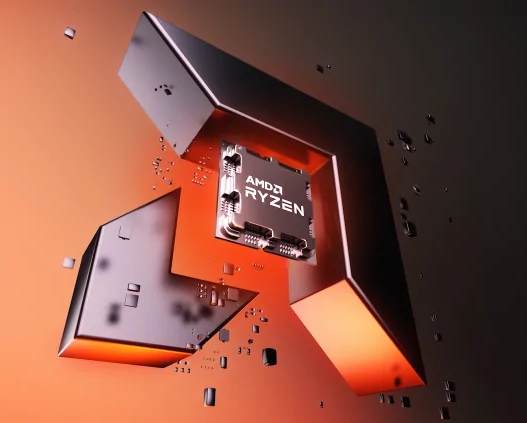 AMD announced 5nm based Zen 4 Ryzen 7000 processors starting from MSRP $299, going up-to $699. Releasing on 27th September.
A day ago, AMD made a surprise announcement that they are going to announce Ryzen 7000 processors. Later, after months of speculation and waiting, AMD finally announced 5nm based Ryzen 7000 CPUs on a YouTube keynote.
AMD announced four processors in it. Ryzen 9 7950X with 16 cores / 32 threads. Ryzen 9 7900X with 12 cores / 24 threads. The Ryzen 7 7700X with 8 cores / 16 threads. Then Ryzen 5 7600X with 6 cores / 12 threads.

7950X goes up to 5.7 GHz with base frequency of 4.5 GHz. It has a total cache of 80MB, with a TDP of 170W. Priced at $699. It's going to be a $100 cheaper than the Ryzen 9 5950X.
7900X on the other hand has boost frequency reaching 5.6 GHz, 4.7 GHz base speed. With total cache of 76MB. With same 170W TDP of 7950X. Priced $549, which is same as Ryzen 9 5900X.
7700X has a boost frequency of 5.4 GHz and base frequency of 4.5 GHz. Total cache of 40MB. TDP being lower at 105W. Priced at $399. A whole $100 more expensive than Ryzen 7 5700X.
7600X comes with a boost frequency of 5.3 GHz and base frequency of 4.7 GHz. Total cache slightly lower than 7700X, at 38MB. With same TDP of 105W. Priced at $299, it's the same price as what Ryzen 5 5600X was released at.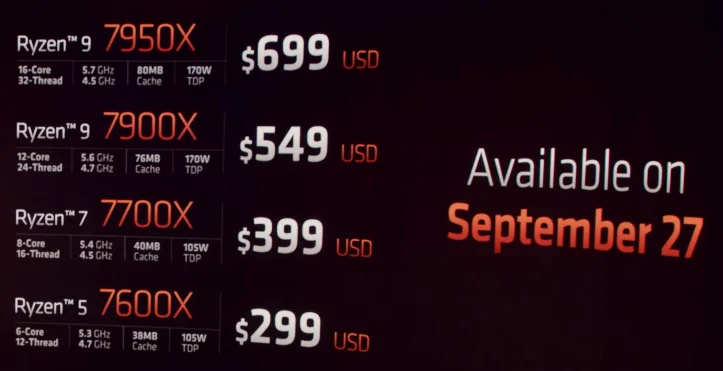 All these processors come with full DDR5 support and will also support PCIe 5.0.
The AMD Ryzen 7000 series processors, the first 5nm based desktop processors in the world, are releasing on 27th September. This is the same day on which Intel is going to announce its next-gen Intel Raptor Lake series processors.
Ryzen 7000 Performance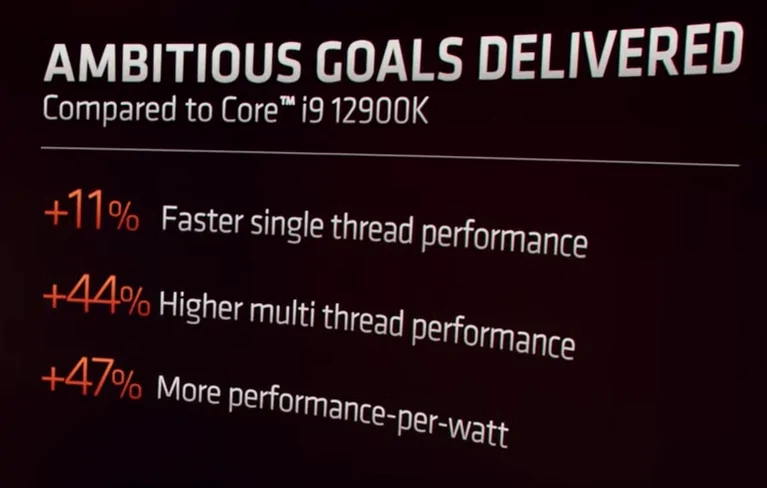 AMD claims 13% increase in IPC performance of Ryzen 7000 series. It's far above the 3-5% claimed by some people. Combined with higher CPU frequency, AMD claims 29% increase in single threaded performance.
The 7950X is said to deliver 15% more gaming performance than previous-gen 5950X. With 7950X delivering 40% increase in creator (professional software) performance compared with 5950X. AMD claims Ryzen 9 7950X is not only faster in gaming than the Intel's Core i9 12900K processor (originally priced $669), but is more than 60% faster in compute performance for creators too. AMD showed how 7950X also has above 45% better performance-per-watt when compared to Intel's 12900K.
Then AMD shows how all the newly announced Ryzen 7000 processors had better single threaded performance in Geekbench than Intel's 12900K, which is a massive achievement.
AMD then showed mainstream Ryzen 5 7600X's performance. It showed 11% better FPS performance than Intel's 12900K in a single game and average 5% increase across the set of games at 1080p. Which again is impressive. As we are comparing a $299 processor with a $589 (current MSRP) one.
Performance compared to AMD 5000

Later, AMD shows that the 13% increase in IPC, compared to AMD 5000 series, is only a geomean average performance increase. It has a peak increase of 39% in some workloads. This is benchmarked at 4.0 GHz on a 8C/16T CPU (Ryzen 7700X).
AMD also shows that when compared to previous-gen Ryzen 5950X, Zen 4 Ryzen 7000 series consumes more than 60% lesser power at same performance and delivers an increase of 49% in performance at same power.
In performance gains at various watts, there's 74% increase at 65W, 37% increase at 105W and 35% performance increase at 170W TDP. Here performance per watt increase is seen in 7950X when compared to 5950X.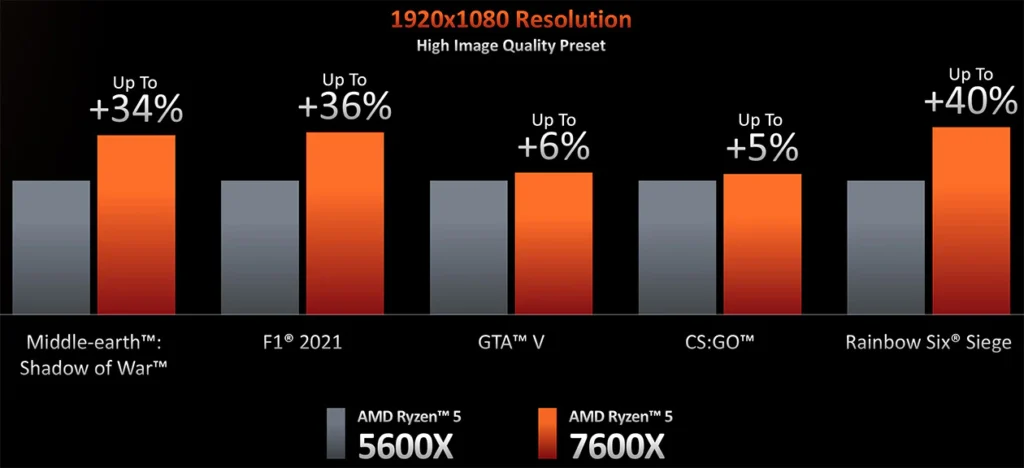 When compared to Intel Alder Lake's Golden Cove Core, AMD Zen 4 Core uses 50% less (surface) area and delivers above 45% power efficiency.
AMD also promises to release a higher gaming performance supporting 3D V-Cache based Ryzen 7000 series processor later, presumably modeled either Ryzen 7800X or 7800X3D.
In addition to that, AMD says it's on-track on releasing Zen 5 processors by 2024 with a "new grounds up core".
AMD AM5 Socket Platform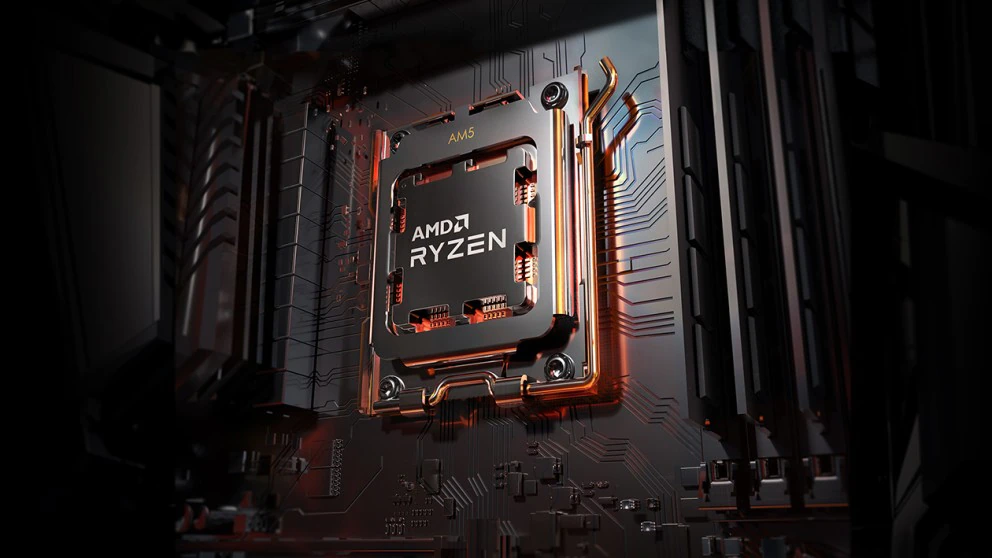 AMD reminded everyone about its current AM4 socket platform, which powered 5 different CPU architectures, 4 process nodes, 125+ processors and had more than 500 motherboards.
AMD then showcased the new AM5 Socket Platform. It comes with a new 1718 pin LGA socket (which has pins on the socket, not on the CPU). The new AM5 can deliver up to 230W of socket power to the processor. AM5 is made with direct support for next-generation tech like DDR5 and PCIe 5.0. It also promises compatibility for AM5 with the current-gen AM4 processor coolers.
The AM5 motherboards are expected to start from $125, releasing this year. Starting with PCIe 4.0 then PCIe 5.0 becoming a standard. AM5 motherboards will come with a wide-range of prices for everyone.
AMD promises that it will support the AM5 for years to come. At least till 2025 and more. This is completely different from Intel, which changes its socket every other year. AMD says it's for the build today and upgrade later for more performance builds.
New Chipsets
The AM5 socket comes with two different types of motherboard chipsets. The X series, which has X670E (Extreme) and X670, both of them release in September. Then there's B series, which has B650E and B650 chipsets, which release later in October.
The X series, AMD claims, is designed with the highest power delivery and overclocking headroom across CPU and memory. The X670 comes with PCIe 5.0 storage support, whereas X670E comes with the support for PCIe 5.0 in both storage and graphics card slots on the motherboard.
The B series, on the other hand, are value chipsets for common users. The B650E, just like the X670E, will support PCIe 5.0 in both storage and graphics. The biggest difference between the B series and the X series, however, is that unlike the X series, the B series is not expected to support CPU overclocking.
AMD also mentions that PCIe 5.0 based storage devices (SSD) are coming in November this year from a wide range of companies.
AMD also justified why they choose DDR5 RAM (only) support for its AM5. It was because they designed the platform with the future in consideration, as DDR4 has reached its limits already. DDR5 supports higher bandwidth, supports low memory latency and has 4 times more memory capacity over DDR4 per chip.
AMD EXPO™ Technology For Memory Overclocking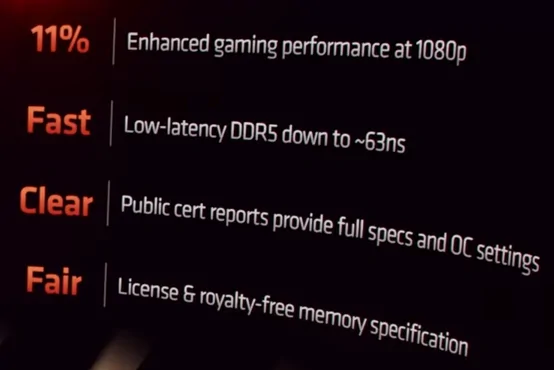 AMD has introduced a new technology named AMD EXPO™ for overclocking memory in its AM5 platform. It supports 1-click overclocking of DDR5 memory.
At 1080p, AMD claims that EXPO provides up to 11% increase in gaming performance. It also promises reduction in latency to almost 60ns.
It says EXPO is build on an open standard and all the specs will be publicly available, with memory kits supporting it will be giving full information to the users. Apart from it being a license and royalty free memory specification.
It expects that there will be about 15 memory kits being available at launch, with speeds up to DDR5-6400 data rates.
The EXPO™ Technology is AMD's answer to Intel's XMP memory overclocking technology.
AMD Radeon RX 7000 Graphics Cards Teased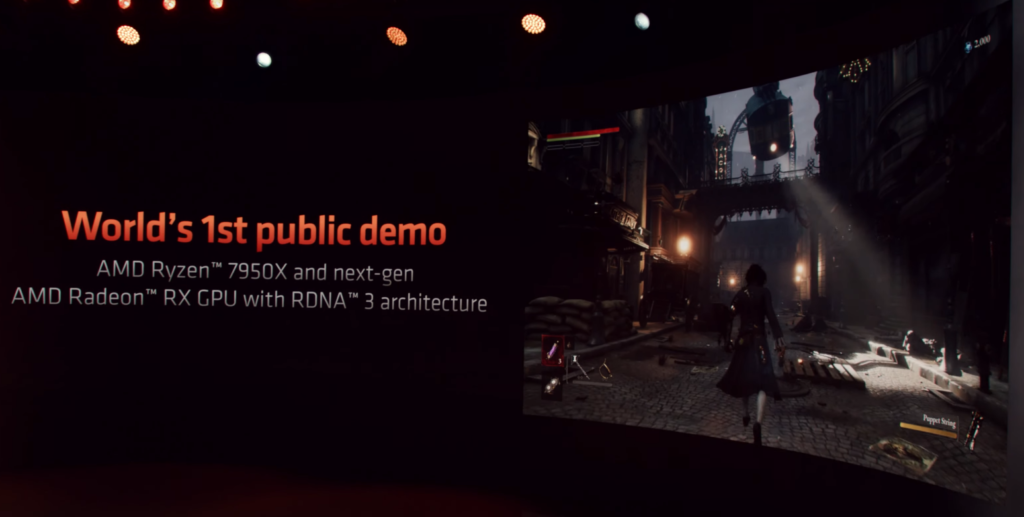 AMD also teased a all-new RDNA 3 architecture based next-gen graphics card. It comes with a 5nm based chiplets.
The new RDNA 3 graphics cards, it claims, will deliver up to 50% more performance-per-watt compared to AMD Radeon RX 5000 series graphics cards. These cards are currently in testing at AMD's labs and are showing "wonderful performance".
AMD also showed a game demo of a RDNA 3 based graphics card running on a Ryzen 9 7950X processor, playing a new upcoming game called Lies of P. The game was seen running smoothly at 4K resolution in Ultra settings on a pre-production GPU.
AMD announced that the next generation RDNA 3 based (Radeon RX 7000) graphics cards will be launched later this year.
What was interesting is that AMD never discussed the Ryzen's built-in graphics processor. All Ryzen processors are going to come with a built-in GPU. The performance is not expected to be able to be any good at gaming (unlike G processors by AMD), but is said to be good enough to run basic applications. We might hear about it later.
We are sorry that this post was not useful for you!
Let us improve this post!
Tell us how we can improve this post?