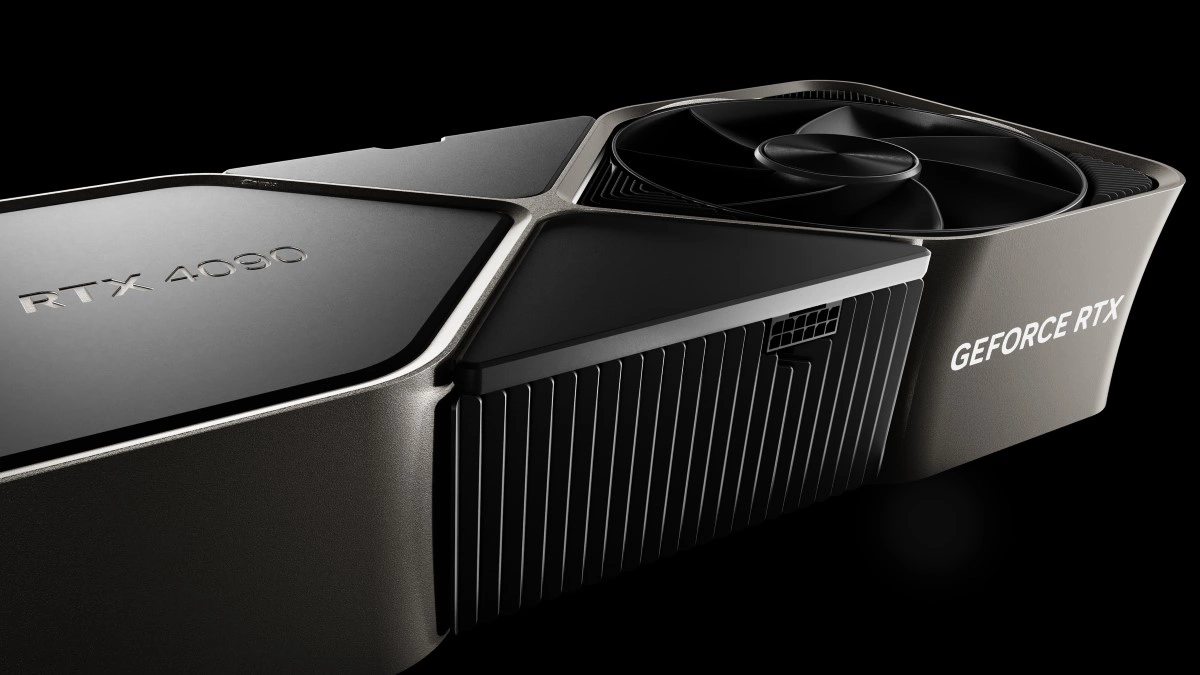 From years, there's a debate and push towards newer PCIe versions. But the gaming benchmarks show that graphics cards don't benefit much from it.
All modern day graphics cards basically need to be installed into a PCIe (PCI-Express) slot on the motherboard. The word PCIe stands for Peripheral Component Interconnect Express. It's an upgrade over Accelerated Graphics Port (AGP), which was used by graphics cards before PCIe replaced it.
PCIe has seen a lot of updates and revisions throughout the years. A main feature of it has been that almost every new PCIe version has doubled the bandwidth from its previous version.
Released in 2003, PCIe 1.0 came with a 2.5 gigatransfers per second (GT/s) speed. PCIe 2.0 was released on 2007 and with a speed of 5.0 GT/s. Then came PCIe 3.0 in 2010 which allows speeds up-to 8.0 GT/s. PCIe 4.0, which later released in 2017 again doubled it to 16 GT/s. Then came PCIe 5.0 in 2019 with took it to 32 GT/s.
Newer PCIe versions require the motherboards come with its support. However, all newer versions are backwards compatible. Meaning one can install a new graphics card into a PCIe 1.0 slot and still make it work possibly, though with performance issues.
PCIe uses up-to x16 lanes for the cards to use. It supports x1, x2, x4, x8 and x16 lanes. The more the lanes the more data can be transmitted. The lower one goes, the half the speed. In simple words, a PCIe 5.0 slot running at x8 will perform the same as PCIe 4.0 at x16. Similarly, PCIe 4.0 at 8x will perform same as PCIe 3.0 x16. This same idea continues further as one goes further.
Almost all motherboards support x16 lanes. The problem happens when some graphics cards don't support them. Especially some really cheaper ones.
While PCIe 6.0 specs are released already, we are yet to see a PCIe 5.0 based gaming graphics card. As Nvidia, AMD and even Intel graphics cards don't make a use of it and use PCIe 4.0 instead.
The question arises. Are newer PCIe version really useful. Latest gaming benchmarks say otherwise.
PCIe 4.0 and 3.0 Gaming Benchmarks
Simply put. Usually, gaming benchmarks testing the PCIe versions are hard to come by. However, a South Korea based site Quasarzone not only did its testing (translated) but went into detail about the tests.
It tested 5 different games on these PCIe versions:
PCIe 4.0 / 16x (RTX 4090 standard)
PCIe 4.0 / 8x
PCIe 4.0 / 4x
PCIe 3.0 / 16x
PCIe 3.0 / 8x
PCIe 3.0 / 4x
One might find that PCIe 5.0 is missing from this list. That's because, as mentioned previously, no graphics card comes with it.
The setup it used to test these included the AMD Ryzen 7 5800X3D CPU, DDR4 16 GB 3200 MHz RAM, a WD SN570 M.2 1TB SSD among others. The most important thing, however, is that they did the benchmark on Nvidia RTX 4090 FE, which is a top of the line graphics card and possibly the best option to make the best use of the PCIe 4.0 bus.
Out of those 5 different games which were all tested on max quality, two were additionally tested with Nvidia's latest DLSS 3.0 Quality setting enabled. Out of those two, one had a limit of 250 FPS, hence raytracing was used in it too at max settings. While there's a discrepancy in testing, it seems to have been intended to make the max use of the PCIe bandwidth available.
The results were interesting.
Putting PCIe To Gaming Benchmarks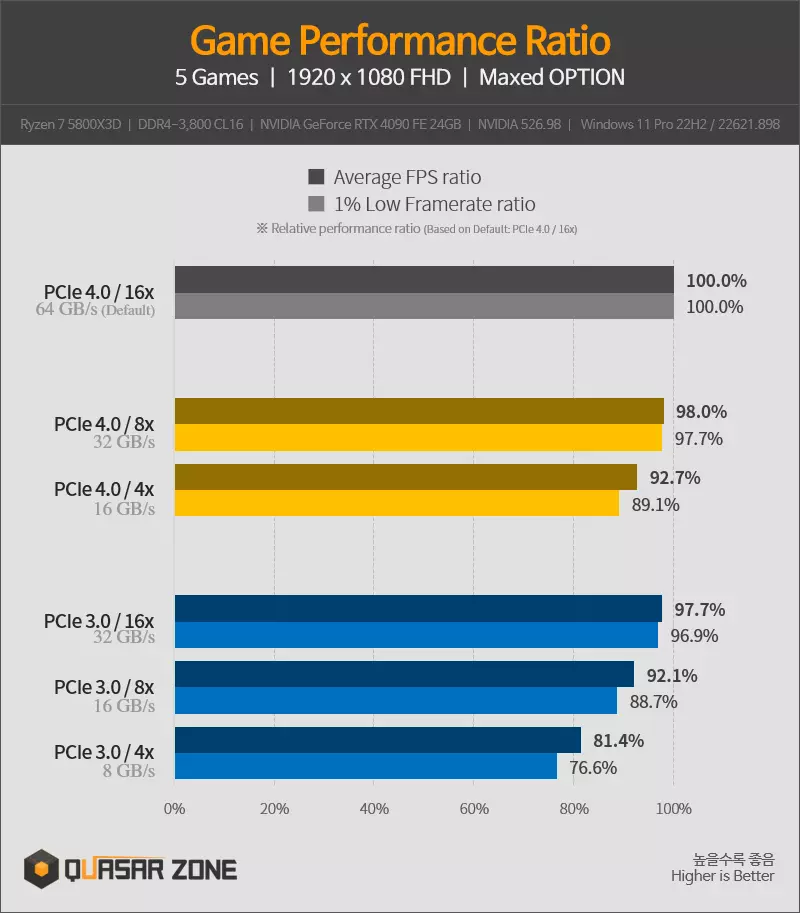 As one can see. At 1080p, the benchmarks showed that there was just a 2-3% decrease in average and 1% low frames per second in PCIe 3.0 x16 when compared to PCIe 4.0 x16. The results were similar in the 4K tests too, where PCIe 3.0 x16 again saw just 2-3% decrease in both average and 1% FPS.
What's interesting is that individually, almost all these games had almost negligible difference in FPS between PCIe versions. At most 5% in 1% low and 2.5% in average at max. The only exception was one game with DLSS 3.0 and raytracing enabled, where the difference was 10% at 1% low and 5% in average FPS. If we remove one game from the list, the difference between PCIe versions is so small it's not even worth consideration.
Major difference were however seen when switching to PCIe 3.0 x8 and below. Which basically means running the card at PCIe 2.0 x16, which almost no one uses now.
Frametime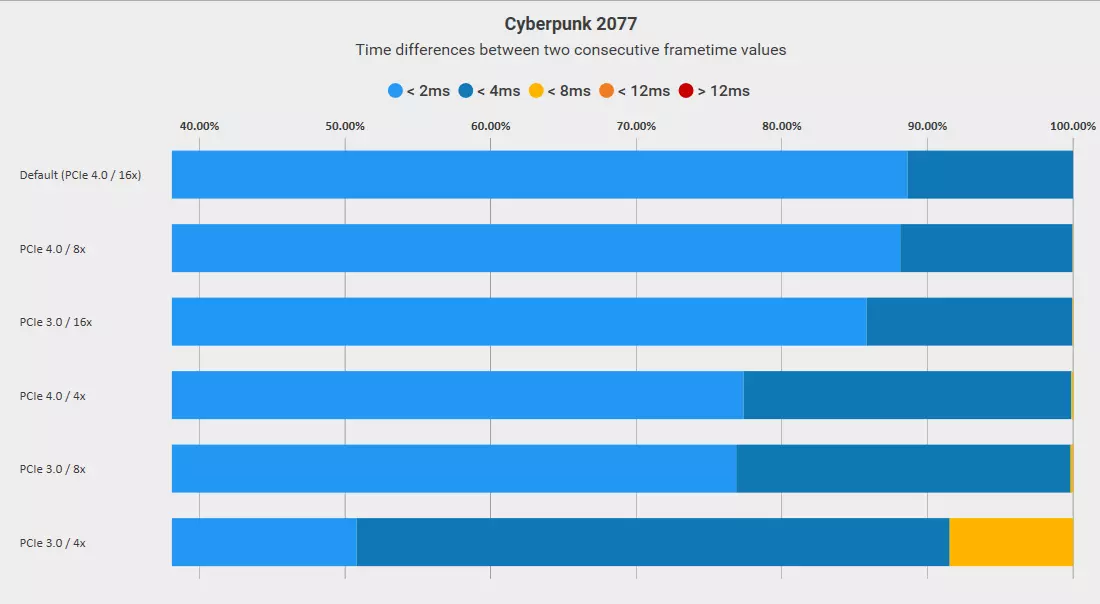 In gaming, one of the often overlooked stat is the frametime. Digital Trends has a good article explaining it. Basically, the lesser the ms in frametime, the better it is. Quasarzone checked frametimes in these gaming benchmarks too. While it did not provide a 5 game average, the results were similar throughout the games except the one mentioned previously (pic different).
In frametimes, by and large, in almost all games it was seen that both PCIe 4.0 and 3.0 performed similarly in different lanes. The exception was PCIe 3.0 at x4 lanes, which is akin to a PCIe 1.0 slot running at x16.
Conclusion
When AMD announced it's Zen 4 Ryzen 7000 series of processors, it insisted on its PCIe 5.0 capability. When Intel released Alder Lake and Raptor Lake CPUs, they came with a support for PCIe 5.0 too. However, there are no graphics cards available to make a use of PCIe 5.0. This PCIe 5.0 support, though future proof, needlessly make the top motherboards more expensive.
But forget about PCIe 5.0. Graphics cards might not be even utilizing PCIe 4.0 fully. If the above results are to be believed, there could similarly be just 3% difference between PCIe 5.0 and 4.0 in (gaming) benchmarks too. While it's true that only 5 games were tested and more heavy games need to be tested, but this gives us a fair idea about things.
What's PCIe 5.0 is useful for, however, is SSDs which can actually make the use of the bandwidth available in it. But in SSDs too there are some doubts, like whether there are any changes visible in newer PCIe SSDs or are they actually required for the common users.
We are sorry that this post was not useful for you!
Let us improve this post!
Tell us how we can improve this post?