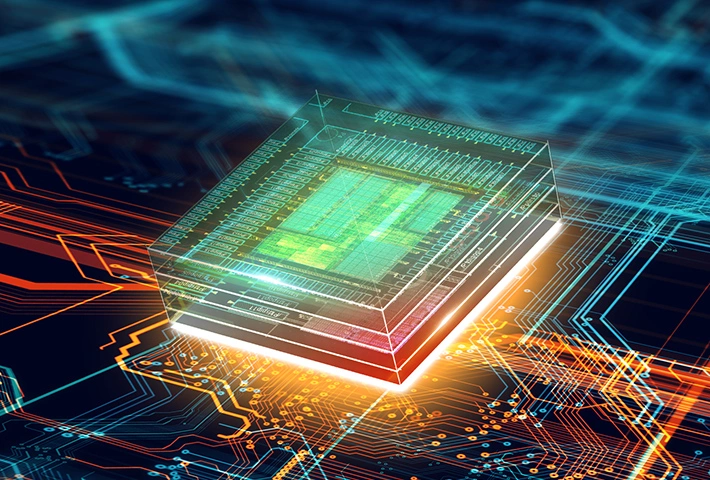 TSMC's 1nm chip factory is expected to be prepared by mid-2026, with first trials to start in the 2027 and mass production release expected in 2028.
All modern processors are made with billions of transistors. The more the transistors, the more the processor power and speed. This increase in transistors is only possible with their size decreasing over the years.
A couple of years ago, 7nm based chips were common. Now, 5nm based CPUs and GPUs are entering the market. Going forward, 3nm chips are going to become common.
In microchip production, there is no bigger name in the world than Taiwan based TSMC. Almost all big processor companies in the world, except Intel and Samsung (mostly), gives contract to TSMC to make chips and it delivers with the latest of technology.
TSMC is currently busy with it's 3nm tech, with an upgrade called N3E, that is an enhanced version of 3nm, expected to release in the second half of 2023.
As transistors become smaller, making them becomes harder. Intel for example will not go from 4nm to 2nm directly. It will move from 4nm, to 3nm to 2nm. Then comes an entirely new naming scheme. Where the process tech will not be measured in nm (nanometer) but in a (angstrom). Simply put, 10a or 10 angstrom means 1nm. So, Intel is not going to jump from 2nm to 1nm. It will go from 2nm (20a) to 18a and forward. We should expect something similar from TSMC too.
While it's true that the actual nm size and their density between microchip manufacturing companies differ a lot, they give us a fair idea. It looks like TSMC is again racing ahead in the latest tech, with 1nm factory coming up in a few years.
TSMC 1nm Processors To Release In 2028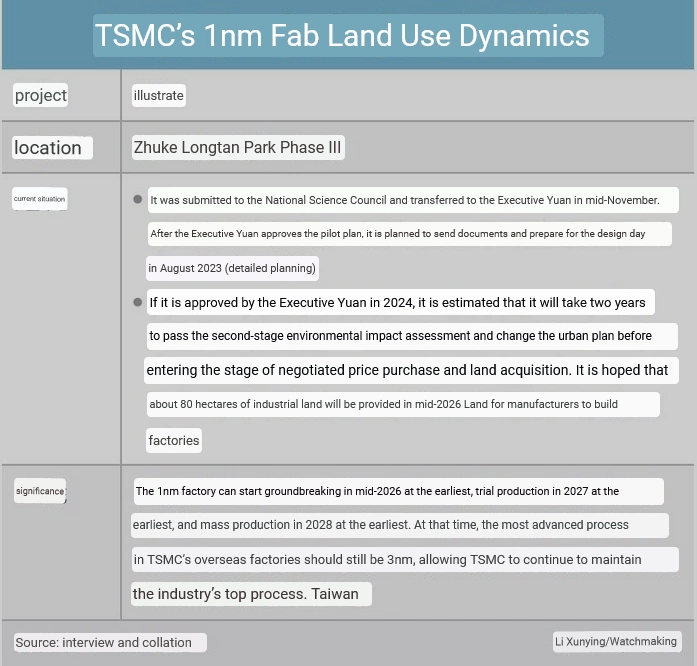 Taiwan based United Daily News reports (translated), thanks to @harukaze5719 for sharing, that TSMC's 1nm plant is going to break ground in the middle of the year 2026. The report further states that the trial production of these 1nm chips are expected to start in 2027. The mass production is expected to start by 2028.
The article further mentions that while TSMC has no official timeline set for the 1nm production, TSMC's CEO is already answered some questions about it in a closed door meeting. TSMC's CEO Liu Deyin talked about where he was thinking the location of the 1nm should be and whether the Taiwanese government will have enough electricity for it five years later. Those who are unaware, microchip production requires high amount of uninterrupted electricity and a huge amount of clean water, about 100 liters per silicon wafer.
Later, Taiwanese government leaders went to the factory and forwarded the plans of its expansion to Taiwan's National Science Council executives, with detailed designs to be prepared by August 2023 and pre-manufacturing work to start by 2024. The expansion of the factory is expected to start by 2026.
This is where things get confusing, though. The factory expansion is expected to start by 2026, yet the article mentions it's "groundbreaking" to happen by the same mid-year. If indeed that works out, then first trial chips by 2027 and mass production by 2028 is a possibility.
Outcome And Likelihood
As mentioned earlier, making smaller transistors is not an easy task. Sometimes there's a problem in a specific nm process, causing delays. Sometimes what happens is that output of good quality wafers in a process is less, causing a big decrease in production quantity and also financial losses to the parties involved. So things actually happening on time is something that cannot be guaranteed.
For example, reports suggest that TSMC's 3NE process is slower than expected. While the delay isn't big, it's expected to come in the second half of 2023. Even there, it's not guaranteed.
Even the 1nm process is expected to come in 2028 at the earliest. So whether TSMC does get a hold on their new factory on time and whether they deliver them from 2028 is to be seen.
We are sorry that this post was not useful for you!
Let us improve this post!
Tell us how we can improve this post?