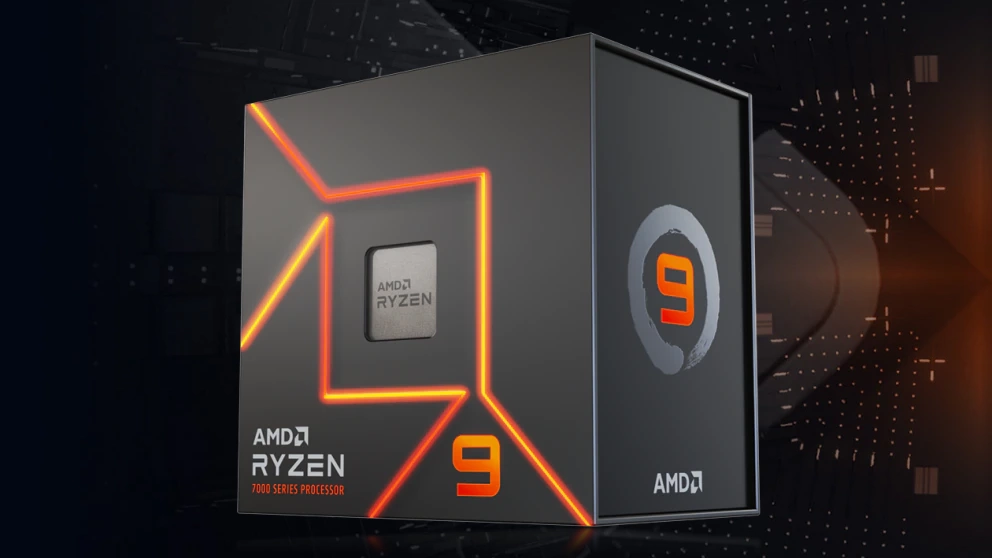 If rumors are to be believed, AMD might release 3 non-X Ryzen processors on the 10th of January 2023. These would be the first non-X CPUs in the 7000 series.
In August, when AMD announced Zen 4 based Ryzen 7000 series processors, it released just 4 CPUs in the lineup. The AMD Ryzen 9 7950X, Ryzen 9 7900X, Ryzen 7 7700X and the Ryzen 5 7600X.
Couple of months later, a famous Twitter based leaker revealed that AMD is planning more processors, this time the processors would be non-X ones. As per the latest leaked slides, that leaker seems to have got it spot on.
AMD Ryzen 7600, 7700 & 7900 Slides Leaked

VideoCardz seems to have gotten hold onto leaked slides which confirm AMD Ryzen 7600, 7700 & 7900 processors. It also reveals that these processors are having a release date of 10th January 2023.
The AMD Ryzen 9 7900 is going to be a 12 core, 24 thread processor just like the 7900X. However, 7900 will have a slightly lesser boost clock of 5.4GHz vs 5.6GHz of 7900X. The AMD Ryzen 9 7900 will cost $429, compared to the original MSRP of 7900X, which is $549. Making it a whole $120 cheaper.
The AMD Ryzen 7 7000 is going to be an 8 core, 16 thread processor like the 7700X. The boost clock here is very slightly lesser at 5.3GHz vs 5.4GHz of 7700X. It's going to be priced at $329. Which is $70 lesser than the original MSRP of 7700X.
Now comes the cheapest processor in the lineup so far. The AMD Ryzen 5 7600 is going to be a 6 core, 12 thread processor, again, same as 7600X. The boost clock of 7600 is going to be 5.1GHz compared to the 5.3GHz of 7600X. The AMD Ryzen 7600 is going to cost $229 compared to the 7600X which had an original MSRP of $299. Again, making it $70 cheaper.

However, there's one thing that sets all these three processors apart from their X variants. All the above three processors come with just 65W TDP. The 7900X had an TDP of 170W, while the 7700X and 7600X had a TDP of 105W. This means that these processors will have a hard power usage limit, which means the performance might be slightly limited too. We currently don't know whether these CPUs will be available to the public or will be made available only for PC making companies.
AMD Ryzen 7900 Performance Revealed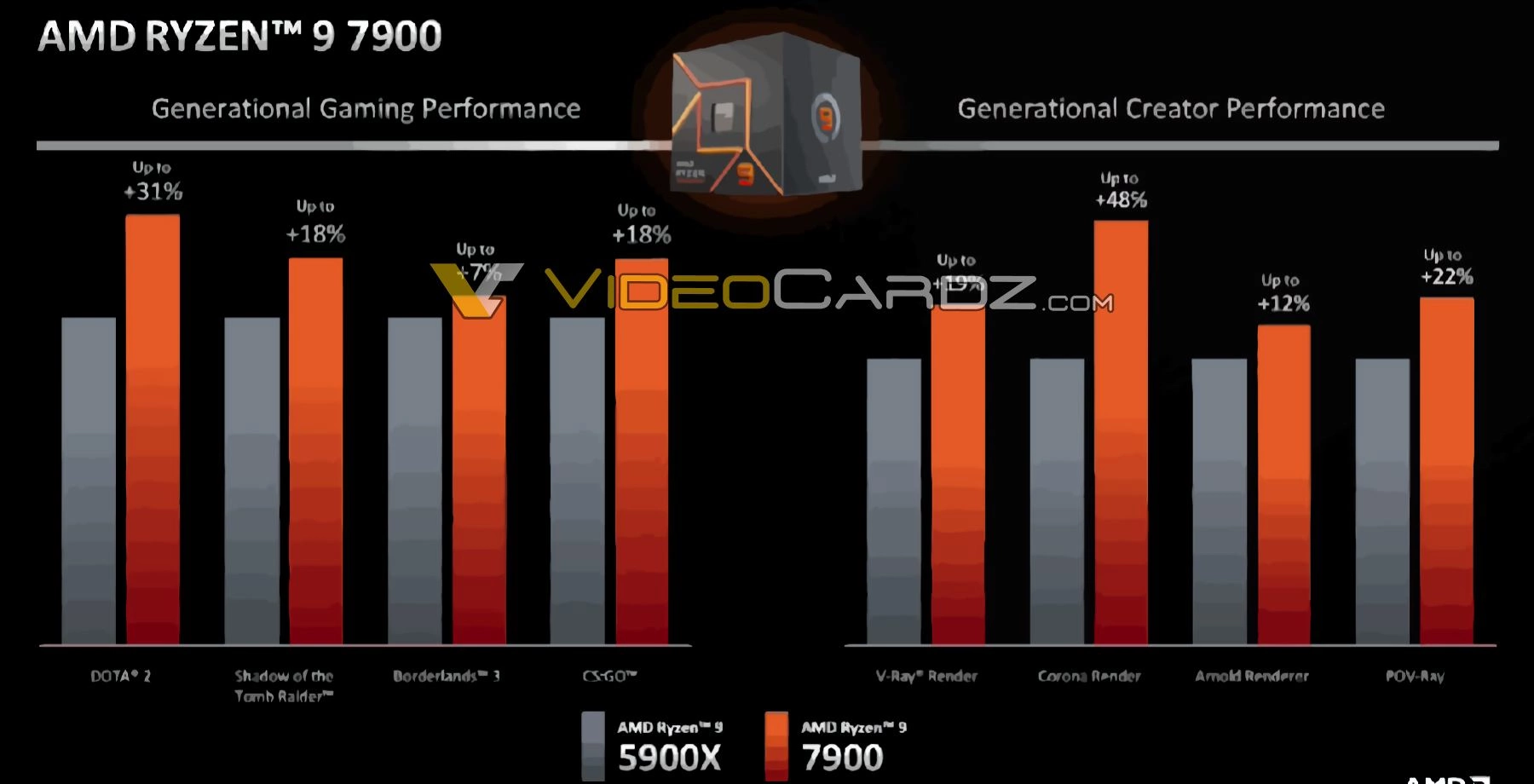 VideoCardz got hold onto another slide which compares the performance of AMD Ryzen 7900 with the Ryzen 5900X processor. In the twelve games tested, the Ryzen 7900 is about 20% faster than the Ryzen 5900X, which is quite good.
Nothing unexpected, but we are talking about a newer gen $429 beating a $549 previous generation processor in performance. So it's something nice to have.

Outcome Of These New Processors
AMD Ryzen 7000 series are not selling much. Reddit based user, AverageEnjoyer2023, has posted that as per German retailer Mindfactory, the difference between Ryzen 7600X and 5600X sales is huge.
Every day, sixteen 7600X CPUs are being sold. Compared to that, they are selling ninety 5600X processors per day. This means a massive 6x difference in sales.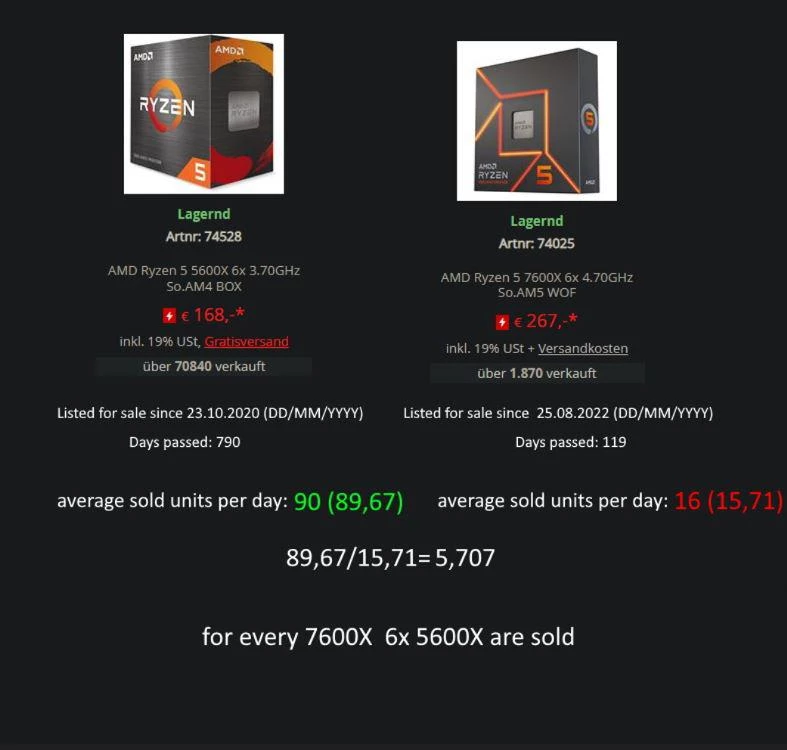 The reason is simple. While the new Ryzen 7000 processors aren't bad, nor are they too expensive. It's the whole platform that makes these new processors unattractive. The Ryzen 7000 processors need new motherboards, which are very expensive currently because they need to support both new and expensive AM5 CPU slot and also DDR5 RAM. DDR5 RAM sticks themselves are expensive too.
Not to forget, some motherboards come with an PCIe 5.0 slot, whereas no graphics card currently uses it. Even the SSDs based on PCIe 5.0 currently are rare or don't make a full use of it due to NAND chips (used in SSDs) required for such speeds have started mass production only now.
So basically, making a Ryzen 5000 series computer is far cheaper than the Ryzen 7000 series computer right now. So unless the above issues are resolved, the non-X Ryzen 7000 processors don't give much to the users.
But that's not it. The non-X Ryzen 7000 processors don't offer much in terms of price cut. This is because after recent price cuts by AMD on the X processors, the difference between X and non-X Ryzen processors is only going to be $10-20. Which is not at all impressive.
Whatever it will be. AMD has long term considerations with its new AM5 platform. Whether it brings them any rewards, is to be seen.
We are sorry that this post was not useful for you!
Let us improve this post!
Tell us how we can improve this post?