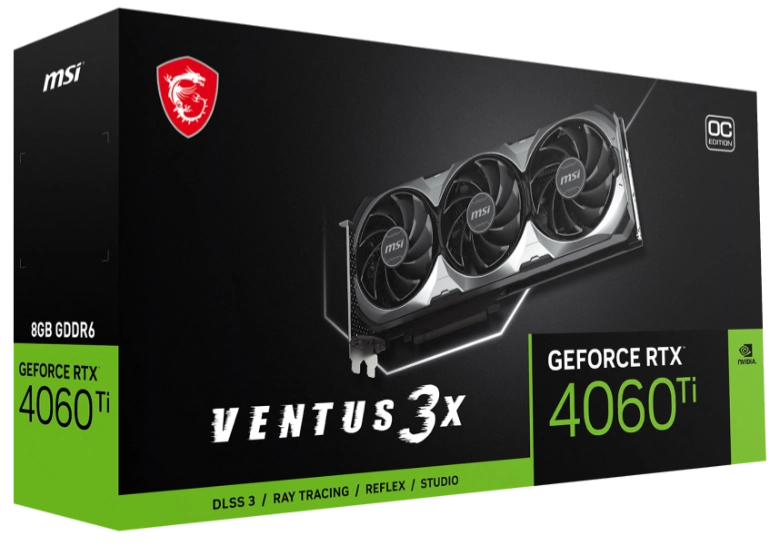 The specifications for Nvidia GeForce RTX 4060 Ti has been leaked along with it's prices. The RTX 4060 Ti 8GB will start at $399 and 16GB to start at $499.
A few days ago, it was leaked that Nvidia GeForce RTX 4060 Ti will be released on 24th May. With 16GB version of the same card and RTX 4060 (non-Ti) expected to release two months later in July.
However, while we knew about the release dates, we didn't know much about their specs and costs, until now.
RTX 4060 Ti Leaked Specs

VideoCardz reports that the specs of the Nvidia GeForce RTX 4060 Ti has seemingly leaked on benchmarking software Geekbench.
The Geekbench results show that RTX 4060 Ti could come with 4352 CUDA cores. This is, in-fact, lesser than what was found in RTX 3060 Ti, but that's for later. The max frequency this card is expected to run at is 2.54 GHz.
Additionally, the graphics card will feature just 8GB VRAM that will run at 18Gbps speed.
In terms of performance, the RTX 4060 Ti graphics card is just 9% faster than the previous-gen RTX 3060 Ti graphics card. While this is massively disappointing, these synthetic benchmarks like Geekbench are not comparable to actual gaming performance.
Either-way, the reason these specs are being available because it's possible that Nvidia has sent these graphics cards to the reviewers and they are testing them right now.
Pricing Leaks For RTX 4060 Ti
Well known Twitter based leaker MEGAsizeGPU has posted the prices for the RTX 4060 Ti graphics cards.
He says that the prices for RTX 4060 Ti 8GB will start at $399. While the 16GB version of RTX 4060 Ti will start at $499.
The reason we say start at is that these are just rumored MSRP. The real prices by board partners are expected to be higher.
Disappointing Specs
Honestly speaking, the specs and pricing for the RTX 4060 Ti, if true, are massively disappointing. To understand that, one needs to look at the chart we created below.
| Model | RTX 2060 Super | RTX 3060 Ti | RTX 4060 Ti |
| --- | --- | --- | --- |
| Year | 2019 | 2020 | 2023 |
| GPU | TU106 | GA104 | AD106 |
| Process | 12nm | 8nm | 4nm |
| CUDA Cores | 2176 | 4864 | 4352 |
| Boost Clock | 1650 MHz | 1665 MHz | 2535 MHz |
| VRAM Size | 8GB | 8GB | 8GB / 16GB |
| Memory Bus | 256-bit | 256-bit | 128-bit |
| Memory Bandwidth | 448 GB/s | 448 GB/s | 288 GB/s |
| TDP | 175 W | 200 W | 160W |
| MSRP | $399 | $399 | $399 / $499 |
Created by OurDigiTech. Specs from VideoCardz and TechPowerUP.
Notice a few things above.
First look at how CUDA cores have doubled from RTX 2060 Super to RTX 3060 Ti. Now look at the CUDA Cores in RTX 4060 Ti, instead of an increase, Nvidia is in-fact decreasing them.
Then look at the clock speeds. So while Nvidia is decreasing the CUDA cores, it wants to compensate that with higher clock rates. Meaning that while RTX 4060 Ti will perform faster than RTX 3060 Ti, it would be more due to improvements in the tech and increase in clock speeds, not an increase in specs.
Another thing to notice is that we are getting a new xx60 Ti card after more than 2 years, yet, Nvidia doesn't bother to increase the VRAM size for the base model. Nvidia has come under a lot of criticism because games these days are not doing nicely with 8GB VRAM, which Nvidia insists on. So to keep people happy, it's releasing a 16GB version. But a $100 more is just not justified.
In-fact, it's instead cutting the memory bus size, which in turn decreases the memory bandwidth. This means that at higher resolution, the RTX 4060 Ti is expected to do badly, no matter how much VRAM you put in it.
Overall, the specs for the RTX 4060 Ti are quite disappointing. However, it's expected to release on 24th May and reviews could be out a day before. So, let's see how it actually performs in the reviews when it releases.
We are sorry that this post was not useful for you!
Let us improve this post!
Tell us how we can improve this post?