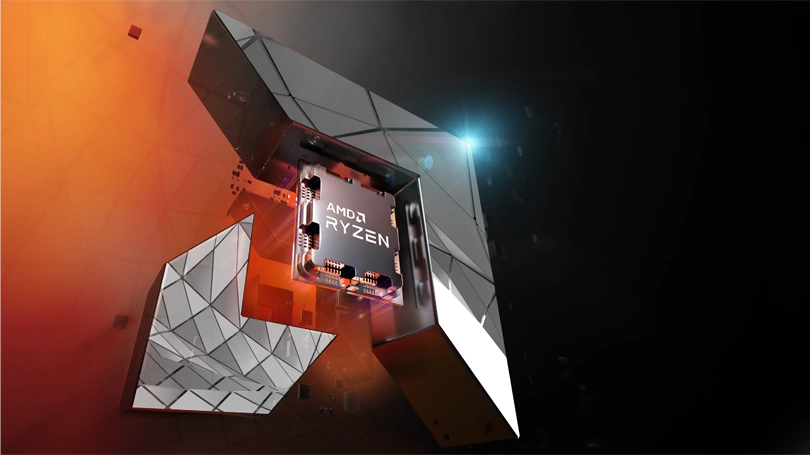 The AMD Ryzen 7950X3D, 7900X3D, 7800X3D CPUs are based on the 3D V-Cache, making them the top processors in gaming and other tasks.
AMD decided to have an important public keynote address at the start of the new year. In it, AMD announced a lot of things. Laptop CPUs, GPUs, AI, embed among other things. But the biggest thing which excited us and what everyone was waiting for was finally announced by AMD.
In the keynote (YouTube video), AMD announced new three new 3D V-Cache based Ryzen 7000 series processors.
Ryzen 7950X3D, 7900X3D, 7800X3D Announced
AMD finally revealed the successor to its groundbreaking and game-changing Ryzen 5800X3D processor. Back in September, it was rumored that AMD was going to release not one, but three processors based on the 3D V-Cache technology, looks like those rumors were true.
Those unaware, 3D V-Cache technology is a tech by AMD where it stacks additional L3 cache on the top of the CPU chip. This gives the CPUs an extraordinary performance boost in some tasks like gaming. So predictably, their Ryzen 7000 versions are going to be exciting.
AMD Ryzen 7 7800X3D
AMD started the announcement by showing the Ryzen 7 5800X3D's direct successor, the Ryzen 7 7800X3D processor.

The Ryzen 7 7800X3D is an 8 cores, 16 threads processor. It comes with a boost clock of up to 5GHz speeds. The boost speeds here is 500MHz higher than the Ryzen 7 5800X3D. AMD is not revealing the base clock of the Ryzen 7 7800X3D yet.
It comes with the same 96MB L3 cache found in its predecessor. It's likely that it's using the same 32MB base cache and an additional 64MB stacked 3D cache found in the Ryzen 5800X3D. The L2 cache too has been doubled from 4MB to 8MB.
The TDP, however, has been increased from 105W to 120W.

In gaming performance, AMD claims that when compared to the Ryzen 5800X3D, the Ryzen 7800X3D is on average 15% faster across popular games.
AMD Ryzen 9 7950X3D
The next on the list is the processor which can potentially become the best gaming CPU in the world. AMD revealed the AMD Ryzen 9 7950X3D.

The AMD Ryzen 9 7950X3D is a 16 cores, 32 threads processor. It comes with a boost clock of 5.7GHz, which is the same as that of Ryzen 9 7950X. However, the base clock is 300MHz lesser in the 7950X3D.
The Ryzen 9 7950X3D comes with 128MB L3 cache, which is double than the 64MB L3 cache found in the Ryzen 9 7900X CPU.
Compared to the 7900X, the TDP of 7950X3D has been lowered from 170W to 120W. While there's no mention, this basically means overclocking, if allowed, will be limited.
Interestingly, there's something we found out by looking at the specs (you can credit us for it, thank you) is that AMD claims it's not made for consumer use. Now, whether this is a mistake or an intentional one, we don't know.

When it comes to gaming performance at 1080p, AMD claims that the Ryzen 7950X3D is up to 24% faster than the Intel Core i9-13900K CPU, which is the fastest CPU in the market currently. If these claims are true, then AMD surely is almost running away with the prize for the best gaming CPU. However, AMD has not spoken about average performance here. Also, the unlocked Intel Core i9-13900KS's release is just around the corner.
AMD Ryzen 9 7900X3D
AMD also announced the AMD Ryzen 9 7900X3D processor. Though no specific slides were shown for it.

The AMD Ryzen 9 7900X3D processor is a 12 cores, 24 threads CPU. It comes with a boost clock of 5.6GHz, which is the same as the Ryzen 9 7900X. However, here too, the base clock has been lowered by 300MHz to 4.4GHz.
In L3 cache, it's going to be the same as the Ryzen 9 7950X3D. The Ryzen 9 7900X3D features 128MB of L3 cache, which doubles the 64MB found in the Ryzen 9 7900X.
Here too, the TDP has been lowered from 170W to 120W.
Additionally, just like the Ryzen 9 7950X3D, here too AMD claims that the Ryzen 9 7900X3D is not for consumer use.
Release Dates And Other Announcements

The AMD Ryzen 7950X3D, 7900X3D, 7800X3D processors are going to release this February. AMD has shared no details about the prices of these new processors. Pricing is something which will decide how they stack-up against their competitor Intel's processors.
Additionally, AMD also announced new low powered 65W processors. The non-X Ryzen 7600, 7700 & 7900 CPUs. It adds up with new entry level AM5 motherboards. Which is really welcome as current Ryzen 7000 supporting motherboards are really expensive currently.
The 3D V-Cache Chiplet Confusion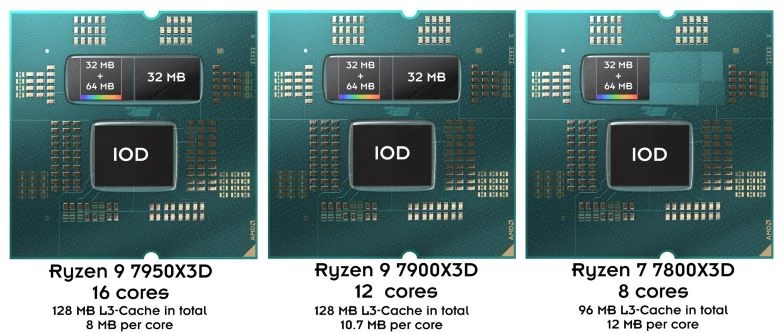 The new announced processors are not without their concerns, though. The new AMD Ryzen processors follow a chiplet design. Where small chips are joined together to make a CPU. This is cheaper and easier to make and going forward most processor makers, including Intel, are expected to follow the same method.
The biggest a chiplet can currently get is the one with 8 cores max in the Ryzen 7000 series. It means that while the Ryzen 7 7800X3D comes with a single chiplet, both Ryzen 9 7950X and 7900X come with two 8 core and 6 core chiplets respectively. So the question is, how will AMD stack up the new additional 3D V-Cache on them.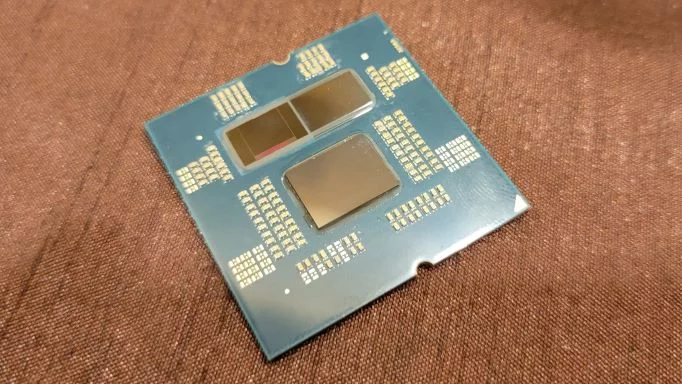 It has now been revealed that new 3D V-Cache will be added to only one chiplet in these CPUs. That means the 64MB cache will be added to one chiplet, while the other chiplet will use the default 32MB cache on the Ryzen 9 7950X3D and 7900X3D. Twitter based user @Andreas Schilling has given a good explanation for it.
Basically this means, all the three new CPUs, the Ryzen 7950X3D, 7900X3D, 7800X3D, will be using the same 32MB + 64MB cache config on their main processing chiplet. With differences found in core and clock counts.
The problem is, this means that these processors may not perform as good as initially thought or may have some performance problems. Another question is, how will games use these chiplets and cores. Thankfully, games might not need more than 8 cores to perform. So will the games come to know which chiplet to use and will games be optimized to handle these new caches.
Tom's Hardware has a detailed answer on it:
AMD is working with Microsoft on Windows optimizations that will work in tandem with a new AMD chipset driver to identify games that prefer the increased L3 cache capacity and pin them into the CCD with the stacked cache. Other games that prefer higher frequencies more than increased L3 cache will be pinned into the bare CCD. AMD says that the bare chiplet can access the stacked L3 cache in the adjacent chiplet, but this isn't optimal and will be rare. Yes, the chip with the extra L3 cache will run games at a slower speed, but most games don't operate at peak clock rates, so you should still get a huge performance benefit.
Famous Twitter based leaker @OneRaichu has explained it in even simple words:
So basically, games and software which can make a use of this new stacked cache will be moved to to the chiplet with additional cache. The games and software which specifically perform badly with higher cache chiplet (mostly slower CPU speeds) will be moved to the non-3D cache chiplet which has faster raw processor speeds.
It should be mentioned that some chiplet core related problems have been reported on Ryzen 9 7950X too. The Twitter based handle of benchmarking software CapFrameX has showed how forcing a game to use a single chiplet was giving better FPS in games. In a statement given to Tom's Hardware, AMD denied any such thing. It is possible that a software update might have fixed it later.
It will be interesting to see how these chips perform in gaming benchmarks. We are guessing that the difference between all the three new X3D CPUs might be lesser than the non-3D cache based X versions respectively.
So, if anyone wonders why AMD chose to put all the cache into a single chiplet. It's for performance reasons and also cost-cutting ones. Putting it into a single chiplet may give better performance and it also means that AMD will not need to add the new and expensive 3D V-Cache tech on two chiplets inside a single CPU. However, going forward, AMD might well put this new 3D stacked cache on both chiplets on top of the line next generation of Ryzen processors. But that's at least a year or two away from release.
Overview And Impressions
What was missing from this keynote is AMD announcing anything about other new graphics cards in the Radeon RX 7000 series. AMD did not even talk about the GPUs used in these new CPUs. What we also want to see AMD do is to announce sub-$200 and sub-$150 CPUs, but the budget users are again being looked away by AMD.
Ignoring all that. These new processors are looking impressive. They are much welcomed. If AMD is able to do something about the chiplet and cache usage concerns, then these processors could turn out to be great.
The TDP on all these processors have been limited to 120W. So it's interesting how they will perform.
However, pricing is a big question. If AMD prices them properly, then there's hardly anything stopping them.
We are sorry that this post was not useful for you!
Let us improve this post!
Tell us how we can improve this post?