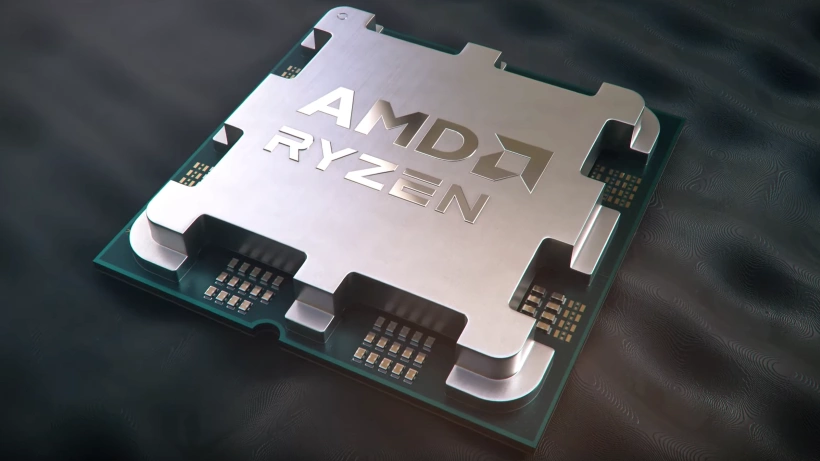 While AMD Ryzen 9 7950X3D and 7900X3D will release on 28th February, AMD Ryzen 7 7800X3D will come later on 6th April. Pricing starts $449.
As AMD Ryzen 5800X3D was a massive success, both in performance and sales, AMD had to make something similar in the Ryzen 7000 series, too.
In January earlier at the start of this year, AMD revealed three new 3D V-Cache based processors on it's latest Ryzen 7000 series. We recommend everyone to watch the 2 mins long video to understand the details about them.
The three new CPUs were the AMD Ryzen 9 7950X3D, Ryzen 9 7900X3D and Ryzen 7 7800X3D. In that announcement, AMD revealed almost all the specs of these processors. Except the pricing and release dates, which were not revealed. Now they have.
AMD Ryzen 9 7950X3D, 7900X3D & 7800X3D Prices And Release Date Announced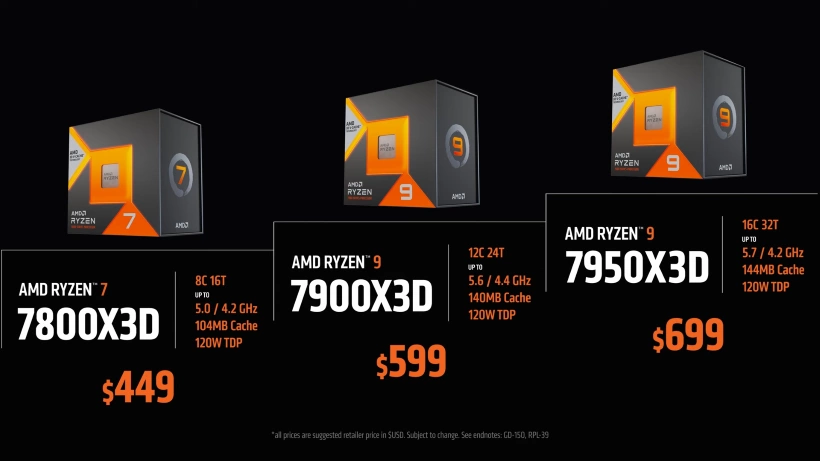 In a YouTube video, AMD officially revealed the prices and release dates of the three 3D V-Cache based processors in the Ryzen 7000 series.
The 16 cores, 32 threads AMD Ryzen 9 7950X3D CPU will release on 28th February and will cost $699. Which is the same as the currently available flagship AMD Ryzen 9 7950X processor without 3D V-Cache.
The 12 cores, 24 threads AMD Ryzen 9 7900X3D CPU will release on the same date as 7950X3D. That is, 28th February. It will cost $599, which is $50 more than the usual AMD Ryzen 9 7900X without 3D V-Cache.
The 8 cores, 16 threads AMD Ryzen 7 7800X3D CPU will release on a different date than the above two processors. It will release on 6th April instead. It's priced at $449, which is the same as the originally priced AMD Ryzen 7 5800X3D.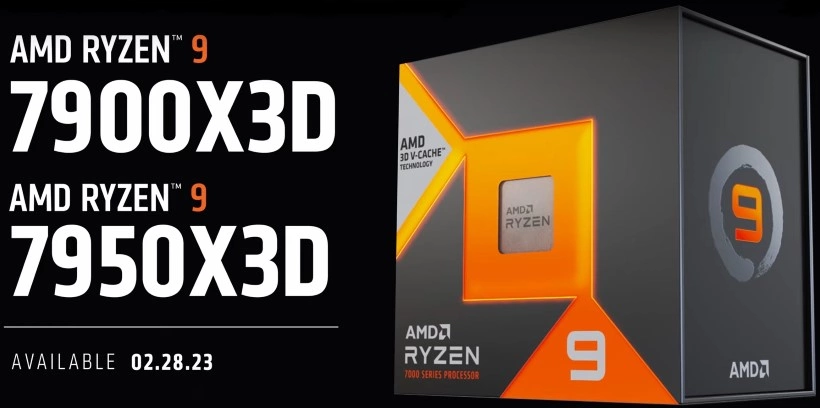 AMD Ryzen 7000X3D Performance
The performance of the above three processors isn't quite known, except the internal claims by AMD. Which shouldn't always be trusted.
However, if AMD Ryzen 7 5800X3D performance is to be believed, these three new 3D V-Cache based Ryzen 7000 processors are going to perform extraordinarily in gaming and their reviews.
Additionally, known Twitter based leaker @9550pro has revealed some possible performance details.
If the tweet is to be believed, the AMD Ryzen 9 7950X3D might have the same single core performance as the AMD Ryzen 9 7950X. In multi-thread software and productivity performance, the Ryzen 7950X will be faster than 7950X3D.
It must be mentioned that all the three X3D processors will have a limited TDP of 120W, which is lesser than their non-X3D counterparts, which have a TDP of 170W. So, some decrease in software and productivity performance is expected.
But in gaming performance, the AMD Ryzen 9 7950X3D is likely to be the fastest processor AMD has produced so far. It's likely that the other two won't be far behind.
Intel Fights AMD With Price Cuts
Another well known Twitter based leaker @harukaze5719 has posted that Digitimes has revealed (paywall) that Intel is going to cut the prices of previous-gen Alder Lake processor by 20%.
The newer pricing means that the Intel i9 12900K, which initially costed $589, will now cost $518 instead, for example. However, what's interesting is that Intel increased the prices of Alder Lake only some time ago. So decreasing these prices again only means that Intel wants to continue its domination in the processor market against AMD and is cutting the prices only to make sure people don't switch over to AMD.
Conclusion
Coming back to AMD Ryzen 7000X3D. The pricing of the processors is really interesting. Everyone was expecting AMD Ryzen 9 7950X3D to cost $799 and AMD surprised everyone by pricing it $699 instead. Both AMD Ryzen 9 7900X3D and AMD Ryzen 7 7800X3D are priced sportingly, too.
Something to wonder is why AMD Ryzen 7 7800X3D is coming more than a month later than the other two. The reason we think is that as explained in our earlier article, all three processors will have 96 MB cache in a single chiplet which most games will use. It means that while AMD Ryzen 7950X3D and 7800X3D has 8 cores on a single chiplet, the 7900X3D will only have 6 cores on it.
The above means that it's quite possible that the price / performance of the Ryzen 7900X3D will not be as good as Ryzen 7950X3D and 7800X3D. But this is just speculation from our side.
The true performance numbers will only be revealed after the reviews are out. Till then, we will be eagerly waiting for them.
We are sorry that this post was not useful for you!
Let us improve this post!
Tell us how we can improve this post?