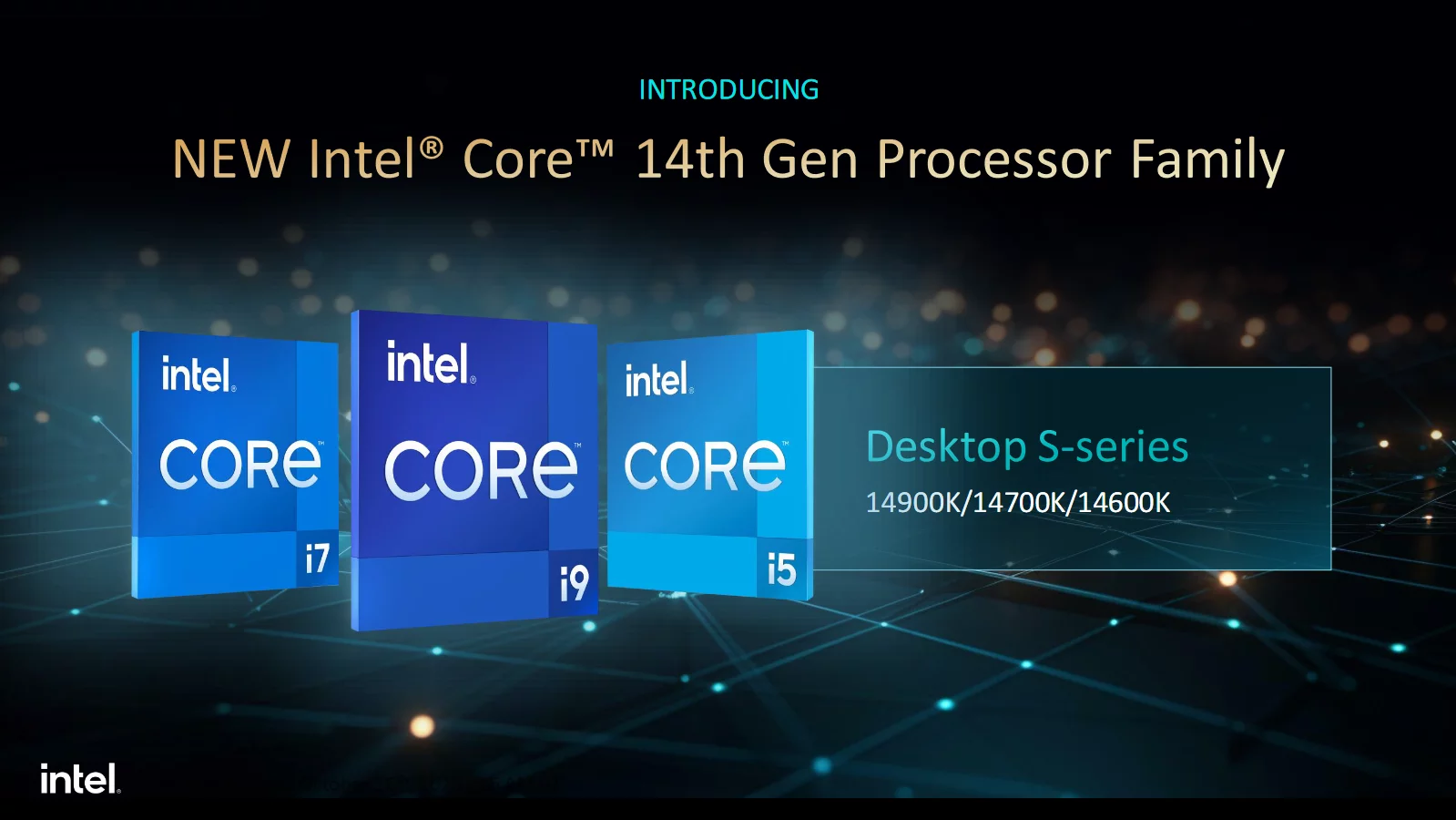 Intel today has officially launched the 14th-gen Raptor Lake Refresh series of CPUs. However, only K series CPUs are launched as of now.
When Intel released the now previous-gen Raptor Lake processors, everyone was expecting a huge increase in performance. While the top of the line processors in the Raptor Lake series did offer great performance, that wasn't the case for all the processors in the line-up.
The reason why the performance increase across the line wasn't seen was because many CPUs in the Raptor Lake series, especially the cheaper ones, were actually just a refresh of the then previous-gen Alder Lake series.
So after Raptor Lake was released, everyone thought that maybe Intel will give everyone a great upgrade by releasing Meteor Lake, which is going to be the biggest upgrade Intel has made in 40 years. But to everyone's disappointment, Meteor Lake is not going to release on desktops. Meteor Lake CPUs will release only on notebooks and other mobile computers.
So what will desktop users get instead. The desktop users are going to get Intel Raptor Lake Refresh instead. These refresh CPUs are nothing but an improved version of the same CPUs found in the Raptor Lake series.
14th-Gen Intel Raptor Lake Refresh Released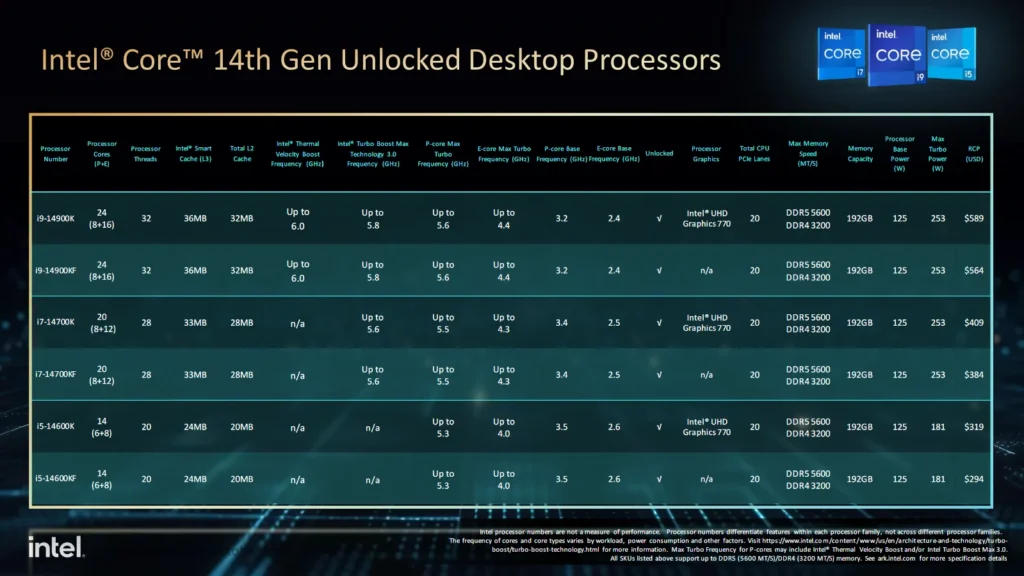 After months of rumors, Intel today officially launched the 14th-gen Raptor Lake Refresh series of CPUs. It has revealed all the details about the series in the media presentation (PDF) it has provided.
For now, only 6 processors in the unlocked K series line-up have been launched. They are:
Intel i9-14900K and i9-14900KF with 24 (8P+16E) cores, 32 threads, 36MB L3 cache, up to 6.0GHz clock, 253W max turbo power. They would cost $589 and $564 respectively.
Intel i7-14700K and i7-14700KF with 20 (8P+12E) cores, 28 threads, 33MB L3 cache, up to 5.6GHz clock, 253W max turbo power. They would cost $409 and $384 respectively.
Intel i5-14600K and i5-14600KF with 14 (6P+8E) cores, 20 threads, 24MB L3 cache, up to 5.3GHz clock, 181W max turbo power. They would cost $319and $294 respectively.
All these processors will support 20 total PCIe CPU lanes (like one x16 for graphics card and one x4 for SSD). They will also support both DDR4 RAM up to 3200MHz and DDR5 RAM up to 5600Mhz. With total RAM storage capacity up to 192GB.
As per the official presentation, Intel says this about the new Raptor Lake Refresh series:
Intel's advanced performance hybrid architecture continues to deliver the compute performance enthusiasts demand in their day-to-day workflows:
The Ultimate Gaming Platform: Intel Core 14th Gen processors power an immersive gaming experience with up to 23% gaming performance uplift compared to leading competitor processors, while new gaming-focused features like Intel® Application Optimization (APO) ensure better-than-ever application threading alongside existing Intel® Thread Director application thread scheduling6,7.
Continued Overclocking Leadership: Intel Core 14th Gen unlocked processors continue to offer an unparalleled overclocking experience for everyone – from experts to beginners2. Latest-generation unlocked desktop processors now include the new Intel® XTU AI Assist feature for AI guided overclocking, as well as support for DDR5 XMP speeds well beyond 8,000 megatransfers/second (MT/S).
Best-in-Class Connectivity: Intel's latest desktop processor family comes equipped with integrated support for Wi-Fi 6/6E and Bluetooth® 5.3, as well as discrete support for new Wi-Fi 7 and Bluetooth 5.4 wireless technologies. Additionally, Intel Core 14th Gen desktop processors include support for Thunderbolt™ 4 as well as upcoming Thunderbolt 5 wired connectivity – supporting up to 80 Gbps of bi-directional bandwidth8.
Compatibility with 600/700-series Chipsets: Intel Core 14th Gen desktop processors remain compatible with both Intel 600 and 700 series chipsets, giving enthusiasts the ability to easily upgrade their existing systems and enjoy latest-generation gaming and creator performance.
Intel 14th-Gen Raptor Lake Refresh Performance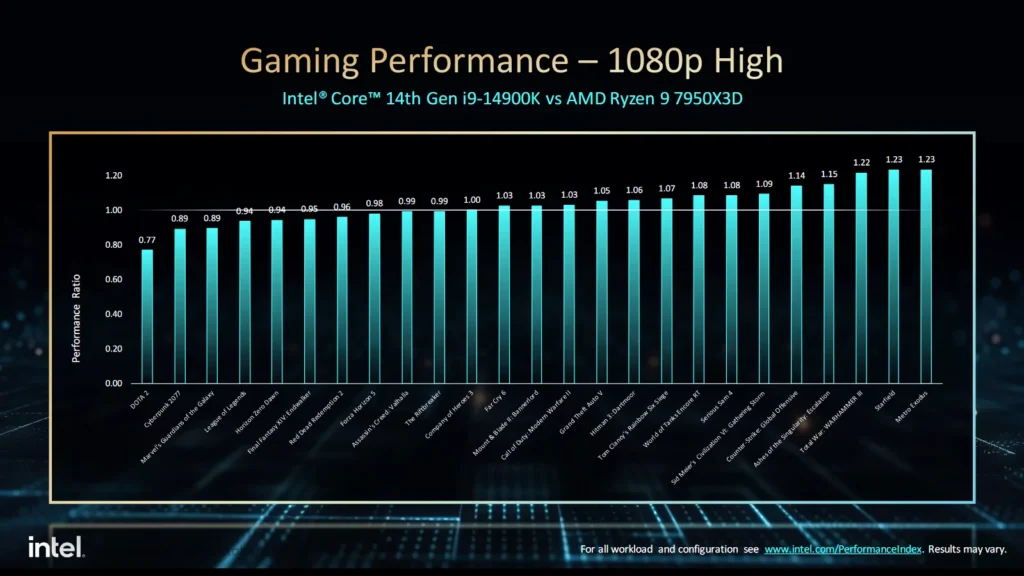 The reviews for the Intel 14th-Gen Raptor Lake Refresh aren't out yet. At least at the time of writing this article, we aren't aware of such. They will be available tomorrow.
We can however rely on the performance benchmarks provided by Intel themselves. As per the official gaming benchmarks provided by Intel, the i9-14900K is up to 23% faster than the AMD Ryzen 9 7950X3D processor in some games, while also being up to 23% slower in some games against the same.
This was tested at 1080p resolution, which is the best resolution to test CPUs. Having said, until the CPUs are tested by review sites, nothing can be said for sure.
Intel also claims this series is 54% faster in creator workflow. But that's misleading. This is because they compared i7-14700K vs i7-12700K processors. Both are completely different CPUs now. While i7-14700K comes with 8P cores and 12E cores, i7-12700K came with 8P cores and 4E cores. These additional 8 E-cores can play a big role in professional software benchmarks.
Conclusion
Just days ago, the internet was filled with rumors that Intel would, in-fact, increase the price of the 14th-gen Raptor Lake Refresh series processors. That rumor turned out to be completely false. That's because the price of these CPUs have been revealed to be the same as previous-gen. Which is a good thing, as a refresh series doesn't require an increase in cost. As for the processors themselves, only the unlocked K series is released for now.
As we had shared in July this year, the rumor about the increase in the core count for the i7 version has come out to be completely true. In-fact, that's the only processor in the series worth checking out, both for the buyers and reviewers. Otherwise, all other processors are the same, with just 100MHz to 200MHz increase in CPU clock rates.
Many reviewers like the TechPowerUP and Andreas Schilling (Twitter) from HardwareLuxx.de have gotten their hands on the Intel Media Kit with these processors. Expect them and many others to release their reviews tomorrow.
Without checking the reviews, if one asks whether they should upgrade from Alder Lake or Raptor Lake, we would say no. However, if they are upgrading from 11th-gen or before, then they can consider them. Why we don't recommend it outright is that the 14th-gen Raptor Lake Refresh is the last processor series in the LGA1700 socket, as Arrow Lake and later will be based on an entirely new LGA1851 socket. This leaves no room for a CPU upgrade on the same PC.
Meanwhile, there are rumors that future Intel processors which would release two or more years later will ditch Hyper-Threading entirely and will replace them with Rentable Unit instead, but more on that can come only later when Intel gives more information about it.
Update: Reviews for the Intel Raptor Lake Refresh K series processors are now available. They can be found on Tom's Hardware (all three), TechPowerUP (i5-14600K, i7-14700K, i9-14900K), AnandTech (all three), Hardware Unboxed YouTube / TechSpot article (all three), Gamers Nexus YouTube (i7-14700K), Club386 (i9-14900K), igor'sLAB (all three) are some of the good ones one can check.
Basically, these processors provide minor improvements in performance but increase the power consumption a lot, which is not desirable for everyone.
We are sorry that this post was not useful for you!
Let us improve this post!
Tell us how we can improve this post?