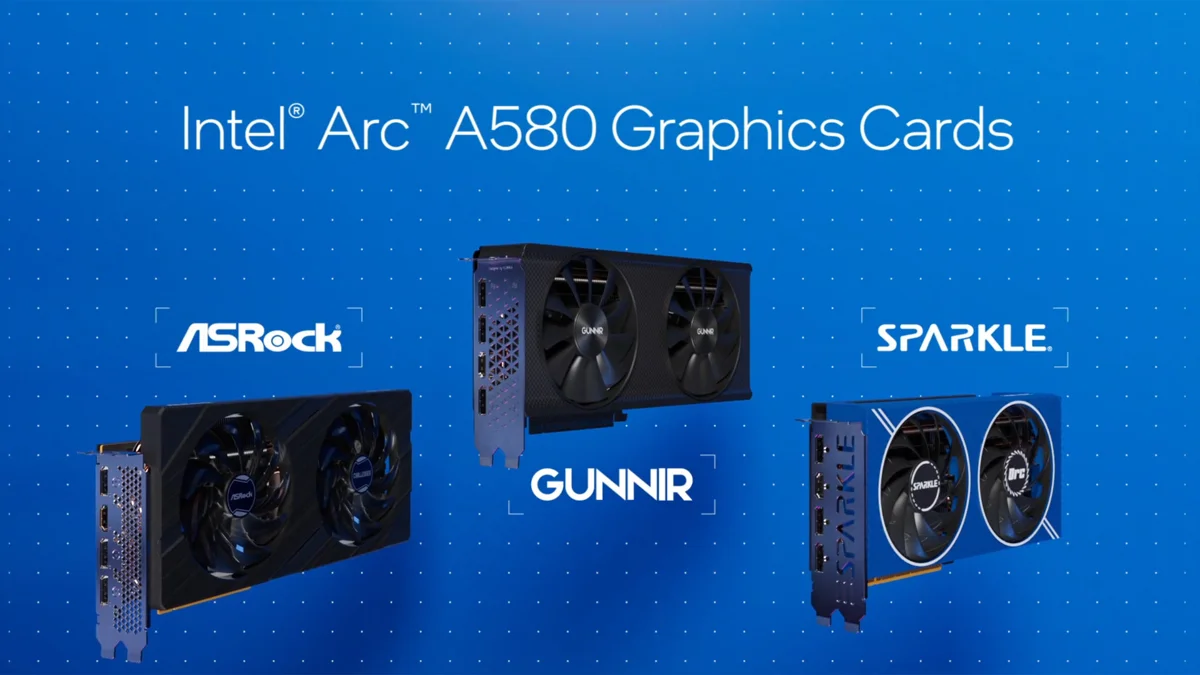 The Intel Arc A580 graphics card marks the entry of Intel into the budget gaming GPU category. The reviews show the Arc A580 rivaling AMD RX 6600.
More than a year ago, Intel announced the Arc A750 and A770 graphics cards. Initially, the reviews for these graphics cards were very underwhelming. This was because while the GPU inside these graphics card was powerful, the actual performance was very lacking, especially in games which weren't that new.
Intel quickly started working to fix it. First, it started cutting the retail price of these graphics cards. So much so that the Arc A750, which was launched at an MSRP of $289, is now available for as cheap as $190 at some places.
The second thing Intel did was to improve the performance of these graphics cards. Driver update after another, Intel has consistently kept increasing the performance of the Intel Arc series graphics cards. This is visible in the official benchmarks Intel posts time and again.
Though, issues remain. Like, there are some games that still don't run properly. Some don't launch. Many games are having all kinds of various issues. To add to that, all these Intel graphics cards require Re-BAR to be enabled in the BIOS for good performance, which is something that is only available in relatively newer motherboards. Most newer motherboards do support it, though.
Despite all this, Intel Arc A750 and A770 are shaping up to be relatively good graphics cards, especially due to their newer prices. These two graphics cards are also supported by the likes of the cheap Intel Arc A380 graphics card, but that's more for non-gaming work, like video encoding and decoding.
However, during the time of the original announcement. Intel had also detailed another graphics card. The Intel Arc A580. From then, we didn't hear anything from Intel about it, until now.
Intel Arc A580 Officially Released
After days of leaks and rumors. Today, Intel released an interesting graphics card driver update. In that update, Intel specified an impressive graphics card performance increase in some games, while adding support for newer ones.
However, that update also mentioned something different. It mentioned an official support for the Intel Arc A580 graphics card. Sure enough. Within hours, Intel officially announced the Intel Arc A580 to the public.
In the announcement, Intel mentioned that the Arc A580 graphics cards will start becoming available from today, that too, worldwide. The Intel Arc A580 will come at an MSRP of $179 and will be sold by brands like ASRock, GUNNIR and Sparkle. This means there will be no official, limited edition, made by Intel card in the Arc A580.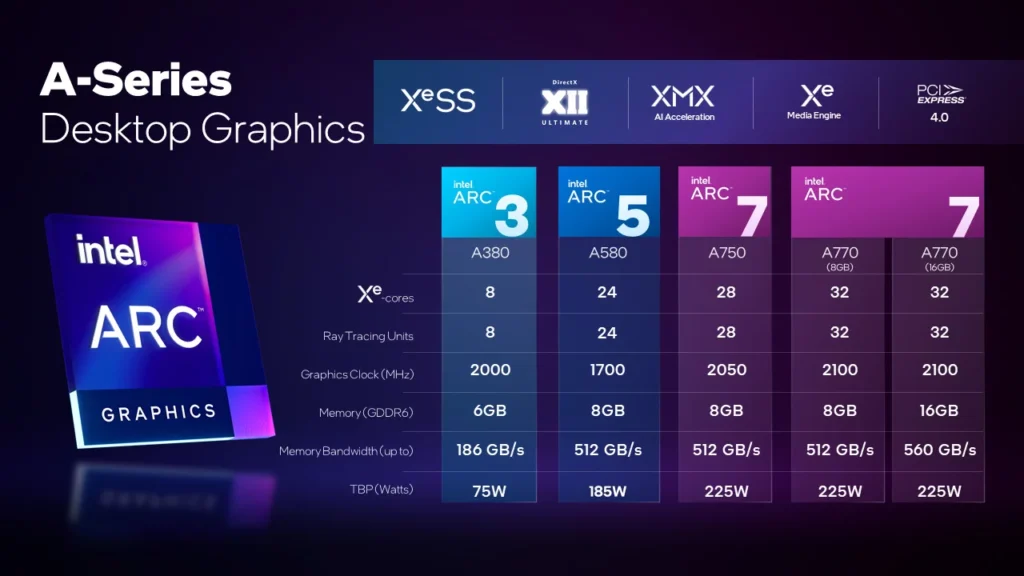 As for the specifications, the Intel Arc A580 uses a cut-down version of the same GPU which is found in the Arc 750 and Arc 770 graphics cards, the ACM-G10. The GPU is manufactured by TSMC's on it's N6 process.
It features 24 Xe-cores, 6 Render Slices and 24 Ray Tracing Units. The graphics clock is 1700 MHz (though VideoCardz says that graphics card makers have increased it to 2000 MHz), it will come with a TDP of 185W and supports PCIe 4.0 configuration.
In terms of memory, the Intel Arc comes with 8GB of GDDR6 VRAM running at 16Gbps speed, with a 256-bit bus. The bus part is particularly impressive. More on that later.
The Intel Arc A580 supports hardware based encoding and decoding of H.264, H265 (HEVC), AV1 and VP9. Here too, the AV1 support is important and impressive.
But what about the actual performance benchmarks? Looks like Intel not only made the surprise announcement, it had even sent these graphics cards to some sites for reviews. Let us check out some of them.
Intel Arc A580 Reviews
Tom's Hardware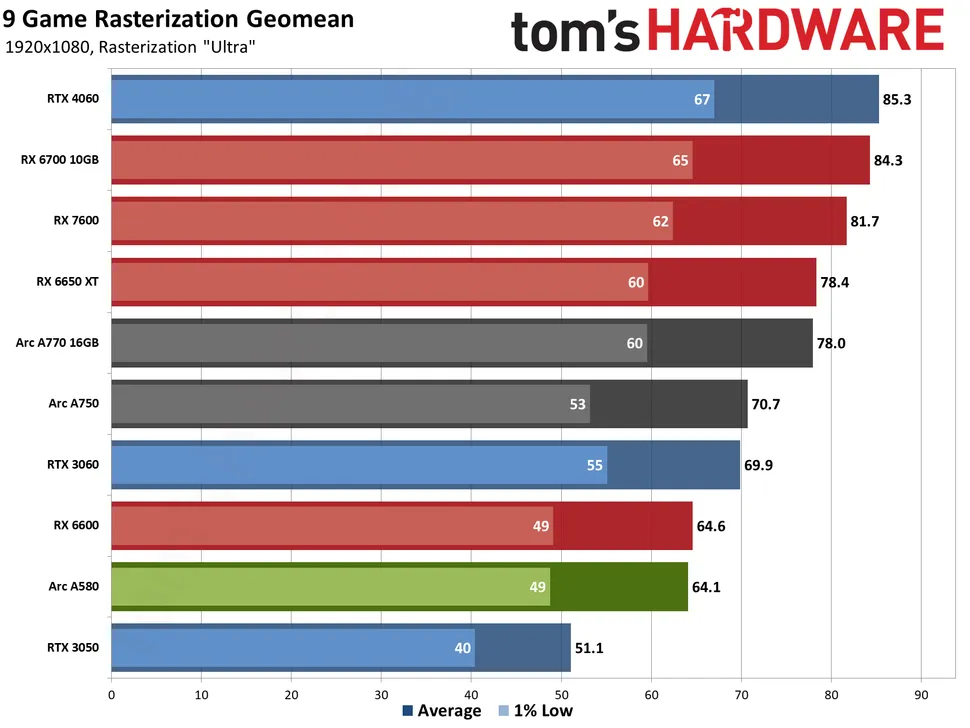 Tom's Hardware reviewed the Sparkle Intel Arc A580.
In raster performance at 1080p, Intel Arc A580 performed almost similarly to AMD RX 6600, which still retails above $210 these days – $30 more expensive than Intel Arc A580. However, while Intel Arc A580 beats Nvidia's RTX 3050 easily, it performs slower than the RTX 3060 12GB.
In ray tracing performance, Intel Arc A580 performs excellently, thanks to the dedicated ray tracing cores it comes with. In it, Intel Arc A580 beats AMD's more expensive offerings, but again lags behind Nvidia's ones. But honestly speaking, there's hardly any use to look at ray tracing performance at this price range, it's something best reserved for expensive graphics cards.
At 1440p, the performance is similar in raster, but in ray tracing the Arc A580 improves its lead further against AMD thanks to the larger 256-bit memory bus. Having said, again, at budget graphics card range, checking performance at 1440p isn't that ideal. This is because sooner or later, newer games will make sure that this graphics card is going to be useful only for 1080p.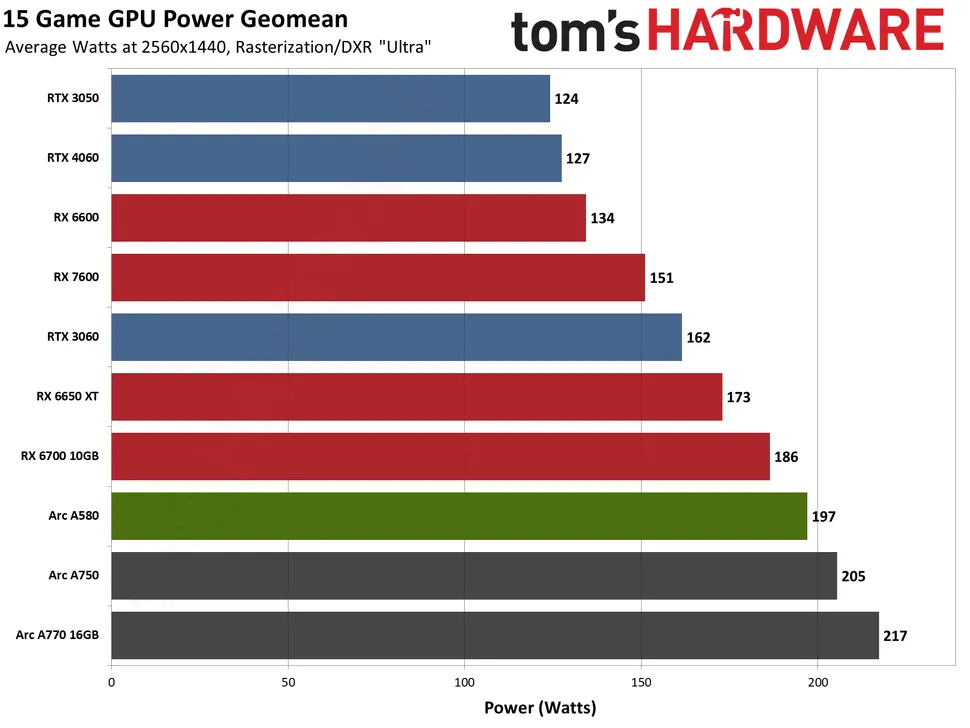 In power usage, Intel Arc A580 uses almost 200W, which is very high and nears the power usage of Intel Arc A750 and A770. Nvidia and AMD's offerings are far more efficient compared to it.
Another issue which Tom's Hardware found was that the Sparkle Intel Arc A580's fans were loud, very loud. Though this doesn't seem to be an issue with Intel Arc A580 from other brands. Also, this can be fixed by changing fan curve, but that requires some medium level of expertise.
TechPowerUP
TechPowerUP reviewed both Sparkle Intel Arc A580 and ASRock Intel Arc A580. We will concentrate on ASRock one this time around.
In terms of raster performance at 1080p, Intel Arc A580 was 20% faster than Nvidia RTX 3050, 11% faster than RTX 2060. However, it was 3% slower than AMD RX 6600, 9% slower than Intel Arc A750 and 10% slower than Nvidia RTX 3060. Here too, the Intel Arc A580 overtakes the AMD RX 6600 at 1440p.
In ray tracing performance, Intel Arc A580 performs as expected. Beating out AMD's offering at various levels.
In power consumption, the Intel Arc A580 idles at 37W, which is very high. In gaming, it uses around 200W, which is, again, more than desirable.
It's important to mention that TechPowerUP found no issues in the fan noise levels in the ASRock Intel Arc A580. However, the same issues were observed in the Sparkle one – as one can see from above, the Sparkle card it very loud.
Interestingly, TechPowerUp was able to overclock the Intel Arc A580 GPU by 500MHz, which is a massive. They found a 10% increase in its performance. However, as Intel Arc A580 GPU is originally rated to be 1.7GHz and the these companies are overclocking it to 2.0 GHz, any further overclocking is not recommended.
Conclusion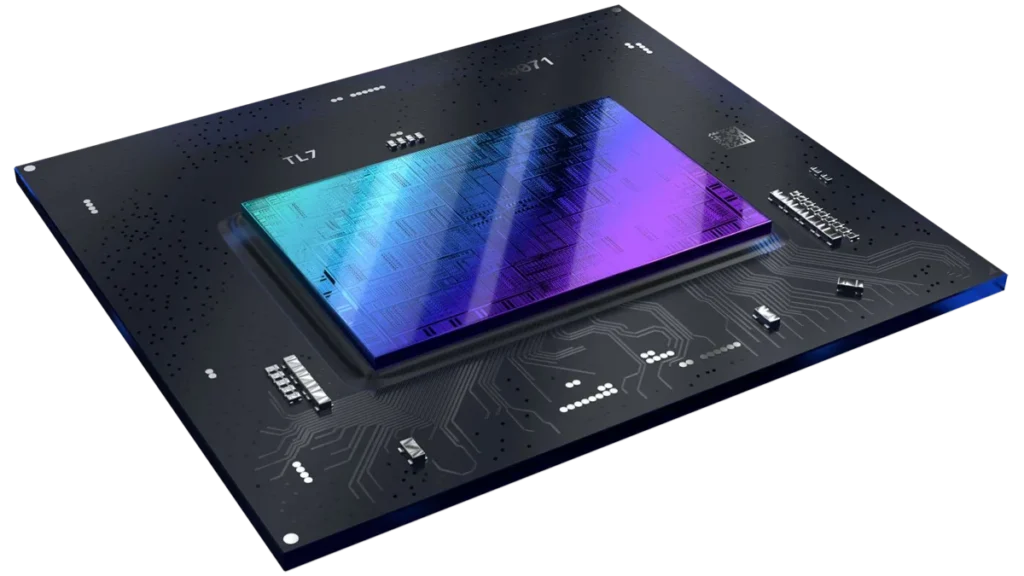 Those who are still unsure can check other sites who have reviewed Intel Arc A580. This includes the likes of KitGuru, HardwareLuxx.de (translated) and PCGamesHardware.de (translated).
Our opinion about Intel Arc A580 is simple. It's a good budget graphics card, which performs nicely and has all the features. It beats or equals AMD RX 6600, which these days costs $30 more than the Intel Arc A580.
However, Intel Arc A580's main rival isn't AMD or Nvidia. It's Intel itself. For a start, Intel Arc A750 is retailing at $190 at some places. Making it just $10 more expensive. So for such a small increase in cost, you get a massively better graphics card. This means in order for Intel Arc A580 to be attractive, it needs to be available for $150. This would make it an excellent buy.
Second issue is the drivers part as discussed earlier. Nvidia and AMD have spent years and years to improve their drivers. This means their graphics cards work on virtually almost all games. Intel is a relatively newer entry in the graphics card field. This has ensured that while it performs good in some games, it either performs badly in some others and it sometimes doesn't even run some games. This is something Intel needs to address and needs to do better.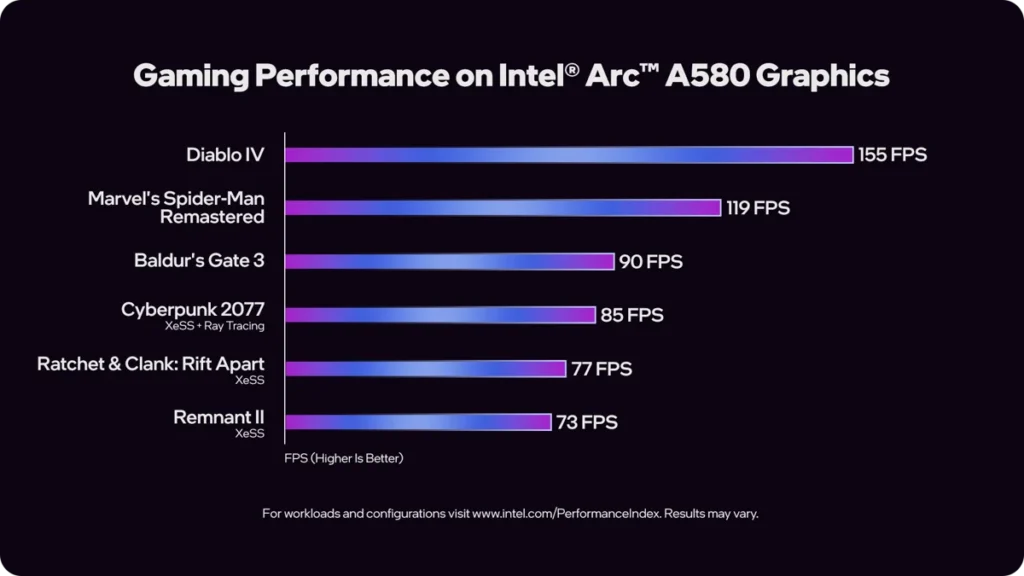 However, again, as mentioned earlier, Intel is improving the performance of the Intel Arc graphics cards massively with their regular driver updates. This means that the performance of Intel Arc A580 will continue to improve further. So if Intel Arc A580 does manage to retail at $150, which it might in a few months, it can be an excellent choice for gaming at 1080p for the budget users.
Those who do want to wait, however, then the next-gen Intel Arc graphics cards are expected to release next year. But don't expect it to release cheaper versions right away, though. Expensive models will release first and while performance might increase massively, the prices won't be as cheaper as currently they are.
We are sorry that this post was not useful for you!
Let us improve this post!
Tell us how we can improve this post?