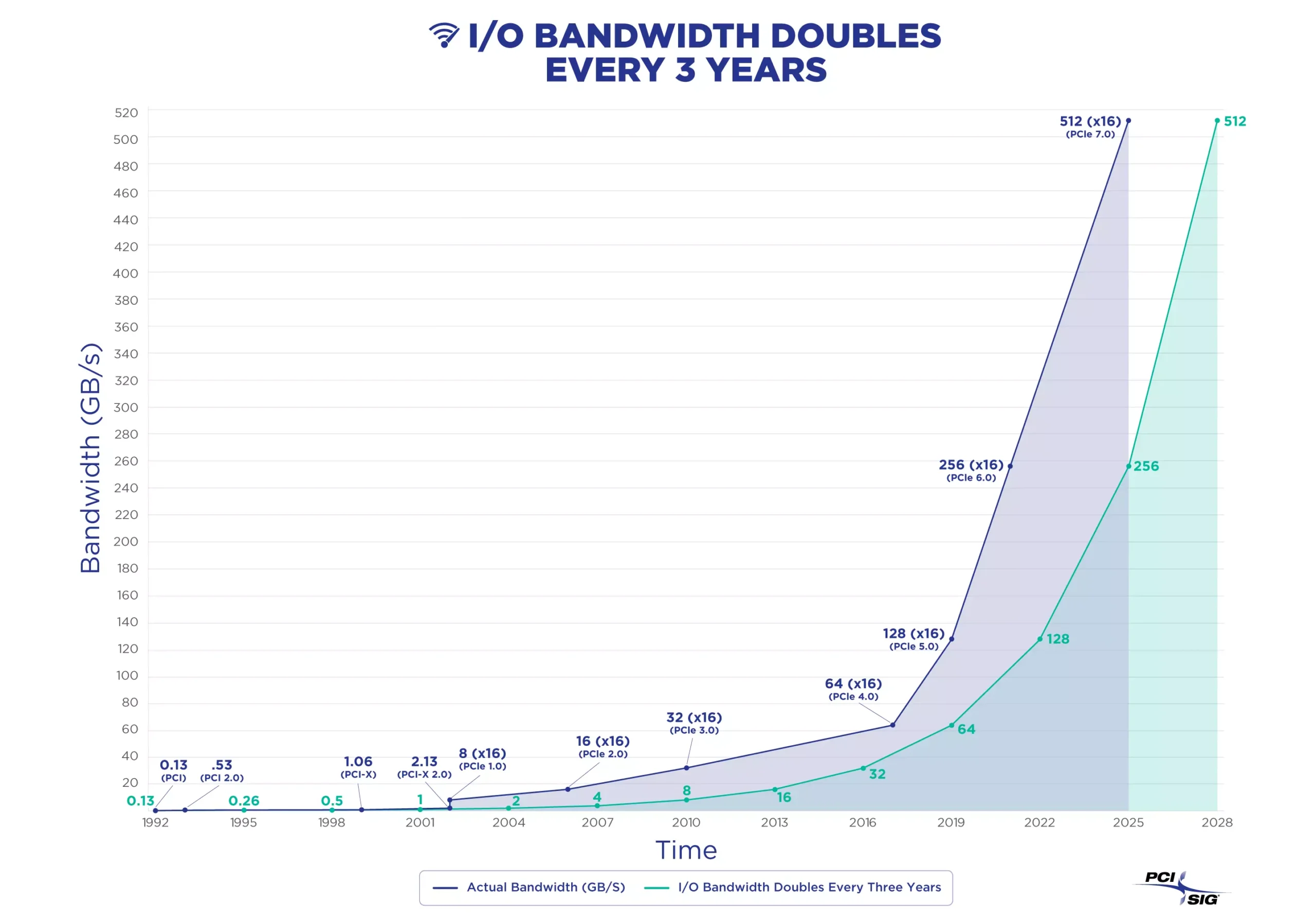 While PCIe 7.0 was just announced, PCIe 6.0, which was announced more than a year ago, has yet to see any hardware. That could change next year.
A few days ago, PCI-SIG, a group of companies governing the PCI and PCIe standards, announced the specs for PCIe 7.0.
PCIe 7.0 has many improvements over PCIe 6.0. The most important one is that it doubles the bandwidth that is found in PCIe 6.0. While PCIe 6.0 supports the bandwidth of 256 GB/s at x16 lanes, PCIe 7.0 doubles it to 512 GB/s.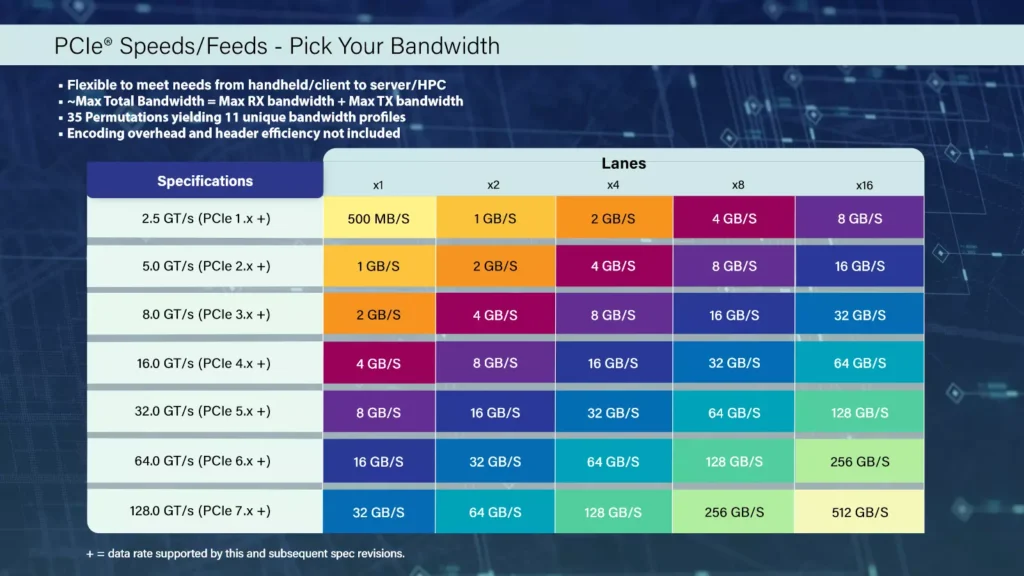 PCI-SIG says the main goals of PCIe 7.0 are:
Delivering 128 GT/s raw bit rate and up to 512 GB/s bi-directionally via x16 configuration
Utilizing PAM4 signaling
Focusing on the channel parameters and reach
Continuing to deliver the low-latency and high-reliability targets
Improving power efficiency
Maintaining backwards compatibility with all previous generations of PCIe technology
The announcement also says that it will fulfill the need for a reliable, high-speed, low-latency I/O interconnect.
PCI-SIG says PCIe 7.0's technology will expand data-intensive applications and markets, including 800 Gig Ethernet, High Performance Computing (HPC), Quantum Computing, Hyperscale Data Centers, Cloud and other things.
But what about PCIe 6.0. While we talk about PCIe 7.0, we have yet to see any devices with PCIe 6.0. It looks like we might see them next year.
PCIe 6.0 Devices Next Year
PCIe 6.0 was announced more than a year ago. With 256 GB/s bandwidth, which again doubles the 128 GB/s bandwidth in the PCIe 5.0 specs.
However, there aren't any devices that have been released with PCIe 6.0 support yet. We are only now seeing PCIe 5.0 based SSDs start to come on the market.
XDA reports that, as per the latest presentation, we will start seeing PCIe 6.0 based devices in March 2024. Not only that, it's only in 2027 that PCIe 7.0 based devices will become available.
That is because the specifications for PCIe 7.0 are not finalized. It will happen only two years later.
Faster PCIe Not Always Required
One of the biggest beneficiaries of a faster PCIe bus on the consumer side are SSDs, which allow faster data transfer.
However, newer PCIe 5.0 SSDs, for example, not only need a higher quality, expensive controller, but they also require either passive or active cooling.
This means that making PCIe 6.0 based SSDs is going to be even harder. Means they are going to be even more expensive. Not to forget, most people are not going to get that much of a noticeable benefit out of it.
But what about graphics cards? The thing is, one doesn't need a faster PCIe bus for graphics cards, at least not right now. For two reasons.
First, there's no PCIe 5.0 graphics card yet. When they are available, PCIe 6.0 will become a standard by then.
The second reason is that, as we mentioned in our article, there's hardly any difference between PCIe 4.0 and PCIe 3.0 in gaming when using graphics cards. That's because graphics cards are still not able to completely utilize all the bandwidth available in the PCIe bus.
If that is not enough, even TechPowerUp did some benchmarks with a lot of games. In it, they found that when running Nvidia GeForce RTX 4090, the difference between PCIe 4.0 and PCIe 3.0 is just 3% at max (page 28). That too at 1080p. At 4K, the difference is even smaller at 2%.
So yes. These new PCIe versions are much welcomed. But they are mostly useful for servers and SSDs. Graphics cards, at least for now, aren't unlikely to benefit much from it, hence, they don't really require it.
We are sorry that this post was not useful for you!
Let us improve this post!
Tell us how we can improve this post?