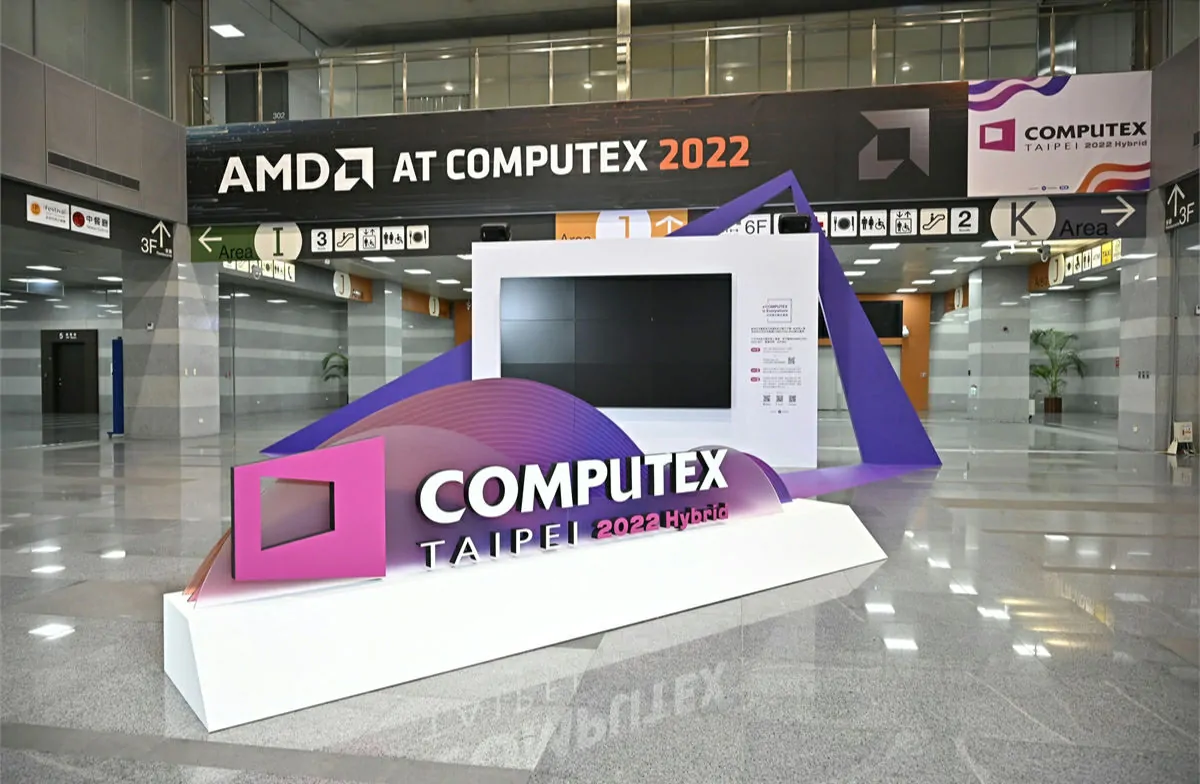 Every year, Computex brings exciting announcements. This year is no different. We look at some of the top launches made at Computex this year.
Computex is one of the most famous computer expo show in the world. It happens annually in Taipei, Taiwan around this time of the year. While the 2020 show was cancelled, the 2021 show happened virtually. This year the Computex happened in person after two long years.
Big companies wait for the Computex to announce their products. This year's Computex 2022 is no different.
A lot of products were launched at Computex this year. We look into top three products that were announced at Computex 2022.
AMD Zen Ryzen 7000 Series CPU Processors

The biggest and most important announcement of Computex was the launch of the Ryzen 7000 series of processors by AMD.
Ryzen 7000 will be based on Zen 4 core, 5 nm process and will require the new AM5 CPU socket.
While the CPUs will be made of 5 nm process, compared to the slower 7 nm process of Zen 3 Ryzen 5000 series processors, the I/O part of the CPUs will be based on 6 nm process.
All the Ryzen 7000 processors will come with a built-in integrated graphics processor inside the CPU. However, in an interview to Digital Trends, an AMD executive said that these integrated graphics are only there for consumer's convenience and are not made for gaming.
Ryzen 7000 will only support newer gen DDR5 RAM as we had reported earlier and will also support PCIe 5.0 too.
The Zen 4 core architecture comes with 1 MB per core L2 cache. 15% single thread performance increase over Zen 3 (which isn't much, maybe AMD is understating) and will reach 5 GHz and above clock speeds.
AMD 600 chipsets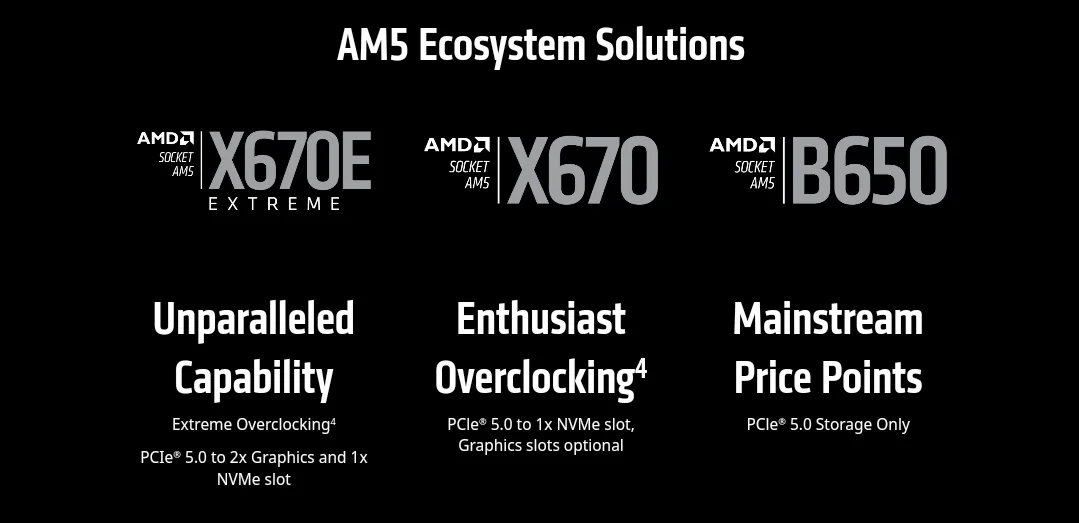 AMD also announced 600 series chipsets for the Ryzen 7000 processors. The X670E (Extreme), which would support two graphics cards and one NVMe SSD at PCIe 5.0. The X670, which will support one NVMe SSD at PCIe 5.0, but the support for the graphics cards on PCIe 5.0 will be onto the motherboard manufacturers. Then there's the mainstream B650 chipset, which will only support NVMe SSD at PCIe 5.0. Interestingly, PCGamer reports that all these chipsets might produced the same but would either be used singularly or combined into two in the higher models.
The newer AM5 CPU socket will support 24 PCIe 5.0 lanes for storage and graphics, up to 14 SuperSpeed USB with 20BGbps and Type-C, 6E Wi-Fi Support with DBS and BT LE 5.2 and Up to 4 HDMI 2.1 and DisplayPort 2 Ports. Importantly, AM5 will be based on the LGA socket and not the PGA one. Meaning, unlike the previous generation AMD processors, the pins will be on the motherboard and not on the CPUs, similar to Intel ones.
Various motherboard manufacturers have already detailed their top of the line X670E products. This includes the likes of ASRock, ASUS, BIOSTAR, Gigabyte and MSI.
Some confusion about CPU speeds and power
AMD's announcement wasn't without some confusions.
AMD showcased a 16-core CPU, possibly 7950X, running at massive 5.5 GHz speeds. At first, there were allegations that it was overclocked. An AMD executive later clarified in the PCWorld's YouTube video that it wasn't overclocked and ran on a liquid cooler. Which is a great feat.
Another confusion is AMD's claims. It showed a synthetic benchmark against Intel Core i9-12900K and claimed that the AMD processor took only 204 seconds to complete the work versus the 297 seconds of the Intel processor, making the AMD processor 31% faster. Except the math doesn't add up. Actually it should be 46% faster going by those numbers. Not 31% faster, as claimed by AMD. They haven't clarified yet. Maybe their selection of wordings weren't correct. What makes them underrate their own processors is anyone's guess.
The third confusion AMD created is about the 170W max power usage we had reported earlier. First they claimed 170W was the max power usage. Then they claimed it was just TDP (base power). Then AMD clarified to Tom's Hardware that 170W is the TDP and max power usage will be around 230W TTP.
ASUS announcing 500Hz gaming monitor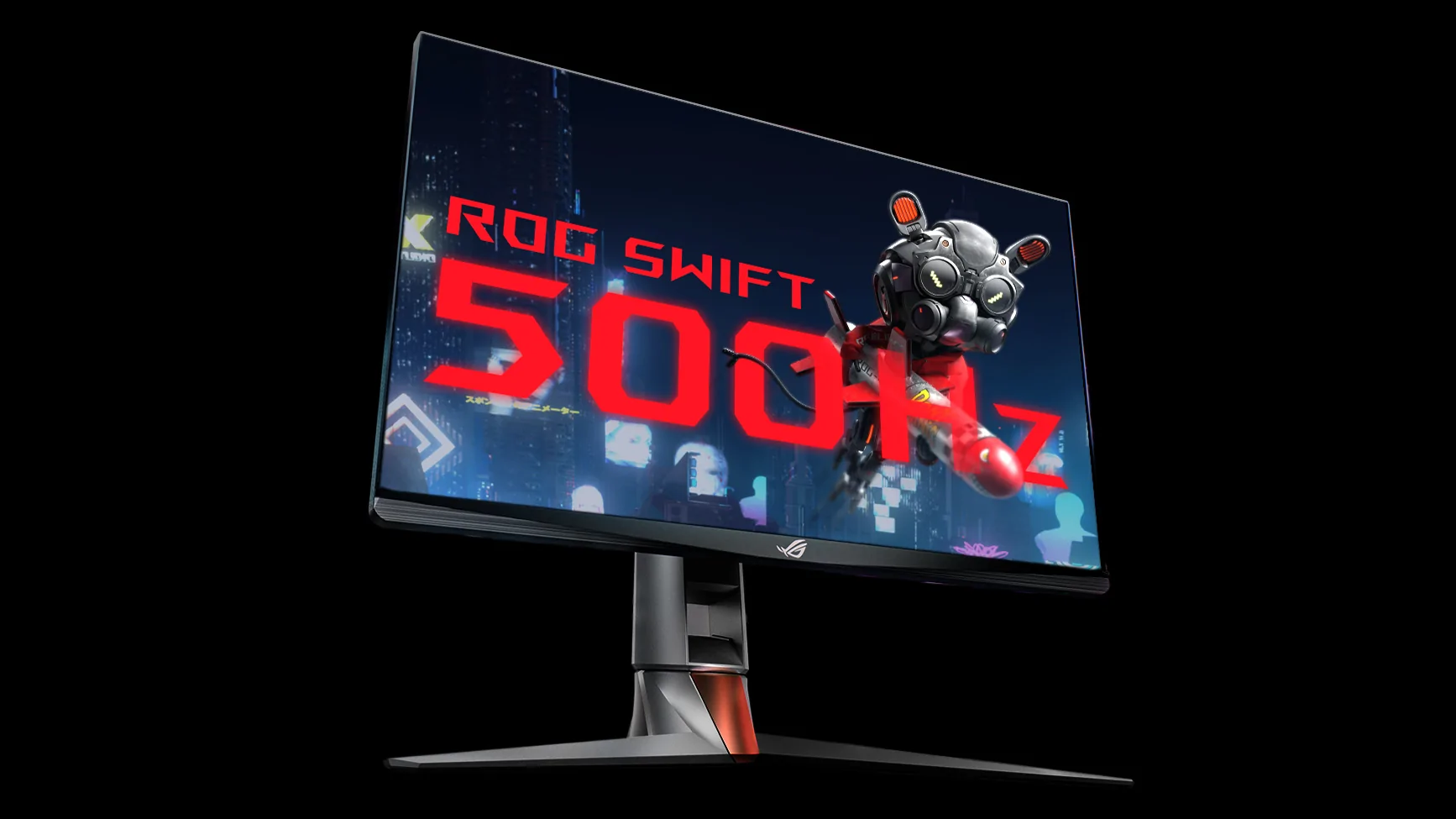 ASUS, in collaboration with Nvidia, announced the fastest gaming monitor we can imagine, the ROG Swift 500Hz.
Co-developed by AU Optronics, the ROG Swift 500Hz is a 24 inch, 1080p, G-Sync enabled monitor.
It features a new "eSport TN" display panel. Which, as the name suggests, seems to be made for eSports games like multiplayer shooters.
It will come with Nvidia's G-Sync eSports Mode and Reflex Analyzer. Nvidia has also shared a video showcasing the 500Hz tech.
It's likely to cost a huge amount. So it might attract only eSports players. However, it's impressive to see the new technology available. While yes, TN panels are not great for anything except higher refresh rate, it's basically a huge counter to the people who claim that the human eye can only see till 60 frames per second. Someone tell them that mainstream 144Hz monitors already exist.
Ultrafast PCIe 5.0 based SSD by Apacer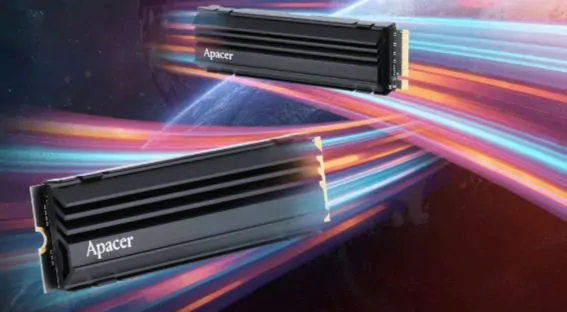 Taiwan based company Apacer has announced one of the fastest NVMe based SSD based on PCIe 5.0.
Named AS2280F5 under in Apacer brand and TWSG5 under its gaming oriented Zadak brand. Apacer claims upto 13,000 MB/s read and 12,000 MB/s write speeds. Which is massive, considering that previous generation SSDs could not go above 7,000 MB/s speeds.
Both the models will be based on the PCIe 5.0 and latest NVMe 2.0 standard, support the same speeds. The main difference being the cooling heat sinks.
Unlike the popular belief, they are not the first ones having announced PCIe 5.0 based SSDs. Many companies have done so already. What makes this announcement special is that other announcements have been mostly business oriented products. This is a consumer oriented one.
With AMD with its Ryzen 7000 series going to support PCIe 5.0 and Intel's Alder Lake supporting interface already, these SSDs are much welcomed ones.
Companies and products missing in Computex
While Computex is indeed among the most important expos around, it doesn't mean everyone comes or everything gets announced.
For example, missing in action this year in Computex is Intel. It couldn't attend the event due to the pandemic reasons.
However, what was surprisingly missing in product announcements were the graphics cards. While Nvidia did announce a liquid cooled version of server graphics cards, there was no mention of either RTX 4000 series graphics cards nor any mention of the much rumored upcoming ultra-cheap GTX 1630 graphics card. AMD didn't speak about its upcoming graphics cards, either.
Maybe we will hear from them somewhere later in some other ways.
We are sorry that this post was not useful for you!
Let us improve this post!
Tell us how we can improve this post?