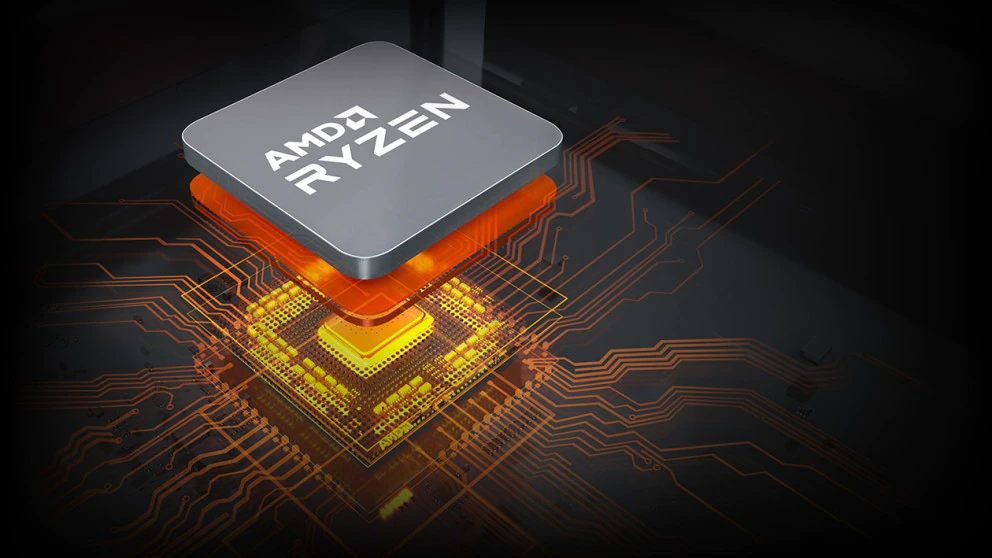 The Ryzen 7000 series of processors by AMD are set to release later this year. However, in a surprise to many, they will only support DDR5 RAM.
Two years ago, the next generation of computer memory, DDR5 RAM, was officially released to the public. It came with a lot of improvements over the previous generation DDR4. From speed improvements, to a sort of error correction (something only found in server memory) to bigger RAM storage size and even lower voltage and hence, lower power usage. It also comes with a special circuitry, making its manufacturing quite complex. RAM maker Crucial has a nice page dedicated to DDR5 explaining a lot of it.
It wasn't that it was released quickly without any preparations. DDR5 released to the public 6 years after the launch of DDR4. Meanwhile, the companies were already working on the DDR5 RAM based memory chips before their release to the public.
However, after the release, when DDR5 RAM was tested in the gaming benchmarks, it was found that many games had no benefit whatsoever in their speeds and overall benefit was just 3%. The bigger problem with DDR5, however, are its prices.
DDR5's high prices
The problem with DDR5 is that it is massively expensive. A quick search shows that currently, DDR5 costs almost double than DDR4. If 32 GB of DDR4 RAM costs anywhere from $120 to $140. DDR5 seems to start at $220 for a simple 4800 MHz stick of the same size, reaching to $320 for 5200 MHz and $370 for an even faster 6000 MHz.
To add the issues, it is not expected for the DDR5 prices to get cheaper at least this year. The pandemic induced lockdowns has ensured that many manufacturing companies have had to temporarily shut it's plants, effecting the rollout of more RAM chips.
It does not stop at that. As DDR5 comes with new features, manufacturing it is a complex and expensive process. This raises the cost of DDR5 RAM further.
AMD Ryzen 7000 to support only DDR5
Going by recent reports by Tom's Hardware, AMD's next generation of processors, the Ryzen 7000 will only support DDR5.
They report that both, the mainstream B650 and the enthusiast X670 CPU chipsets by AMD for the Ryzen 7000 platform are not going to support DDR4 and will only support DDR5. Even the ultra-cheap A-series are highly unlikely to support DDR4. Making even cheap PC builders running after the expensive DDR5 RAM.
What's interesting is that the leaked AMD Ryzen 7000 documents find no mention of DDR4 whatsoever. Basically confirming that none of the Ryzen 7000 CPUs are going to support it. Irrespective of the price range.
Intel's support for both DDR4 and DDR5
This is unlike Intel which went with the support for both DDR4 and DDR5 RAM together.
When Intel released its 12th generation Core processors, code-named Alder Lake. It was mindful of the costs of DDR4 RAM. That is why Intel released the Alder Lake processors with support for both DDR4 and DDR5 RAM.
This allowed the motherboard manufacturers to support both of these RAM together in a single motherboard. Which meant users could use the cheaper DDR4 RAM right now and later switch to DDR5 when it gets cheaper without major hardware changes.
What's also important is that going by the reports, Intel's next generation of processors, code-named Raptor Lake, which are expected to release later this year alongside Ryzen 7000, are said to continue to support both DDR4 and DDR5, unlike the AMD Ryzen 7000. This makes Intel processors an attractive purchase.
AMD's move surprising but long time coming
What AMD has done is indeed surprising. Whenever a new generation of RAM comes, CPU makers are expected to provide the support for both previous generation and newer generation of RAM together in at least one CPU series. This allows for a smoother and better transition for everyone, from manufactures to the users.
However, this move was coming from a long time. Going back 3 months ago, in an interview to TechPowerUp, AMD's executive had revealed that AMD was aiming for the better availability of DDR5 RAM chips, including cheaper price, for release the of Ryzen 7000 series of the processors. Maybe AMD had decided long ago that they will not support DDR4.
Nothing new about AMD, though. It is typical of them. AMD for now might be looking at a long term prospect and support for its next generation AM5 CPU socket. Just like the AM4 socket, which ran for a few years, AMD probably wants AM5 to run for a few years too. So AMD might have kept future generation of processors and their compatibility with the socket in mind before making this decision, at the risk of short term costs associated with it.
Meanwhile, Intel processors are looking now attractive now.
We are sorry that this post was not useful for you!
Let us improve this post!
Tell us how we can improve this post?