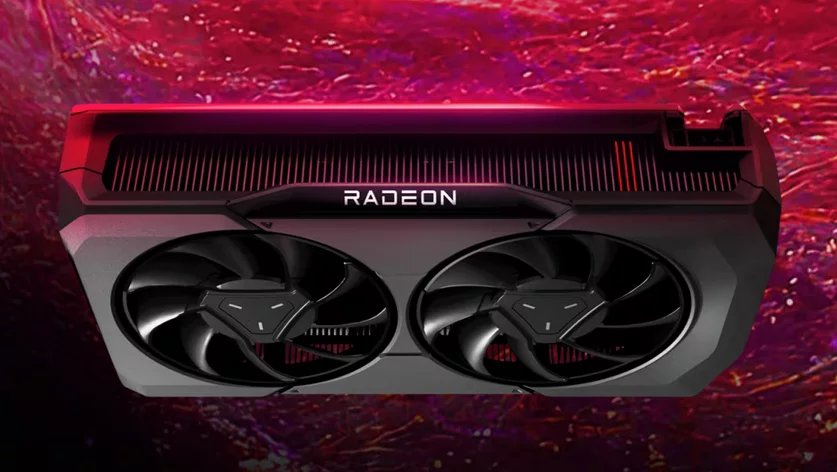 If the early leaked specs for the RX 7500 are correct, we might see a good budget GPU in years. It could also mean that it would be way faster than the RX 6500 XT.
More than a year ago, AMD released the Radeon RX 6500 XT graphics card. It was around the time when the crypto-mining craze was at its highest, causing the prices of the graphics cards to be tremendously expensive.
Not to forget, the demand for computers and computer parts was high too, due to pandemic reasons. So their availability was scarce.
So when AMD released the Radeon RX 6500 XT, everyone thought that they would finally be able to get their hands on an affordable graphics card. It was affordable, but only on paper. To add to that, it was also very disappointing launch.
The reasons are many. First, it was a mobile GPU that was converted into a desktop graphics card due to high demand for consumer graphics cards. Second, it came with just a 64-bit memory bus, which makes it tremendously lacking in performance. Third, it came with a x4 bus lanes on PCIe 4.0. Means it was lacking the bandwidth required to run games properly.
Another major problem was that those who bought the graphics card for video streaming were in for a surprise. The card lacked support for hardware based encoding for codecs like H.264 and H.265 (HEVC).
All this ensured that the RX 6500 XT graphics card didn't only perform poorly in reviews where, it was in-fact, slower than the RX 5500 XT, but it also sold poorly.
In recent times, AMD has released graphics cards in the RX 7000 series like the RX 7900 XTX, 7900 XT and 7600. With RX 7800 and 7700 possibly releasing soon.
Now it looks like we have some early leaked specs for the AMD RX 6500 XT's successor, the RX 7500.
AMD RX 7500 Leaked Specs
A few months ago, we had revealed how the specs for the whole RX 7900 series had leaked. As expected, the leak wasn't final and the specs did change afterward. However, it gave us a fair idea about things.
In that leak, it was revealed that the RX 7500 would come with 24 compute units, which is a major indicator of a graphics card's performance. It looks like those numbers could be incorrect and might have changed.
A well-known Twitter based leaker @All_The_Watts has leaked new basic specs for the AMD Radeon RX 7500.
In it, she reveals that the AMD RX 7500 would come with 28 compute units, which is 4 more CUs than the originally leaked one. For the record, RX 6500 XT comes with 16 CUs. This alone could make RX 7500 graphics card 55% faster if raw specs alone are considered.
Not only that, it would come with 8GB VRAM. Which is not only a big upgrade over the RX 6500 XT's 4GB VRAM, but it directly takes on the Nvidia GeForce RTX 4050, which was originally leaked to have only 6GB of VRAM. Though, we haven't heard about Nvidia's offering since the then. Graphics card VRAM is in all the news these days as modern games are demanding a lot of memory.
Interestingly, she also reveals that the RX 7500 will come with 16Gbps of memory speed. Which is a downgrade over the 18Gbps of memory speed that the RX 6500 XT came with. Even the RX 7600 has 18Gbps memory speeds.
Lastly, she reveals that it would have a 130W TBP, which means that the graphics card will require a single 6-pin or 8-pin power cable.
Conclusion
In all the noise about expensive graphics cards, people tend to forget about budget gamers. They form the majority of buyers and yet their voices are always go unheard.
Yes, these days, x600 / xx60 graphics cards sell more, but x500 / xx50 need to perform well for them to be attractive to buyers.
Additionally, both AMD and Intel are preparing powerful iGPUs which are embedded into the CPUs themselves. They could take on or replace the budget graphics cards directly. However, these CPUs with powerful iGPUs seem to be mostly getting released for notebooks and we aren't hearing much about their release on desktops.
If the leaked specs for the RX 7500 come out to be true and the graphics card does perform well, then expect the RX 7500 to sell way better than what the RX 6500 XT did.
In terms of pricing, we expect AMD RX 7500 to be priced at $200 to $220. For the record, RX 6500 was priced at $200, but was selling at $300 and more due to the reasons written above.
As always, it should be mentioned that these rumored leaks are just leaks. They could be incorrect or AMD could also change the specs later. So unless more leaks come out, like clock speeds and even officially confirmed specs, we cannot say anything for sure.
So we will have to wait for more information about this graphics card to get the full picture about it.
We are sorry that this post was not useful for you!
Let us improve this post!
Tell us how we can improve this post?