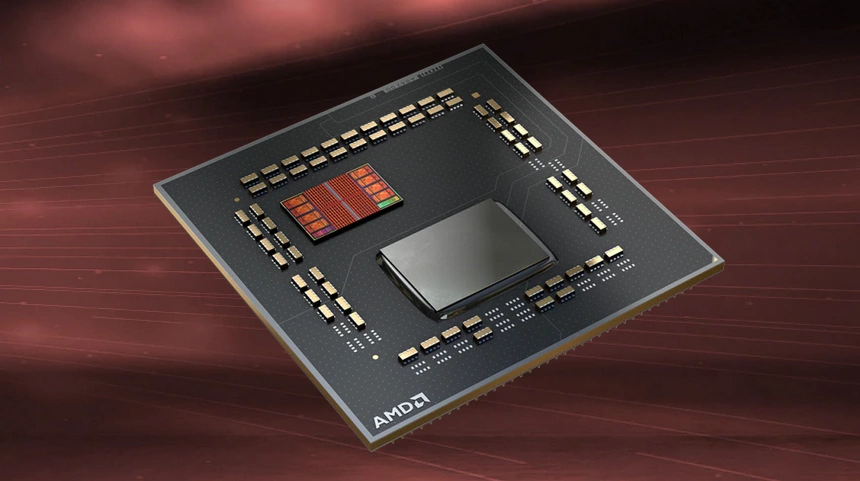 New rumors suggest that AMD is preparing new X3D processors with 3D-V Cache in the Ryzen 5000 series. An 8 core 5700X3D and a 6 core 5500X3D.
About more than a year and half ago, AMD surprised the world with the release of the AMD Ryzen 5800X3D.
The 5800X3D was a unique processor. That's because AMD stacked an additional 64MB of cache on top of an existing 32MB L3 cache, totaling to 96MB of L3 cache. This was something which was unheard in consumer CPUs before.
AMD called this stacking of cache on top of another as 3D V-Cache technology. This is denoted with the X3D that is added behind the CPU name.
The Ryzen 7 5800X3D proved to be a game changer, literally. As reviews after reviews showed that the 5800X3D processor was beating all its rivals. This included the top offerings from Intel, in gaming performance.
The 5800X3D processor wasn't only fast in gaming, but it also was cheaper and used less power. This ensured that the AMD Ryzen 5800X3D became a top seller in many places.
AMD decided to use the same strategy in the Ryzen 7000 series. Where it released not one, not two, but three CPUs with 3D V-Cache. This included the flagship Ryzen 9 7950X3D and Ryzen 7 7800X3D. The latter has gone on to become one of the top-selling CPU and continues to rule the charts along with 5800X3D even now.
Seeing the success of the X3D processors, AMD decided to release another processor in the Ryzen 5000 series, named 5600X3D with 6 cores instead of 8 cores found in the 5800X3D.
However, to everyone's disappointment, the 5600X3D was available only at Micro Center and wasn't available worldwide.
It looks like AMD wants to release even more X3D processors in the Ryzen 5000 series.
AMD Preparing 5700X3D & 5500X3D CPUs
Well known Twitter based leaker chi11eddog has leaked (via VideoCardz and Tom's Hardware) something which might surprise many.
In the tweet, chi11eddog suggest that AMD is preparing two new X3D processors in the Ryzen 5000 series with AM4 socket.
The two new CPUs are:
AMD Ryzen 7 5700X3D with 8 cores, 16 threads, 4.1GHz boost and 3.0GHz base clock and 96MB Cache.
AMD Ryzen 5 5500X3D with 6 cores, 12 threads, 4.0GHz boost and 3.0GHz base clock and 96MB Cache.
What is interesting is that 5700X3D seems to have the same specs as 5800X3D, except with lower clocks. The same is with the 5500X3D, which is seems to be the same as 5600X3D with lower clocks. Not to forget, all these rumored processors have the same 96MB total L3 cache.
This suggests that AMD seems to have a lot of leftover chips from the Ryzen 5000 series and wants to utilize them. What better way then to sell them as X3D chips.
But making X3D chips isn't easy or cheap, so we don't know if these are bad binned leftover X3D chips (common in CPU world) or leftover normal Ryzen 5000 chips with X3D layers later added to them.
Table And Conclusion
We decided to make a simple table with a complete list of X3D processors from AMD for the readers to understand it better.
| CPU | Cores / Threads | Boost / Base Clock | X3D Cache | TDP | MSRP | Price Now |
| --- | --- | --- | --- | --- | --- | --- |
| 7950X3D | 16 / 32 | 5.7GHz / 4.2GHz | 64MB | 120 W | $699 | $632 |
| 7900X3D | 12 / 24 | 5.6GHz / 4.4GHz | 64MB | 120 W | $599 | $490 |
| 7800X3D | 8 / 16 | 5.0GHz / 4.2GHz | 64MB | 120 W | $449 | $399 |
| 5800X3D | 8 / 16 | 4.5GHz / 3.4GHz | 64MB | 105 W | $449 | $322 |
| 5700X3D* | 8 / 16 | 4.1GHz / 3.0GHz | 64MB | ? | ? | ? |
| 5600X3D | 6 / 12 | 4.4GHz / 3.3GHz | 64MB | 105 W | $229 | $200 |
| 5500X3D* | 6 / 12 | 4.0GHz / 3.0GHz | 64MB | ? | ? | ? |
Table by OurDigiTech. All current prices are from Amazon.com, except 5600X3D, whose price is taken from Micro Center.
As one can see from above, 5700X3D seems nothing but an underclocked 5800X3D and 5500X3D seems nothing but an underclocked 5600X3D.
However, what matters is the price and availability of these processors. We expect the Ryzen 5700X3D to be priced around $280-300 and Ryzen 5500X3D to be priced around $180.
However, a big question remains. Does AMD have a sufficient amount of leftover CPU chips that it can release these new processors worldwide, or will it be a limited release just like the Ryzen 5600X3D.
These X3D processors provide a massive boost in gaming, provided that the games make a proper use of the extra cache. This means that the CPUs like 5500X3D can be excellent or even outstanding for budget gaming builds, as the Ryzen 5000 platform is very cheap to make.
So if AMD does release them worldwide, it will be something which would be highly welcomed by everyone.
We are sorry that this post was not useful for you!
Let us improve this post!
Tell us how we can improve this post?