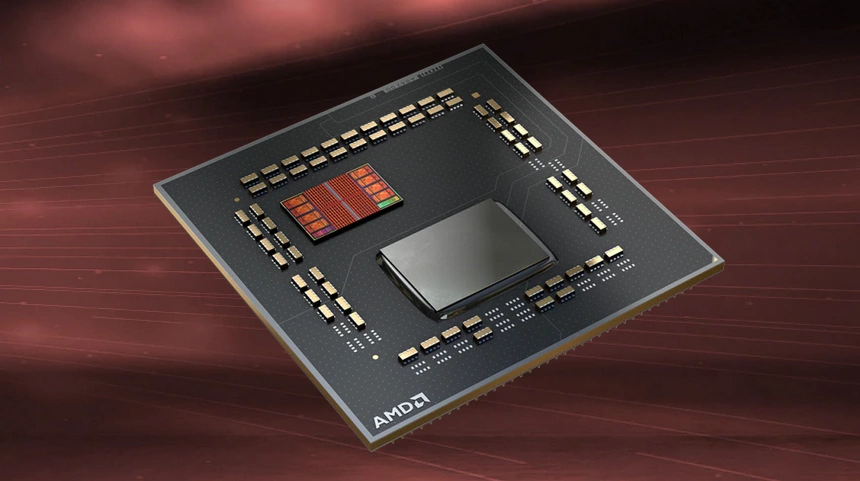 As per the leaked image, AMD Ryzen 5600X3D could be the latest entry in the X3D range of the processor series by the company. Quite an interesting one, too.
A year ago, AMD released the Ryzen 7 5800X3D CPU. It wasn't just any CPU, it was a game-changing CPU. It came with an extra layer of X3D cache on top of an existing L3 cache, taking the total L3 cache to 96MB.
This extra cache proved very important for the CPU as during the time of release, the CPU turned out to be the fastest CPU produced for gaming. All due to some games making a good use of the extra cache.
So impressive were the results that AMD decided to announce not one but three such 3D V-Cache based CPUs in the Ryzen 7000 series.
The ones which released earlier were AMD Ryzen 7950X3D and Ryzen 7900X3D CPUs. However, while both the CPUs came with two chiplets, having 8-Core and 6-Core in each chiplet respectively, only one chiplet had the extra cache, while the other one was used for non-gaming tasks.
Then came AMD Ryzen 7800X3D, a successor to the Ryzen 5800X3D, with a similar single 8-Core chiplet design. So good were its benchmark reviews that the CPU not only defeated Ryzen 7900X3D, but it also defeated Ryzen 7950X3D in gaming. This is because it had a single, dedicated 8-Core chiplet with extra 3D V-Cache which the games could fully utilize.
However, what about the original AMD Ryzen 7 5800X3D processor? As per @TechEpiphany, it's still the highest selling CPU on German retailer Mindfactory. For a good reason, too. It's not only cheaper, but it doesn't require a new motherboard as any newer motherboard with AM4 socket will be able to support it, along with cheaper DDR4 RAM that it uses.
So AMD might be thinking, if Ryzen 5800X3D is selling so well. What if they release a cheaper version of it. Looks like that is a possibility.
AMD Preparing Ryzen 5600X3D

Well known Twitter based leaker chi11eddog has leaked an interesting image.
The image shows two CPUs in the list. One is the AMD Ryzen 5800X3D and the other is AMD Ryzen 5600X3D.
This suggests that AMD could be preparing a Ryzen 5600X3D processor with 6-Cores. It also shows that the CPU will come with the frequency of 3.3 GHz base clock and 4.4 GHz boost clock.
Interestingly, the image also reveals that the CPU will come with the same amount of total L3 cache like the other processors with the 3D V-Cache chiplet, that is 96MB.
Now why AMD could be making such a CPU when Ryzen 5800X3D is selling so nicely. We don't know. But it's possible that some Ryzen 5800X3D chips could be defective and some cores need to be disabled on them. So it's possible that AMD could use those defective chips and start selling them as Ryzen 5600X3D instead.
It must be mentioned that this is a common practice in the world of CPU manufacturing and it's not something that should be looked at something wrong. This is how many CPUs are made in a lineup of a series and is done by both Intel and AMD.
Ryzen 5600X3D Performance And Pricing
What's something to wonder is how will AMD Ryzen 5600X3D perform. As AMD has not released a single 6-Core CPU with X3D cache before.
But we can compare it with other options we have. The Ryzen 5600X of example, which doesn't come with 3D V-Cache and comes with 6-Cores. It had an MSRP of $299 when it released. Now it costs $149.
But the most important CPU we can compare 5600X3D with is the Ryzen 7900X3D. That's because the extra 3D-V Cache that it has, exists only on one single 6-Core chiplet, the other chiplet is without the extra cache.
As per Tom's Hardware review for Ryzen 7800X3D, Ryzen 7900X3D is just 6% slower in gaming than the Ryzen 7800X3D. So could it mean that even 5600X3D will be just 6% slower than the 5800X3D? We never know. But that could possibly be the case.
But let us take it further. Let us look at the TechPowerUP's review of Ryzen 5800X3D for example. If 6% less performance is considered at 1080p in gaming (page 16), then Ryzen 5600X3D would still beat the likes of Ryzen 5950X and 5900X, which is massive.
The pricing of the CPU can be interesting. The Ryzen 5800X3D came with an MSRP of $499. However, now it sells well under $290. So it's possible that AMD could price it somewhere around $200. But at the same time, a 16-Core Ryzen 5700X is selling at $190, so we don't know what could AMD be thinking here.
It's possible that AMD could check its gaming performance and then decide on its pricing later.
Specs Table
We have made a small specs table for our readers to understand where this processor can stand.
| Model | Ryzen 5600X | Ryzen 5600X3D | Ryzen 5800X3D | Ryzen 7900X3D |
| --- | --- | --- | --- | --- |
| Cores | 6 | 6 | 8 | 6+6 |
| Clock | 3.7 / 4.6 | 3.3 / 4.4 | 3.4 / 4.5 | 4.4 / 5.6 |
| L3 Cache | 32 MB | 96 MB | 96 MB | 36MB + 96 MB |
| MSRP | $299 | ? | $449 | $599 |
| Current Price | $149 | ? | $290 | $544 |
Source for Ryzen 5600X3D: chi11eddog. Table by OurDigiTech.
Why we took Ryzen 5600X for comparison and not Ryzen 5600 which is cheaper. It's because, in all the likelihood, it's going to beat 5600X in gaming performance. So it's best to compare what it competes with.
Conclusion
While chi11eddog has a good record, it's always best to take this rumor as it is, a rumor. It's entirely possible that AMD could be just testing the CPU and it might never be released to the public.
It's also possible that AMD might actually release the CPU to the public. If so, then we will see many reviewing it, to check how it compares with the other Ryzen 5000 series processors, especially the Ryzen 5800X3D.
However, if AMD does release this CPU, then it would be important to see how it prices it. While it's true that Ryzen 5800X3D is a great gaming CPU and if Ryzen 5600X3D exists then it could be a good one too. But there are good competitor CPUs out there which are quite cheap. So pricing it correctly would be very important for them.
We are sorry that this post was not useful for you!
Let us improve this post!
Tell us how we can improve this post?