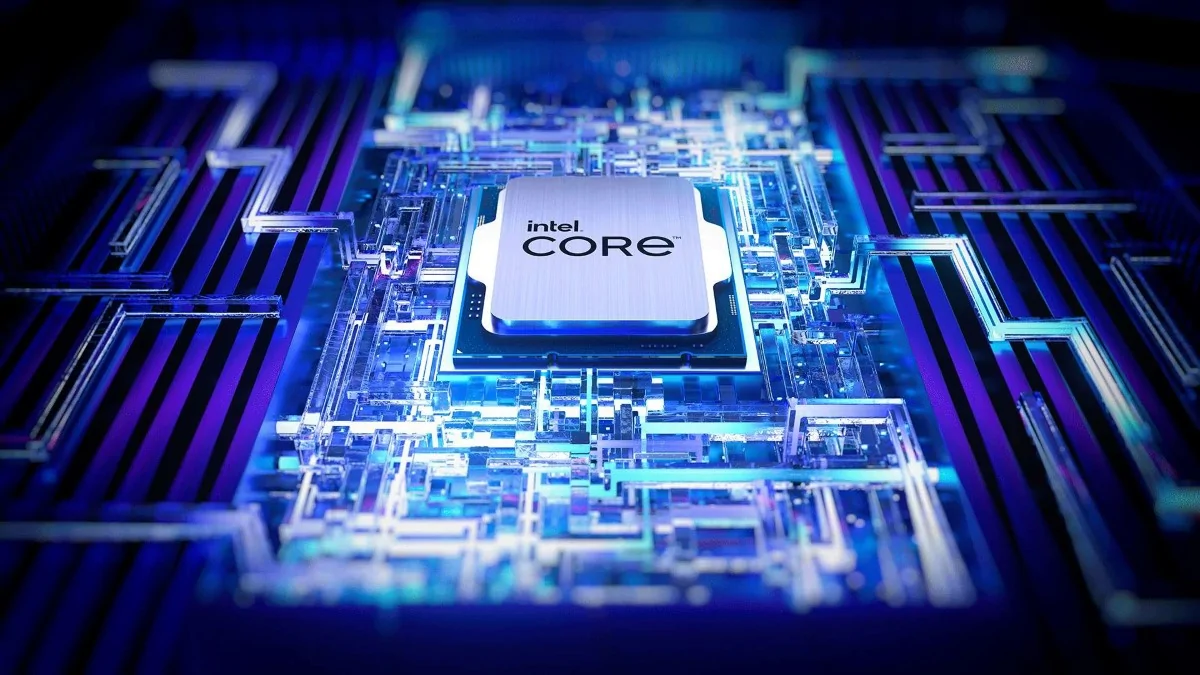 With Intel Raptor Lake release, reviews are also out everywhere. While most reviews show best in the world performance, there's a huge power usage issue.
After a long wait, Intel finally released its Raptor Lake series of processors. Based on the same LGA1700 platform like its predecessor Alder Lake, Intel promised unparalleled performance in Raptor Lake.
Initially, three main processors are now released in the market. The Core i9-13900K, the Core i7-13700K and the Core i5-13600K. Along with them, Intel also releases the KF version of these same processors, which do not come with any basic built-in graphics chip.
While i9-13900K is priced at $589, i7-13700K comes at $409 and i5-13600K costs $319. The difference between these processors is that i9 13900K comes with 8 performance and 16 efficient cores. The i7-13700K on the other hand has the same 8 performance cores but cuts out the efficient cores to 8. The i5-13600K processor cuts out the performance cores to 6 but maintains the same efficient cores at 8.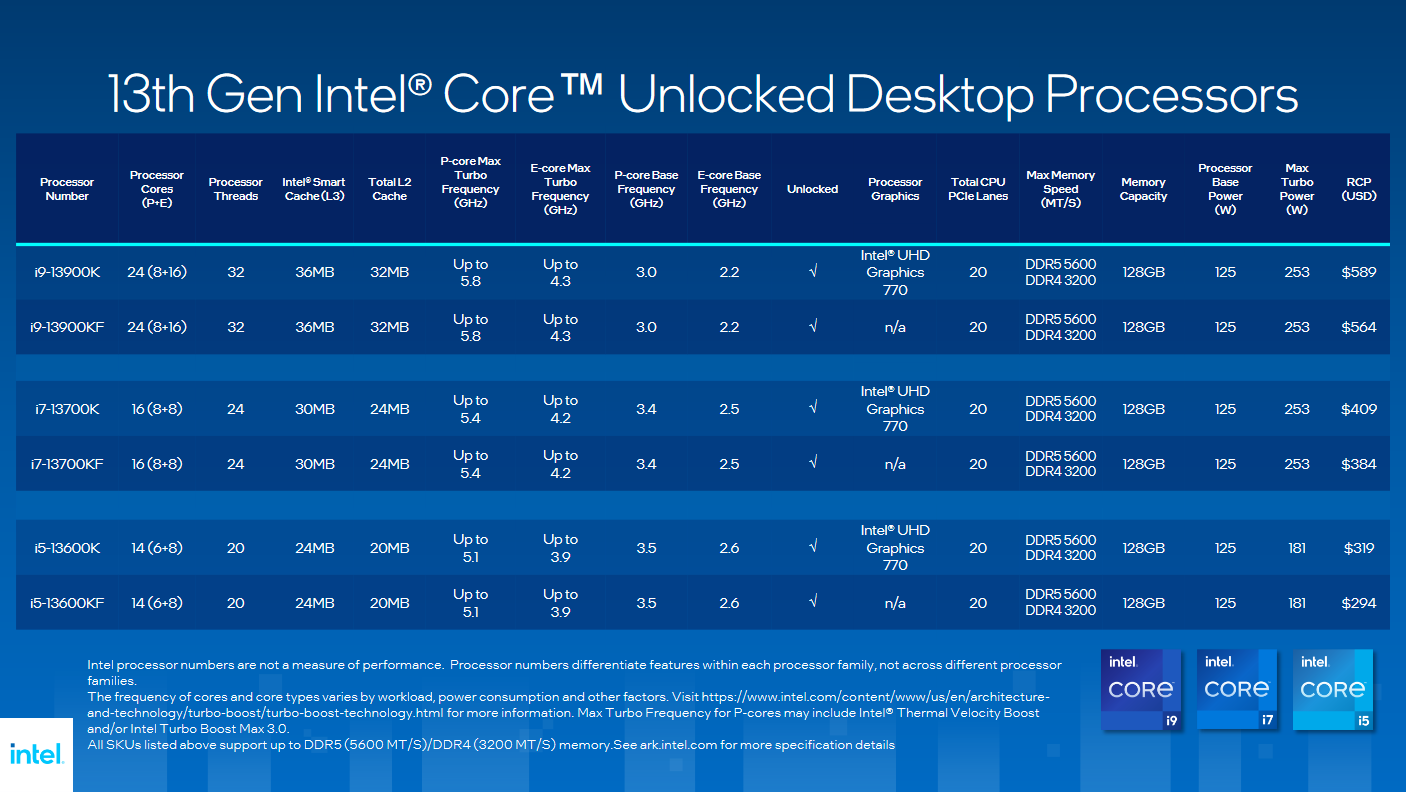 Many sites have not mentioned one important upgrade in these processors. The Intel Core i9-13900K not only comes with a 36MB L3 Cache, but it also comes with a massive 32MB L2 cache divided between cores. It was something which we had mentioned earlier as a possibility. A big L2 cache can give a big boost to the performance.
Unlike AMD Ryzen 7000, Intel Raptor Lake series supports both DDR4 and DDR5 RAM.
With their release, Intel has removed the restriction on the release of their reviews. Hence, many sites have already made their reviews public. The reviews are great to say the least. We will look at three of them in relation to gaming performance.
Tom's Hardware Review of Intel Raptor Lake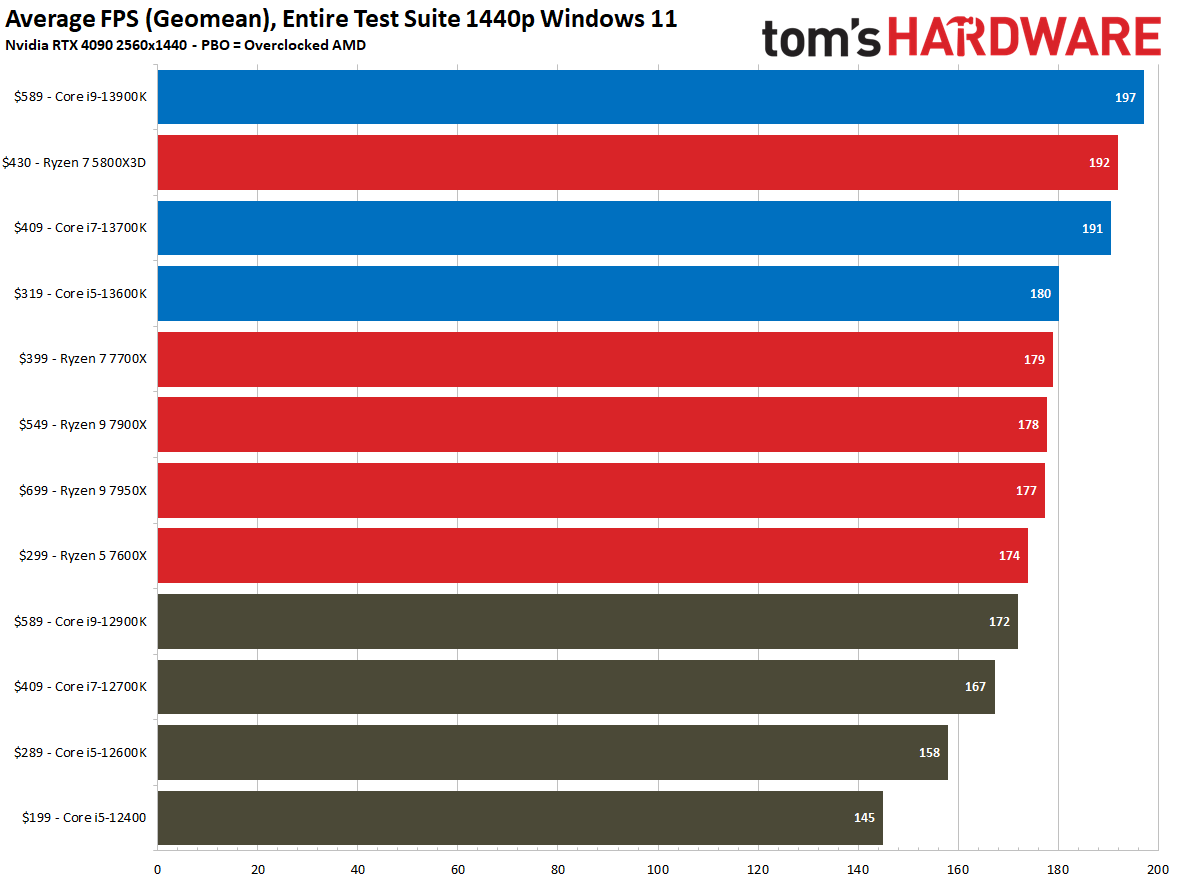 Tom's Hardware reviewed all three processors. The winner was outright visible.
As far as gaming performance benchmarks are concerned, Intel i9-13900K completely defeats its opposition, including the likes of AMD Ryzen 7 5800X3D and AMD Ryzen 9 7950X processors. Not to forget it being significantly faster than previous gen Intel Alder Lake processors like Core i9 12900K.
But the more interesting CPU is the $319 processor that is Intel Core i5-13600K. The i5-13600K manages to defeat all AMD Ryzen 7000 series processors, including the significantly higher priced AMD Ryzen 9 7950X. The only AMD Ryzen processor faster than the i5-13600K is the gaming oriented Ryzen 5800X3D, which comes with a huge L3 cache.
Tom's Hardware however found big issue in the power usage and temperatures.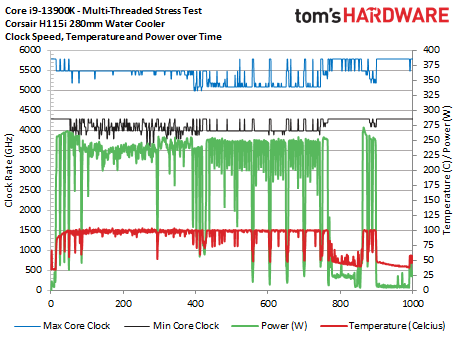 When tested without any limits, they found that Intel i9 13900K could hit a huge 308W power consumption and it hits the 100 C limit regularly. It must be mentioned here that the 308W power usage is of the CPU alone, that too at stock settings. This is a massive problem. However, might not be a big issue when gaming.
Igor'sLab Review of Intel Raptor Lake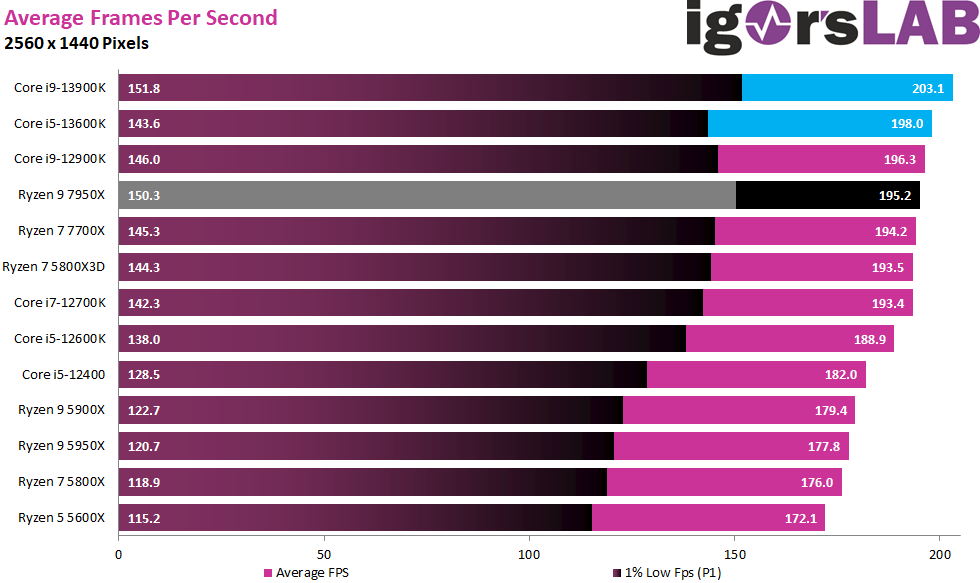 igor'sLAB tested two Intel Raptor Lake Processors. Intel Core i9-13900K and i5-13600K.
Here too, both i9-13900K and i5-13600K defeats the competition. In average FPS, Intel Core i9-13900K and i5-13600K are faster than all AMD Ryzen 7000 processors and also Intel Alder Lake processors.
Three things to notice here. In their benchmarks, unlike Tom's Hardware, Ryzen 7 5800X3D is slower than Ryzen 7950X, which is ideally how it should be – depends on the games tested. Second, a $319 Intel Core i5-13600K again beats AMD's top of the line $699 Ryzen 9 7950X processor in gaming as far as average FPS is concerned. Third important thing is, while average FPS is higher in i5-13600K, it's 1% FPS is lower than many others like AMD's Ryzen 9 7950X, Ryzen 7 7700X, Ryzen 7 5800X3D and also Intel's Core i9-12900K.
Lower 1% FPS means games might hit higher FPS on average, but might cause slight jitters or might lag a bit. Overall, for smoother gameplay, low 1% FPS is quite important. So 1% FPS performance should also be considered before deciding upon things.
Coming to power consumption, Igor'sLab gives some fascinating numbers.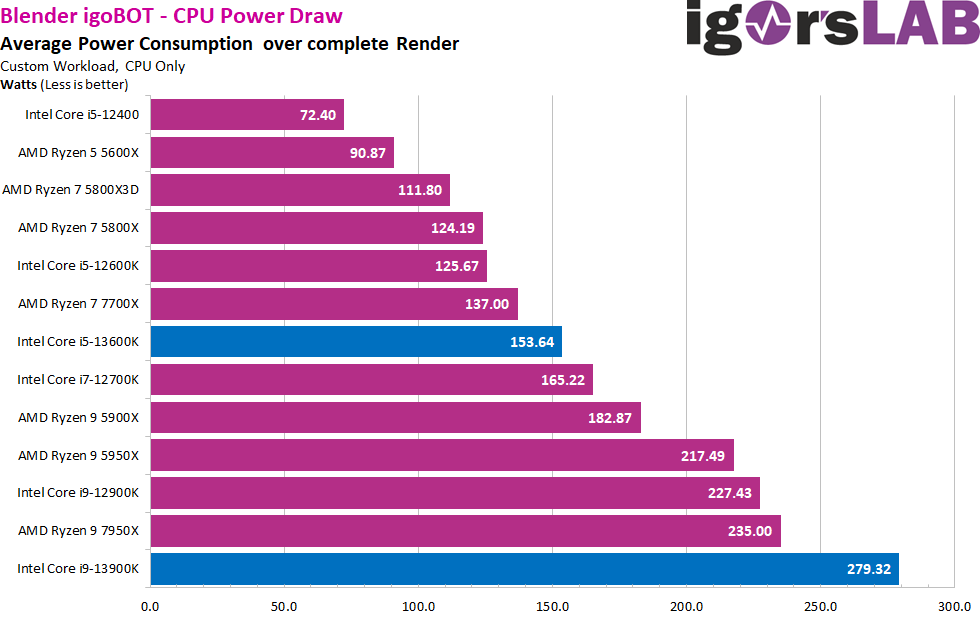 When tested to the max, Intel Core i9-13900K reached a huge 280W in power consumption, peaking at 286W. Intel Core i5-13600K on the hand reaches 154W. But there's more to it. These are power usage at max loads. They are not maxed out by common users, including gamers.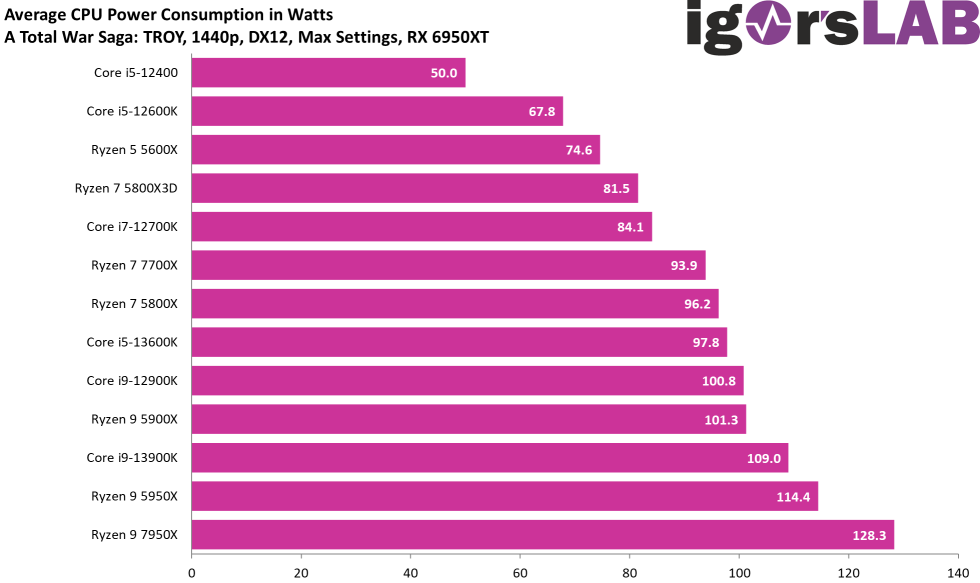 While gaming, the average power consumption of Intel Core i9-13900K is 110W. In most games it is around 100W. Which is lower than what AMD Ryzen 9 7950X consumes. The Core i5-13600K too consumes 98W. This means the CPU is not consuming too much power while gaming and the huge power usage figures we see above is for highly specialized workloads that too at max performance.
TechPowerUp's Review of Intel Raptor Lake

TechPowerUP reviewed both Intel Core i9-13900K and Intel Core i5-13600K individually. However, we are showing only the i5-13600K performance image as it contains the information for both the processors.
TechPowerUP tested both the processors on 12 different games. The results were on the expected lines. Both i9-13900K and i5-13600K defeated them all.
Now, the power consumption is something which takes the cake.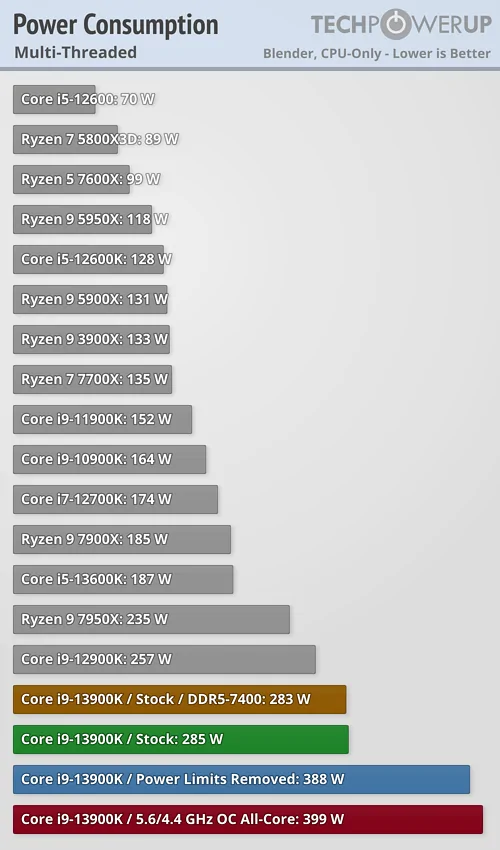 At max load, here too, Core i9-13900K hits 283W. However, once all the restrictions are removed, Intel's Core 13900K manages to hit a massive 388W in power usage. With further increase till 399W when overclocked. Intel Core i5-13600K too is not far behind. It reaches 186W at stock, 200W without power limits and 277W when overclocked. Again, this is CPU only power usage, that too at max load. It's the not same in gaming.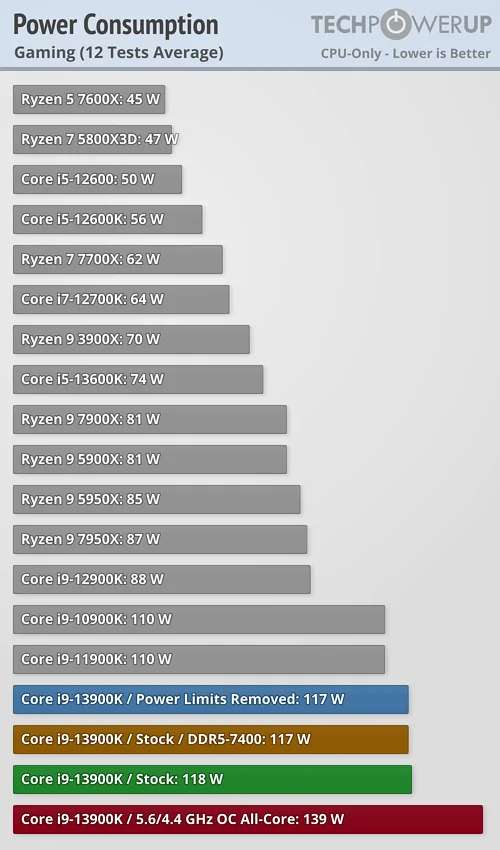 When gaming, Intel Core i9-13900K hits an average of 118W and 139W when overclocked. Intel Core i5-13600K, on the other hand, has an average of 73W power usage while gaming and reached 116W when overclocked.
This again shows the same thing. Intel Raptor Lake processors can use a lot of power when required, but they are not doing so in gaming.
TechPowerUP reviews mentioned some things which are really important. The Core i9-13900K could hit 5.8 GHz boost speeds on only two cores, at least on the CPU they got to test. Additionally, Core i5-13600K has no Turbo Boost 3.0 in it. What's worse that they mention that in both the processors, when a PCIe 5.0 M.2 slot is in use, the graphics card PCIe slot limits itself to just x8 instead of x16. This can be a major issue depending on the graphics card.
Conclusion
We aren't quite sure where to start. Out of many reviews, we chose 3 which we felt would summaries everything easily. There are many others which we did not cover, like the AnandTech one, which many might find too detailed and complex. We suggest everyone to go through all the above ones and see it for themselves what's best for them. It's never ideal to decide by seeing just one.
As far as the CPUs are concerned. There's no doubt that Intel Raptor Lake processors are above all in performance. At least as far as gaming is concerned, that is. When one takes Tom's Hardware's performance numbers into accounts, both the processors are about 10-15% faster than their previous generation Alder Lake counterparts.
However, the power draw is a huge concern, even if we take just gaming power usage into the account. If performance has increased 10-15%, power usage has increased similarly too. Let us not forget there's a huge energy problem happening in the world due to the war. There are going to be major power cuts happening in many parts of the world. Additional power usage is something people cannot afford. Especially during these times.
Compared to AMD Ryzen 7000 series, Intel Raptor Lake absolutely takes the cake in gaming performance. It's not only faster, it's cheaper both as a processor and a platform. Also remember, Intel Raptor Lake technically is still on the 10nm process which Intel calls Intel 7 process as its comparable to the 7nm process of it's rivals. Whereas, AMD Ryzen 7000 is on the latest gen 5nm process. So Intel consuming more power is expected, but Intel easily beating AMD is not.
Some important points need to be made about AMD Ryzen 7000. It supports only DDR5 RAM and has a new AM5 CPU slot where the pins are on the motherboard and not on the CPU, unlike previous-gen AMD processors, making them extremely expensive. This has meant that when someone goes to make an AMD Ryzen 7000 PC, they will need to buy not only an expensive motherboard, but expensive DDR5 RAM too. So big is the price issue that, if reports are to be believed, AMD has decided to massively cut the production of its Ryzen 7000 processors due to a big lack of demand.
Compare that to Intel Raptor Lake processors, which also run on Alder Lake supporting previous-gen Intel 600 series motherboards. They also don't require relatively expensive DDR5 RAM to run. So both expensive motherboard and RAM sticks are not necessarily required if price is a concern.
It means Ryzen 7000 as a platform is really expensive when compared to Intel currently.
If we were to recommend a processor, Intel Core i5-13600K is an ideal choice. It's great for gaming and does not use tremendous amount of power that i9-13900K does.
The Intel Core i9-13900K, however, is on another level. If we ignore the claims that Intel has made about its processor, we are not sure how much the silicon inside it can take with so much max power usage. Still, benchmark reviews show that if power usage is not an issue, it's the new king in the processor market.
Unless AMD manages to outperform Intel with it's next-gen 3D V-Cache 7950X3D, 7900X3D or 7800X3D processors, which it possibly might, Intel is expected to not only be the best but also be the fastest one around in gaming processors.
We are sorry that this post was not useful for you!
Let us improve this post!
Tell us how we can improve this post?