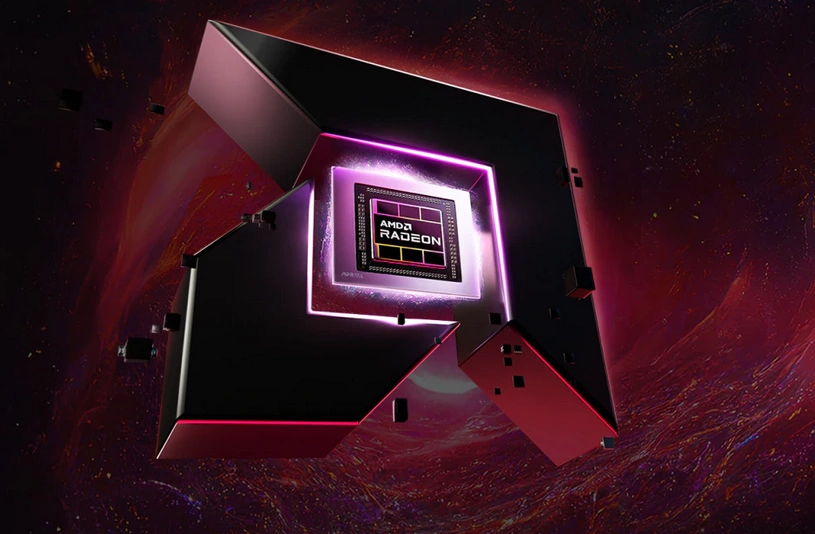 With the RDNA 3 based AMD Radeon RX 7000 series graphics cards, AMD has re-entered the graphics card race against Nvidia GeForce RTX 4000 series.
On Friday, AMD announced its newest generation of graphics cards. The RDNA 3 based AMD Radeon 7000 series cards were announced via its live-streaming conference.
RDNA 3
In it, AMD first talked about it's Ryzen 7000 CPUs. It also talked about the ecosystem AMD has created with all the other products like gaming consoles using AMD processors. After a lot of self-praise, AMD finally revealed the RDNA 3 graphics cards architecture.
AMD said that power and efficiency is its priority when designing the RDNA 3. With an aim of being a leader in performance-per-watt. With RDNA 3 AMD claims it wants to bring CPUs, GPUs and softwares to come together.
Chiplet Design For Graphics Cards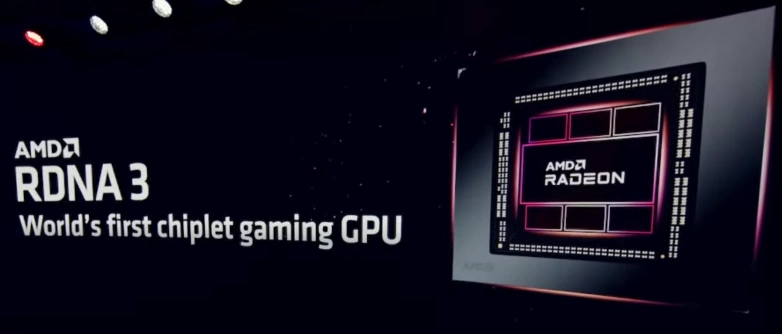 AMD announced that the RDNA 3 will be based on a chiplet design and will be the world's first chiplet based gaming GPU. With it, AMD claimed that it allows them to use a modular approach and optimize the performance efficiency.
They said that, just like on the Ryzen CPUs, chiplet design allows them to mix and match the technology for each function.

In it, AMD has divided the GPU into two main parts. The GCD, which is the main processor based on the 5nm technology in a 306mm2 size and 96 compute units in the GPU. This includes the shaders, the display engine and a newly made media engine too.
The second part is the MCD, which is for the cache and is based on the 6nm technology. It's for the memory sub-system, featuring GDDR6 controllers and up-to 96 MB of Infinity Cache. Basically, the MCD will be 37.5mm2 in size and will come with 6 chiplets in the flagship graphics card.

RDNA 3 Performance
All this, AMD claims, gives them a powerful graphics capability. With 61 TFLOPS of compute, compared to 23 TFLOPS in RDNA 2. World's fastest chiplet interconnect with 5.3 TB/s of peak bandwidth. Allowing full potential of 24 GB of GDDR6 memory. When all put together, AMD said it gives a total of 58 billion transistors in this design. Giving what AMD claims an incredible amount of gaming performance.
AMD said that it is going to use two different clocks in the RDNA 3 architecture for better optimized performance. The shader clock will run at 2.3 GHz, allowing 25% power savings. The powerful gaming clock will run at 2.5 GHz at 15% higher frequency than RDNA 2 at launch.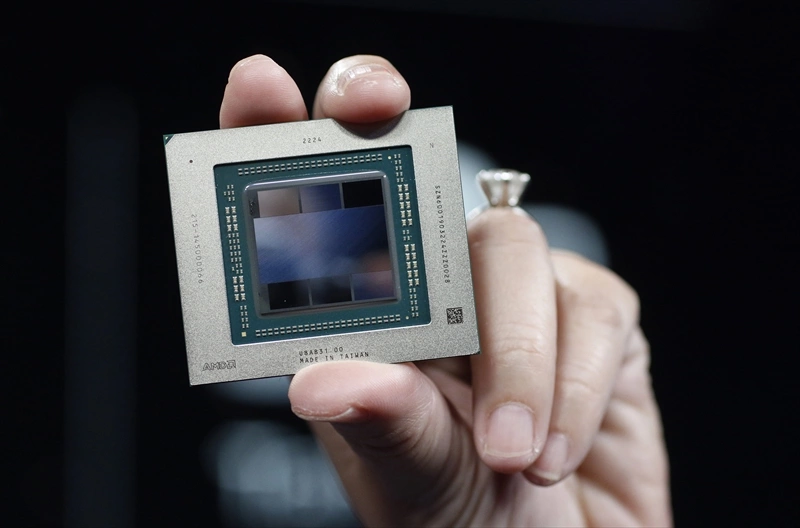 AMD claims that RDNA 3 has 54% improvement over the RDNA 2 architecture in performance-per-watt.
AMD also claims that the new MCD cache, with it's 5.3 TB/s of peak bandwidth, is 2.7x faster than the RDNA 2 architecture. It's based on the 2nd gen Infinity Cache. It also claims that each of the 6 chiplets are connected to the 64-bits of GDDR6 memory, which combined makes up to 384-bit memory width.
New RDNA 3 Unified Compute Unit

AMD also detailed the new RDNA 3 based gaming oriented Unified Compute Units. With an insistence on the word unified. It's an integrated unit with shared resources. It has highly efficient stream processing, additional AI acceleration capabilities and enhanced ray-tracing acceleration.
Thanks to the 5nm tech, AMD claims to be able to pack 54% more transistors in a less area, increasing the transistor density by 165%.
AMD also detailed the new Stream Processors. It uses a new dual issue wave 32 units. Allowing two different instructions in the 32 lane or use them in parallel like in RDNA 2. Allowing two different operations or mixing and matching workloads. All resulting in faster frame render times for higher FPS and better utilization of all the functions in the compute unit. Allowing it to handle 2x the instructions per clock.
Then AMD talked about the new RDNA AI acceleration. With the AI accelerators being 2 per compute unit, allowing up-to 2.7x performance.
AMD also showed its 2nd gen ray-tracing accelerator, built on new instructions in the shader and with a support for many features. All of it combined, AMD claims that it has 50% more performance per compute unit in ray-tracing.
New Display Engine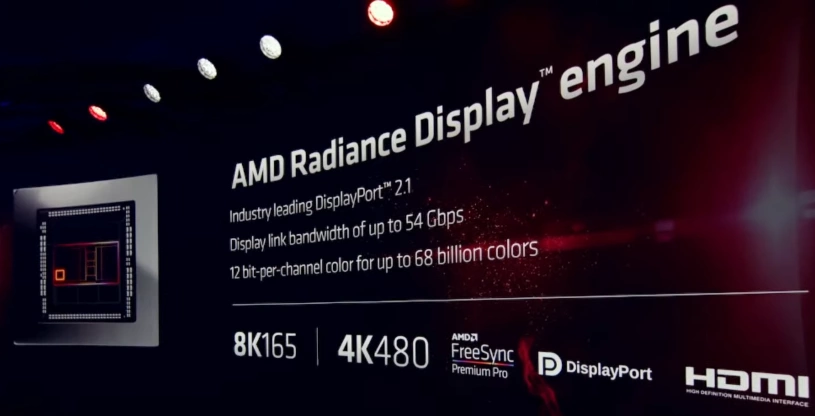 AMD announced a new Radiance Display Engine. It features the industry's first DisplayPort 2.1 support for a high performance gaming graphics card. DisplayPort 2.1 supports 480Hz of refresh rates at 4K resolution and up to 165Hz at 8K.
This new display engine supports 12 bit-per-channel color, allowing up to a massive amount of 68 billion colors.
The display link bandwidth is increased up to 64 Gbps which is a double than that of RDNA 2 and gives higher refresh rates at higher resolutions.
It's important to mention that Nvidia GeForce RTX 40 does not come with the DisplayPort 2.1 or even 2.0 support.
New Dual Media Engine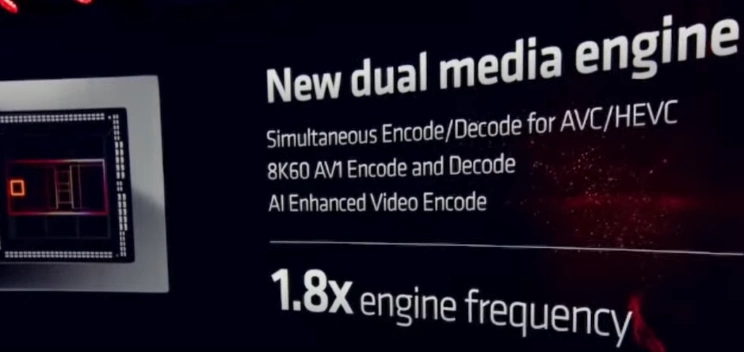 AMD has also announced a new Dual Media Engine. The new media engine supports 2 simultaneous encode and decode together up to 8K60 for AVC (H.264) and HEVC (H.265).
It also supports the latest gen hardware AV1 encoding and decoding. The new media engine also comes with an enhance AI support for video encoding.
The new media engine comes with a 1.8x improvement in the performance when compared to RDNA2.
RX 7900 XTX and 7900 XT Announced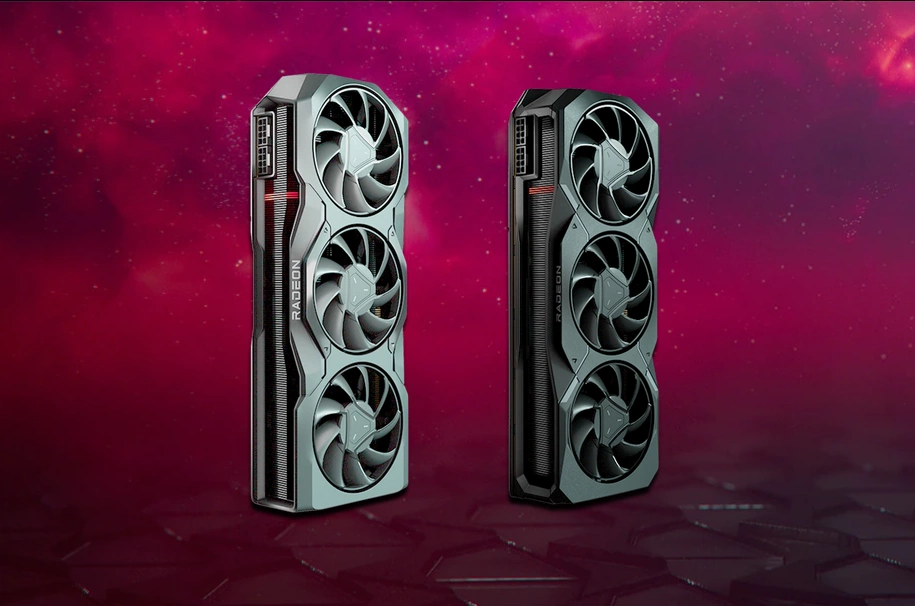 After all the details about the RDNA 3 architecture, AMD finally revealed the details of the graphics cards in the RX 7000 series.
The AMD Radeon RX 7900 XTX with 24GB of GDDR6 and the AMD Radeon RX 7900 XT with 20GB of memory.

AMD Radeon RX 7900 XTX

AMD claims that the RX 7900 XTX is up to 1.7x faster than AMD Radeon RX 6950 XT graphics card at native 4K. It also claims that it has 1.6x more performance in ray-tracing in the same.
The AMD Radeon RX 7900 XTX features 96 RDNA 3 based Unified Compute Units and runs at 2.3 GHz game clock. It comes with 24 GB of GDDR6 with 384-bit support. The Radeon RX 7900 XTX comes with AV1 encode and decode for streaming and video export. It also has the latest DisplayPort 2.1 technology for up to 4K 480 FPS or 8K 165 FPS.
The total board power, AMD claims, is just 355W. A reminder, Nvidia claims that it's latest-gen flagship GeForce RTX 4090 requires 450W. So AMD's Radeon RX 7900 XTX requiring just 355W is very much welcome.
AMD Radeon RX 7900 XT

AMD also announced Radeon RX 7900 XT which it claims comes with a massive leap in performance over the previous generation.
It features 84 Unified Compute Units running at a game clock of 2 GHz. The RX 7900 XT comes with 20 GB of GDDR6 memory at 320-bit. It also comes with the same type of support for AV1 and DisplayPort 2.1.
The RX 7900 XT requires just 300W of total board power.
Two 8-pin PCIe Power Connectors And Nvidia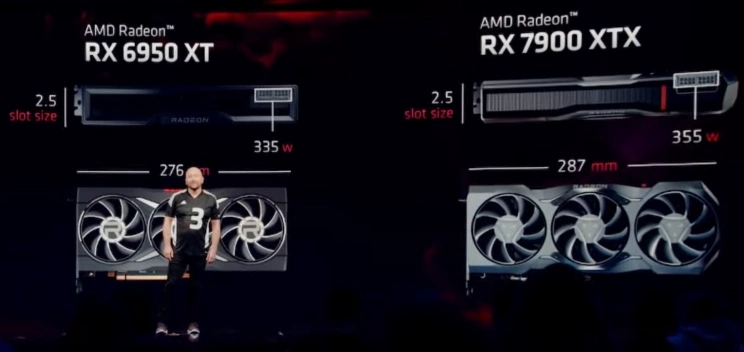 To rub it in into Nvidia, AMD announced that these new cards do not require one to rebuilt their PCs. Nor there is any need for any new power adapter.
It's because these cards will not be using the new 16-pin power adapter, which Nvidia is using in its RTX 4090 cards. To those who are unaware, the internet is filled with reports of these new 16-pin power adapters melting and potentially even damaging the RTX 4090 cards.
Instead, RX 7900 XTX will require 2 8-pin PCIe GPU power cables, which is a standard now. Custom graphics card manufacturers might add one more 8-pin requirement though, to allow for more overclocking.
In addition to above, AMD detailed how their new graphics cards come with DisplayPort 2.1 and the latest generation of graphics cards from their rival (Nvidia) come with just DisplayPort 1.4 support. AMD says that a lot of display manufacturers, including Dell, Samsung, ASUS, LG and Acer are going to launch displays with DisplayPort 2.1 support starting next year.
AMD also announced new FSR 2.2 which is an improvement over FSR 2.
Performance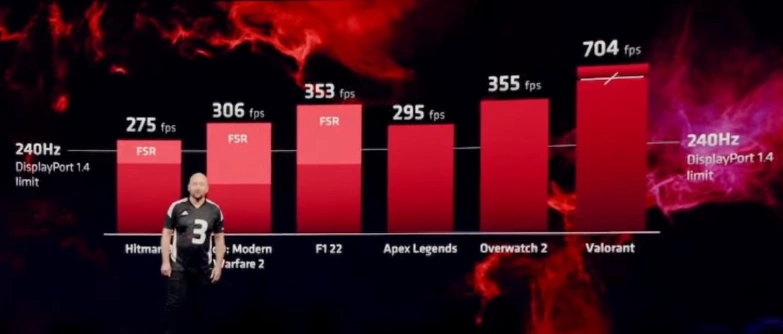 AMD claims that with RX 7900 XTX, one will be able to game at 1440P at high refresh rates. With the likes of Apex Legends reaching 300 FPS, Overwatch 2 reaching 600 FPS and Valorant reaching 833 FPS.
In 4K gaming, these new cards do even better. AMD claims that at max settings with FSR up-scaling enabled, many AAA games reach 350 FPS. With some multiplayer games even reaching 700 FPS.
AMD also showcased a game running at 96 FPS at 8K resolution with FSR enabled.
It also claimed that in Ray-Tracing at 4K, many games are able to run above 60 FPS with FSR enabled.
AMD then announced its partnership with many game developers, including Ubisoft and Epic and claimed optimized performance for the Radeon graphics cards in their gaming engines and upcoming games.
FSR 3 Announced

AMD in its announcement also announced a new version of it's up-scaling tech FSR. Namely, FSR 3. It seems to be directly rivaling Nvidia's DLSS 3. Those unaware, DLSS 3 is accused of inserting fake frames into the games to make it look smooth but in real the outcome is not so smooth performance increase.
FSR 3, AMD claims, uses new fluid motion technology. Coming in 2023, AMD claims it will provide 2x more FPS over FSR 2.
Software, Streaming and Solutions
AMD dedicated the third part of it's conference to three different things. Software, Streaming and Solutions.
They detailed the AMD Adrenalin Software for AMD graphics cards which offers state-of-the-art features and next level gaming experiences, streaming and creation. To put the point forward, AMD showed how AMD Adrenalin Software offers so many features in one unified UI, without any registration or log-ins required and it does not track the users either. This is a direct targeting of Nvidia GeForce Experience, which does have these problems.
In new features, AMD announced a new Hypr-RX mode in the AMD Adrenalin Software. Hypr-RX combines all the performance boosting technologies of the Adrenalin all at the same time to boost the gaming performance in a one-click experience to improve the frame rate and latency.
It showed how a game, with Hypr-RX, saw the FPS increase from 90 FPS to 166 FPS and latency decrease from 30 ms to 11 ms. The new Hypr-RX tech is going to come out early next year.
Streaming
AMD claims it has worked with a famous video streaming software to improve video streaming quality across all bit-rates on Radeon RX 6000 and RX 7000 series. It also detailed how AV1 support is going to improve streaming a lot.
Encoding

AMD says that the new RDNA 3 Media Engine will be very useful for video encoding too. With the dedicated hardware AV1 processor, video encoding (converting) is 7x times than software encoding, even at 8K. With a support for a range of software.
SmartAccess Video

AMD showed something which it calls SmartAccess Video for video creators. It combines the power of Ryzen 7000 processors with Radeon RX 7000 graphics cards to distribute the encoding and decoding workloads between the CPU and GPU across 4K and 8K editing to give faster performance.
In transcoding, AMD claims SmartAccess Video reduces the encoding time by one third. With support across various software.
AMD Advantage Gaming Desktops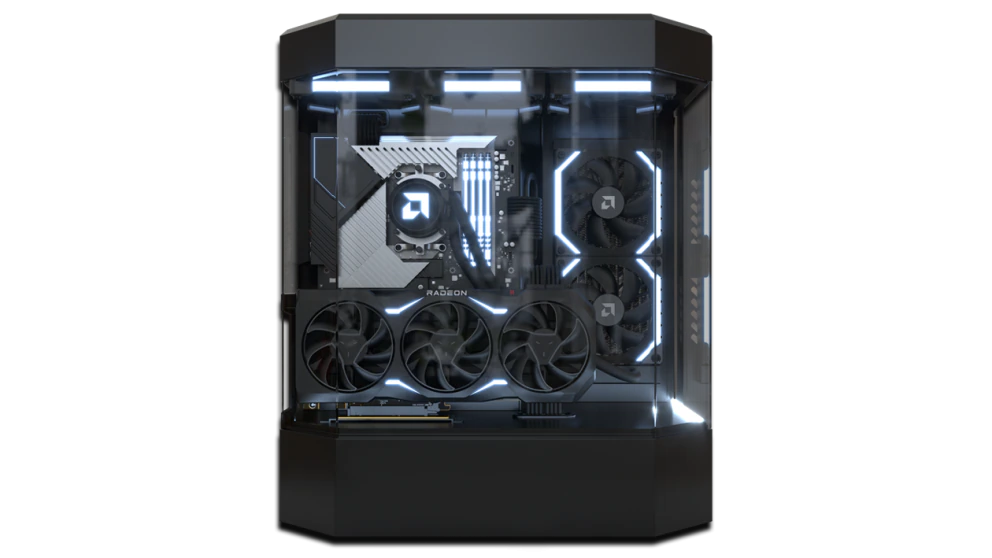 AMD announced new AMD Advantage Gaming Desktops. It partnered with various computer makers to make these desktops. It combines all the hardware mentioned in this conference and brings them together in one desktop.
The AMD Advantage Gaming Desktops feature AMD Ryzen 9 7950X processor combined with AMD Radeon RX 7900 XTX graphics card and various technologies like smart access memory and SmartAccess video. All that, in addition to the software support of AMD Adrenalin Software.
AMD claims that AMD Advantage Gaming Desktops also go a step further by combining all the components, from the motherboard, to the NVMe drives, to memory, to power supply and are made to work seamlessly together and they are turned to provide maximum performance with every design and quality.
They claim that they are designed and tested for the highest performance and refresh rates possible.
RX 7900 XTX and 7900 XT Prices And Release Date

After such a long keynote. AMD finally revealed the prices of AMD Radeon RX 7900 XTX and RX 7900 XT graphics cards.
The Radeon RX 7900 XTX will cost $999 and the Radeon RX 7900 XT will cost $899. Which is far, far cheaper than Nvidia's current flagship offering.
The RX 7900 XTX and 7900 XT will release on December 13 this year.
Conclusion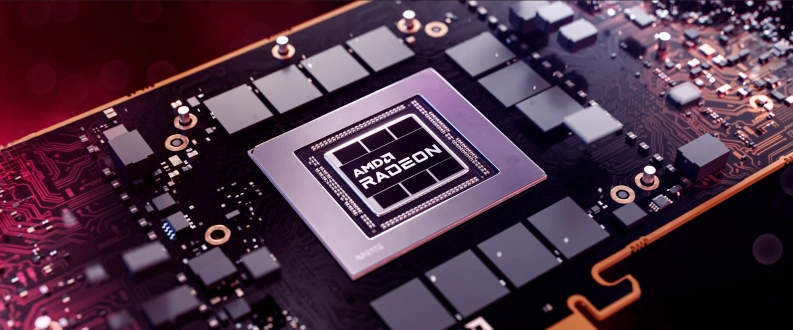 There are many important points we would like to make. Besides all the marketing taglines, AMD seems to have done quite a good work. Especially when it comes to pricing and power usage. This card is most likely going to rival Nvidia GeForce RTX 4080 graphics cards, not RTX 4090.
Some Twitter users like @harukaze5719 even made a graph showing how it might perform compared to Nvidia GeForce RTX 4090 and results look promising.
Another famous Twitter user @Kepler_L2 is disappointed by its Ray-Tracing performance though. Honestly, many of us don't care about the Ray-Tracing performance as long as the main performance is good enough.
The chiplet design is quite an interesting move by AMD. We will have to see how much improvement or a problem it can be. Simply put, chiplets are easy to manufacture when compared to massive single processors. However, they have various problems associated with them, like performance issues between chiplets and latency between them. However, going forward we might see all processor manufacturers, whether it's CPU or GPU, to adapt this technology.
Meanwhile, TechPowerUp is reporting that ASUS has already announced its own RX 7900 series cards with 3 8-ping power plugs.
Coming back to performance. It's never wise to believe what the company says. They might say anything they want. A lot of the performance stats mentioned in the conference are with the FSR enabled, which does not show true performance numbers.
It's only when the reviews and benchmark arrive that we might understand how things stand, whether AMD can take on Nvidia properly. Till then, we will remain quite excited about it.
We are sorry that this post was not useful for you!
Let us improve this post!
Tell us how we can improve this post?